Covid-19 update: Mboweni ends emergency deals, deaths reach 9 298
National Treasury has closed the tap on emergency Covid-19 tenders, returning to more stringent measures amid claims of corruption. Briefly.co.za explores the latest updates on the pandemic in South Africa.
PAY ATTENTION: Click "See First" under the "Following" tab to see Briefly.co.za News on your News Feed!
Tito Mboweni has put an end to emergency Covid-19 procurement, saying that 'thieves were waiting' to loot the immense fortune set aside to combat the virus.
Meanwhile, BATSA has dubbed Minister Nkosazana Dlamini-Zuma's tobacco ban evidence 'perverse justification'.
Briefly.co.za explores top stories on the Covid-19 pandemic in SA: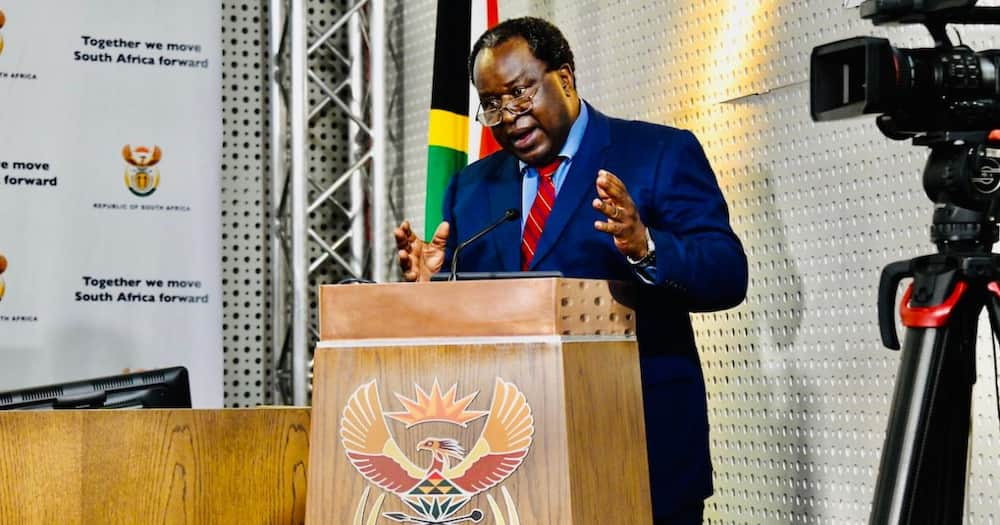 1. Mboweni ends emergency procurement - 'Thieves were waiting'
National Treasury has put an end to emergency procurement for personal protective equipment, implementing the usual strict process. Finance Minister Tito Mboweni says that when Treasury had announced the Covid-19 budget, thieves had already assembled 'waiting at the door' to loot the fund.
Now the full details of companies who scored tenders will be published in a bid to improve transparency. The minister has called for a tightening of the procurement process, saying that the system should work in tandem with the political system.
Mboweni had made these comments during a media briefing on the tender process amid mounting allegations of corruption relating to relief during the pandemic.
READ ALSO: COSATU demands that all corrupt minister, MECs, officials be fired
2. 'Perverse justification'- BATSA slams Dlamini-Zuma's tobacco argument
British American Tobacco SA has told the Western Cape High Court that it made a mistake when it dismissed an earlier attempt to lift the current ban.
The tobacco giant's legal team pointed out that Minister Nkosazana Dlamini-Zuma made a fatal admission when she said that the medical evidence is not 'absolutely conclusive' when it comes to linking smoking to severe Covid-19 cases.
The lawyers insist that the strongest medical argument in the minister's court papers is from an expert who isn't a medical who said that not smoking gives lungs 'a fighting chance', reports IOL.
In addition to these damning arguments, BATSA legal eagles quoted Dlamini-Zuma in saying that a percentage of SA smokers would quit due to not being able to afford the steep prices charged for cigarettes on the black market:
"In constitutional terms that is a perverse justification because in order to achieve the outcome she wants to achieve, she relies on illicit activity."
News24 reports that the ban is costing R38 million on a daily basis as SA cannot collect excise duties, which BATSA says could help fund hospitals and ventilators.
The hearing continues on Thursday with the minister's lawyers responding to the arguments raised by the group.
READ ALSO: BATSA questions Dlamini-Zuma for banning tobacco but not cooldrinks
3. Mkhize confirms 9 298 fatalities
Health Minister Dr Zweli Mkhize has provided South Africa with the latest Covid-19 statistics amid the pandemic.
In a statement issued by the Health Ministry on Wednesday evening, Mkhize confirmed that:
"As of today, a cumulative total of 529 877 confirmed Covid-19 cases in South Africa have been recorded."
In addition to the new infections, the minister confirmed that 414 new Covid-19 deaths were recorded:
"Regrettably we report 414 new Covid-19-related deaths: 135 from Eastern Cape, 45 from Gauteng, 62 from KwaZulu-Natal, 34 from Western Cape, 16 from Mpumalanga and 122 from the Free State. This brings the cumulative number of deaths to 9 298."
Thankfully, the large majority of infections have seen patients able to make a full recovery:
"The number of recoveries currently stands at 377 266, which translates to a recovery rate of 71%."
Meanwhile, Briefly.co.za reported that the Umkhonto we Sizwe Military Veterans Association has signalled its anger over the 'wanton acts of looting and corruption that characterise the abuse' of Covid-19 funds.
Spokesperson Carl Niehaus dubbed it 'prime evil' to steal from the vulnerable at this critical time in favour of enriching corrupt politicians:
"We ask ourselves what besets ANC councillors to literally steal food parcels meant for the poorest of the poor, and hoard them at their houses. This is prime evil, and they should be exposed and harshly dealt with!"
Enjoyed reading our story? Download BRIEFLY's news app on Google Play now and stay up-to-date with major South African news!
Source: Briefly.co.za