- Jacaranda FM presenter Danny Painter has been on a life-changing weight loss journey and the results are incredible
- Danny said she was inspired to lose weight after losing her grandparents and going into a bit of a mental and physical funk
- Danny started her journey on 1 January, 2020 and says that lockdown has made it even easier for her to focus on her fitness and overall health
PAY ATTENTION: Click "See First" under the "Following" tab to see Briefly.co.za News on your News Feed!
Jacaranda FM presenter Danny Painter has made some incredible strides in her weight loss journey. The star began her dedication to fitness routine in January and has managed to see it through until now.
Danny said she was inspired to change her life after falling into a depression following the loss of her grandparents. Danny initially began exercising strictly for her mential health.
She said, "I knew that if I continued on the path I was on, it wouldn't end well. I was depressed, anxious, and desperately unhappy and I knew things had to change. I wanted to see how fit and healthy I could become and how that would affect the mental space I was in. The weight-loss was truly a bonus. For the first time in my life, it wasn't about how I looked, but how I felt."
READ ALSO: Married couple welcomes 'cute' baby boy after 8 years of waiting
The star said it's important not to be too hard on yourself and realise that you will have your off days - or weeks.
"I have had days where I've fallen off of the wagon, weeks I haven't worked out and I've eaten some things I shouldn't have. There are still dark days and days where I have almost crippling anxiety but I'm learning that it's not about perfection, it's about balance. And that, in itself, takes some of the pressure off," she said.
Danny said she's lost 15kg so far, but had to stop weighing herself when it started to become an obsessive habit. Danny now depends on her clothes to gauge her weight loss.
She said, "To date I have lost just over 15kg and 67cm. I have recently stopped weighing myself as I developed a very unhealthy daily weighing habit. So, from now on it's all about the clothing! I have gone from XXL pants to L pants and XL to L tops. Oh, and my wedding ring fits me again after 5 years of not being able to wear it!"
Danny said she achieved the weight loss through changing to a calorie controlled plant-based diet and exercising as often as she can.
Another star to have achieved incredible weight loss this year is Busiswa. Briefly.co.za reported that fans were stunned by how slim Busiswa is looking lately.
READ ALSO: Master KG pays homage to home province of Limpopo for their support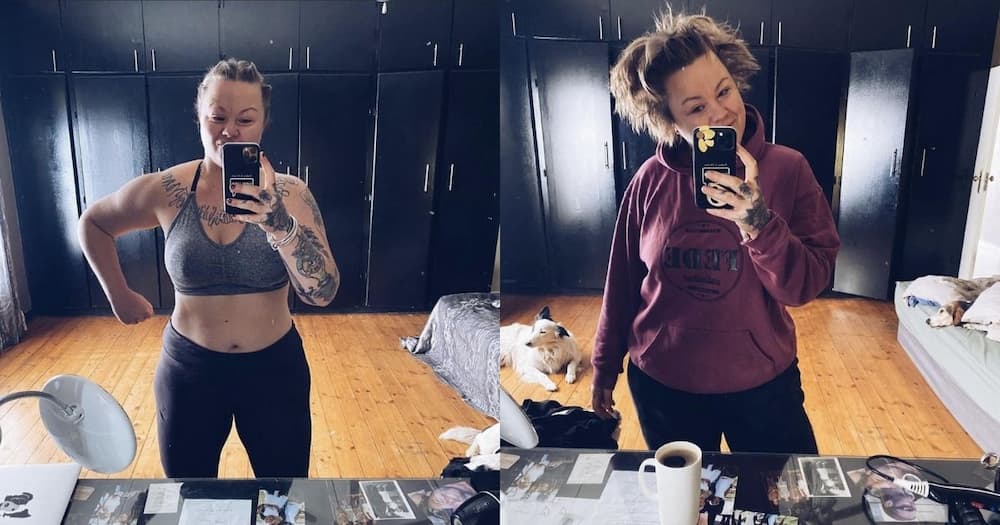 In other news, Briefly.co.za reported that Master KG's global groove sensation, Jerusalema, had its music video removed from YouTube and fan were going off their heads.
Often videos are removed from YouTube for some legal reason, but there really was no logical explanation for as to why this music video was removed, especially after all the positivity the track has broth to the world during such a glum time. Briefly.co.za learnt that the music video just randomly disappeared off of YouTube and fans did not know what was going on. Social media blew up as fans demanded the music video be put back where it was found.
Enjoyed reading our story? Download BRIEFLY's news app on Google Play now and stay up-to-date with major South African news!