Hummus recipes are some of the simplest to make. Find several varieties of these recipes, with surprise ingredients, vegan alternatives, and much more. You will also find several tips for making the perfect hummus dip.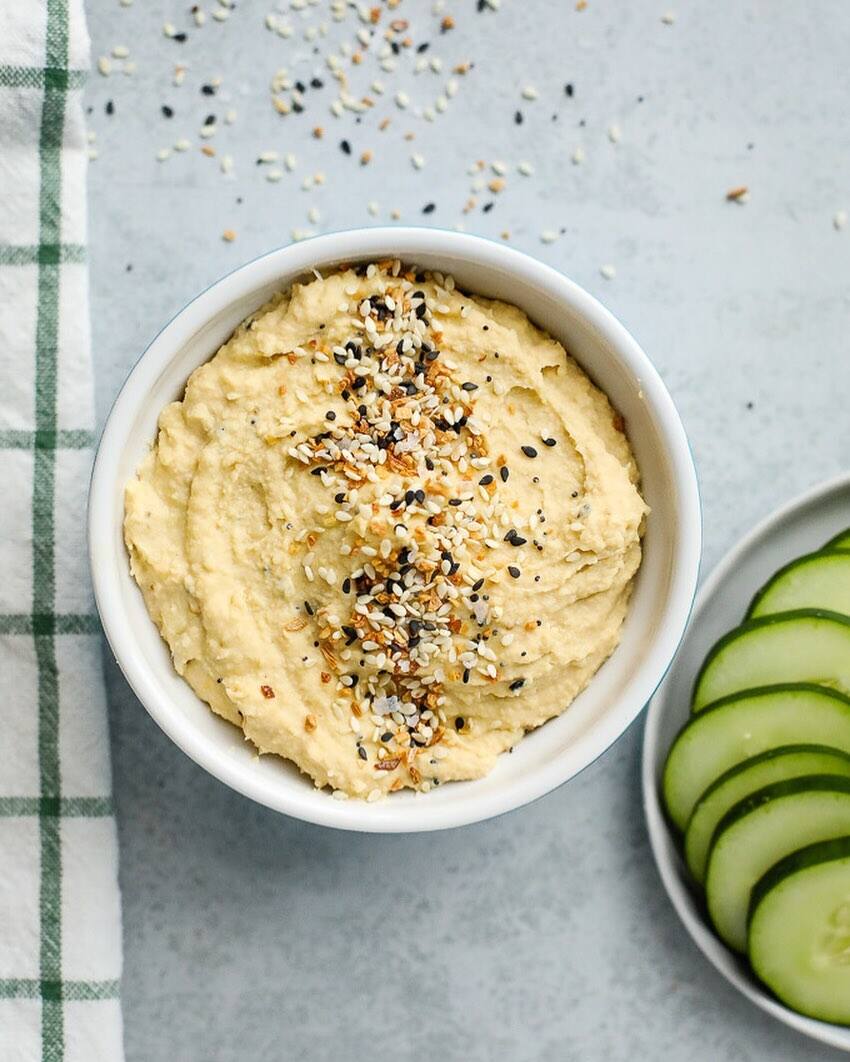 Easy hummus recipe can be found in this article. Once the chickpeas are boiled, and the tahini is prepared, the process takes 10 minutes. Find the best hummus recipe BBC in this article.
How do you make hummus from scratch?
Every hummus recipe needs some well-cooked chickpeas, spices, and tahini (optional). For a hummus recipe no tahini, all you need to do is exclude it where it is included in any of the recipes below. Hummus is easy to make, at least easier than preparing the elements needed for a great tasting hummus dish.
How to prepare dried chickpeas
Every hummus recipe includes properly cooked chickpeas. Chickpeas can be bought already softened in cans or can be made from scratch. We have the perfect recipes for hummus, whether it is vegan, chilli, no tahini, etc. They also go well with rice if you like it.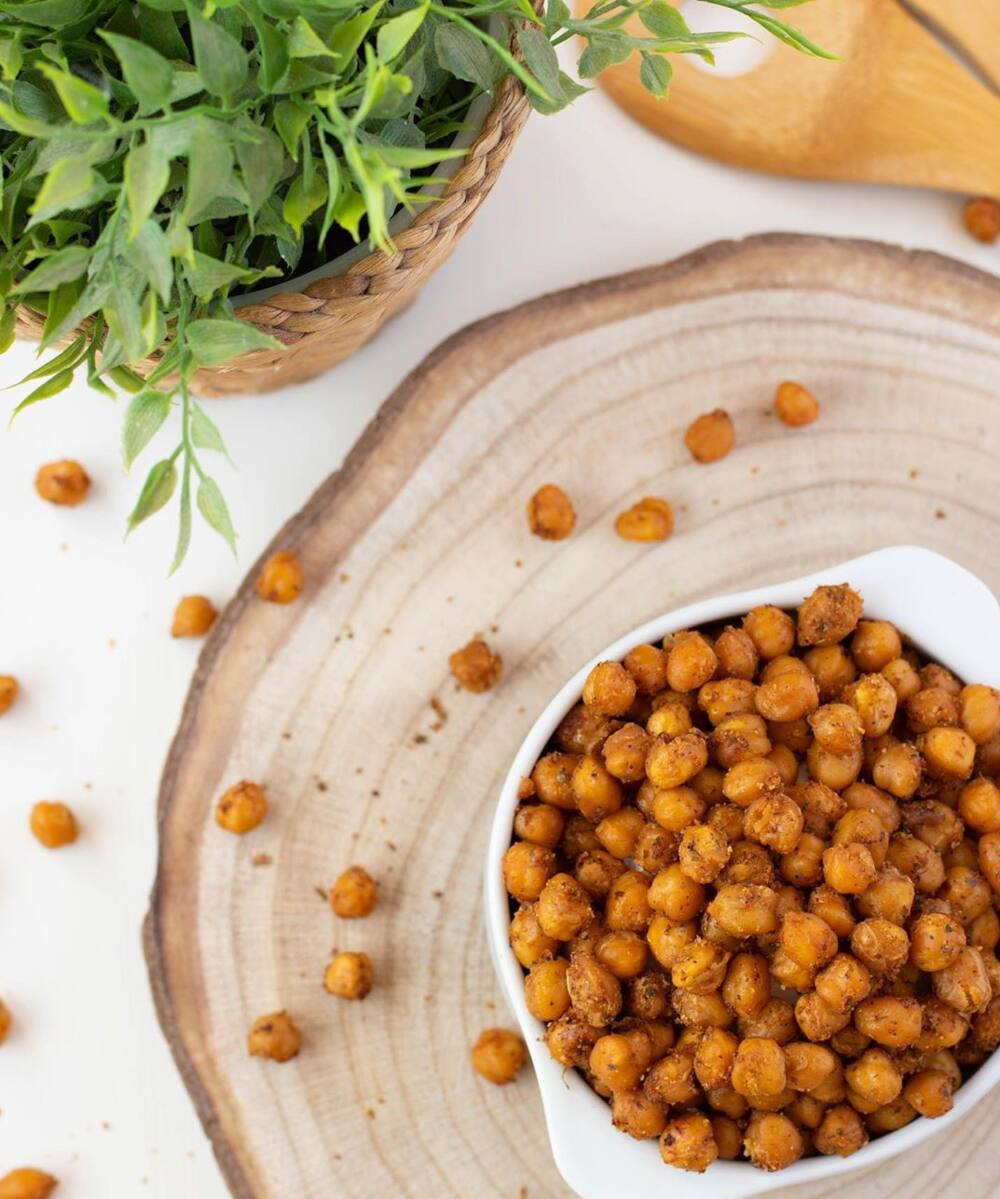 Chickpeas need to be soaked before cooking; here are two methods:
1. Overnight soak method
If you want to prepare hummus the next day, you can do an overnight soak of the chickpeas.
Pour the dried peas into a large pan. Fill the pan with water, several inches above the peas.
The next day, drain the water and rinse the peas.
Note: Chickpeas triple in size when soaked; therefore, one cup of dried chickpeas yields about three cups of softened chickpeas.
2. Fast method
This method is ideal for those who want to make the hummus quickly.
Pour one cup of the chickpeas in a large pan, add water to several inches above the peas.
Bring this to a boil, and let it boil for 5 minutes. Take the pan off the fire and let the beans cool for an hour.
Drain the water, and rinse the beans.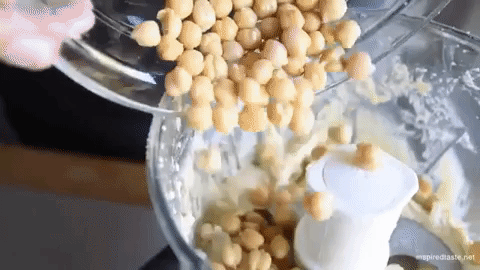 How to cook the chickpeas
After they have been softened, the process of cooking is easy.
Add the beans to a pan and add water, several inches above the beans.
Bring it to a boil, then simmer for about 1 and 1/2 hours to 2 hours. Towards the end of the cooking time, add a pinch of salt to taste.
Tip: For hummus dishes, cook the beans with the lid on. This will ensure they are creamy and easily crumble when crushed. To get a firmer legume, cook with the lid off.
READ ALSO: 10 best vegan soya mince recipes South Africa
Authentic hummus recipe
Once the main part of the recipe is done, the final process takes about 10 minutes. This hummus recipe tasty is the best out there. It results in smooth, great-tasting hummus.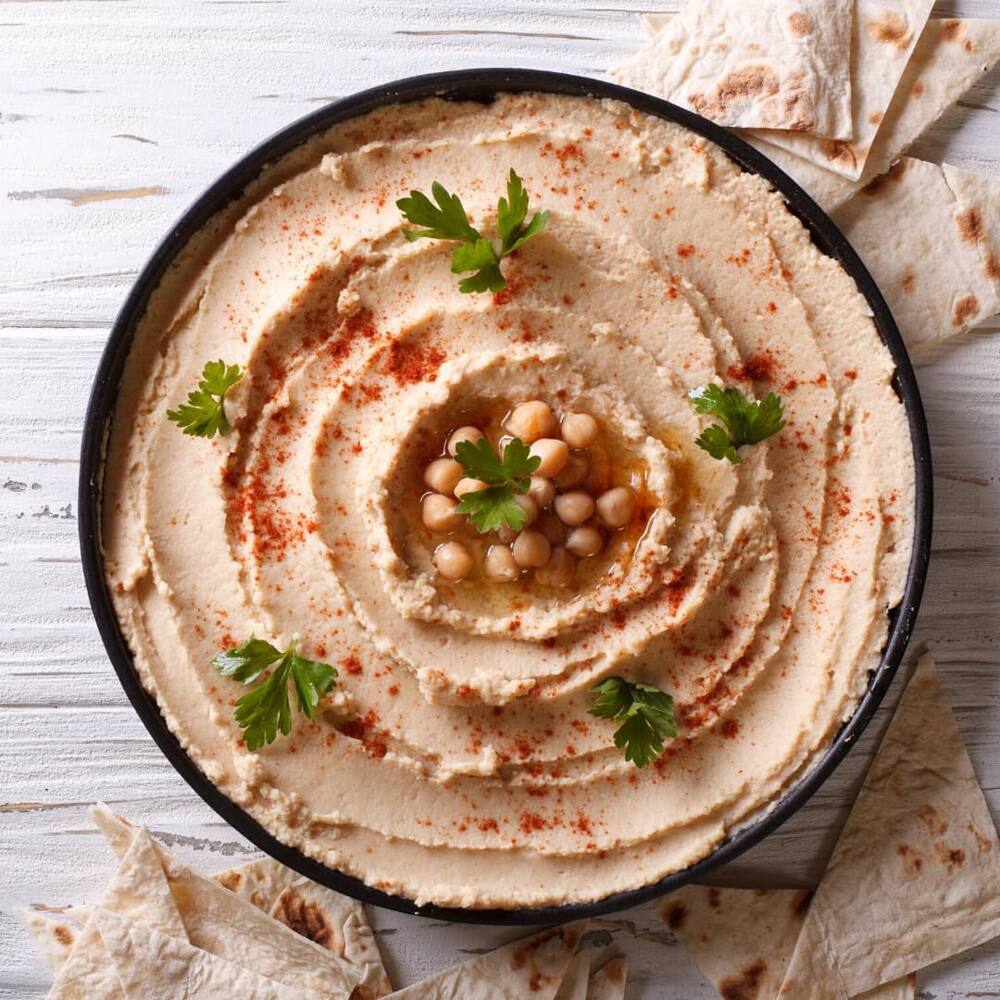 Ingredients
1 1/2 cups of cooked chickpeas
1/4 cup of freshly squeezed lemon juice
1/4 cup of well-stirred tahini
1 small garlic clove, minced (raw or roasted)
2 tablespoons of extra-virgin olive oil
1/2 teaspoon ground cumin
Salt to taste
2 to 3 tablespoons of water
Dash of ground paprika or sumac
Directions
The secret to extra smooth hummus is placing the lemon and tahini in the food processor or high power blender. Let it run for about a minute to form a thick paste.
Scrape the sides to ensure it is well processed, let it run for another minute.
Add the garlic, olive oil, cumin, salt, and any other spice you prefer.
Turn on the food processor for 30 seconds, scrape the sides and let the processor rerun for 30 seconds until everything is well incorporated.
Add the cooked chickpeas in two intervals. After the first half, process the chickpeas, scrape the sides to ensure it is well mixed and process again until smooth.
Add the remaining cup of chickpeas and process while scraping the sides to ensure everything is smooth and mixed.
To make it super smooth and creamy, add about 3 tablespoons of water one at a time.
READ ALSO: 10 easy mince recipes South Africa
Hummus recipe vegan
This vegan recipe has avocadoes, and everything is vegan and plant-based. The recipe is an Arab-Mexican base and is very easy to prepare. This hummus recipe healthy is great for the entire family.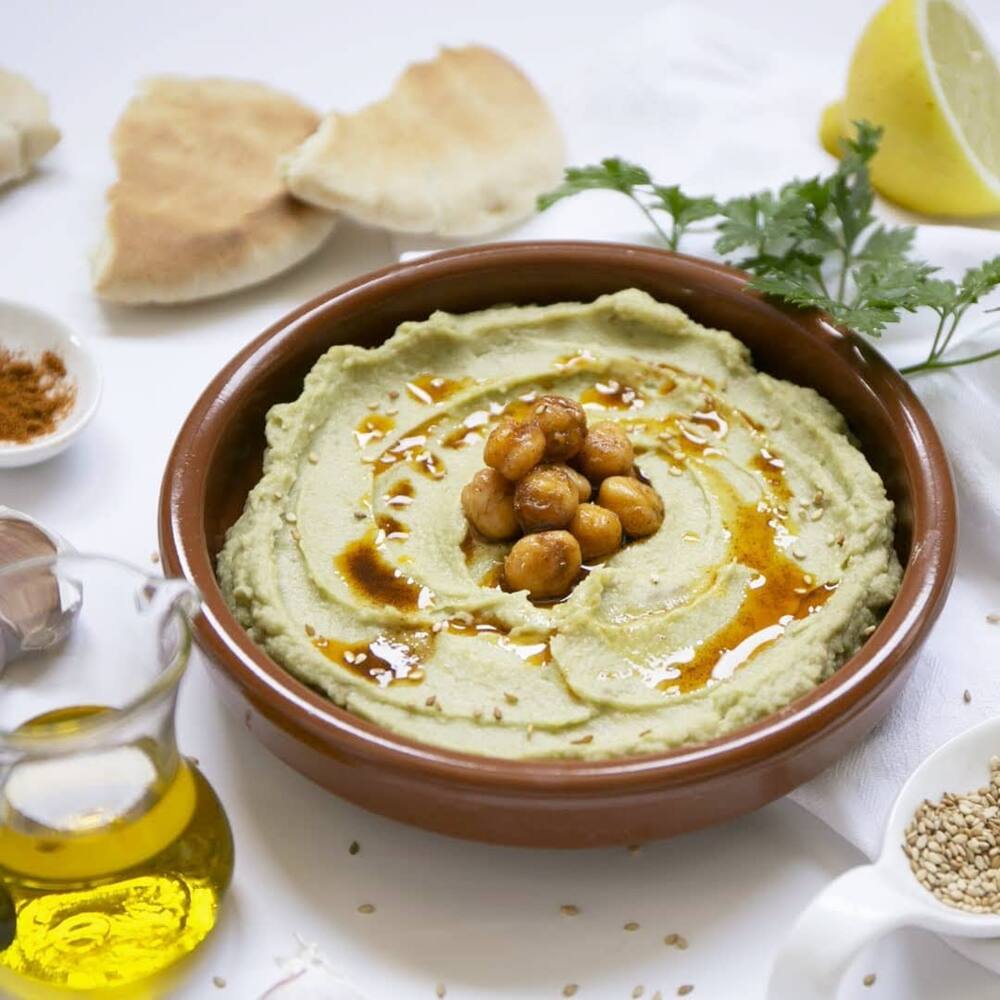 Ingredients
1 large ripened avocado
200g of cooked chickpeas
2 tablespoons of tahini
1/2 cup of freshly squeezed lemon juice (1 large lemon)
1 garlic clove
25g of extra virgin olive oil
Salt
Directions
Peel the avocado and remove the bone at the centre
Dice up the garlic clove
Process all the ingredients in the food processor until the mixture is smooth and homogenous
Adjust the amount of tahini and lemon to your liking
Top the hummus off with toasted sesame seeds.
Red pepper hummus recipe
This version is for those with a fiery taste. It is spicy and has a lovely orange colour. It is also a vegan recipe and can be enjoyed by those who strictly eat plant-based foods.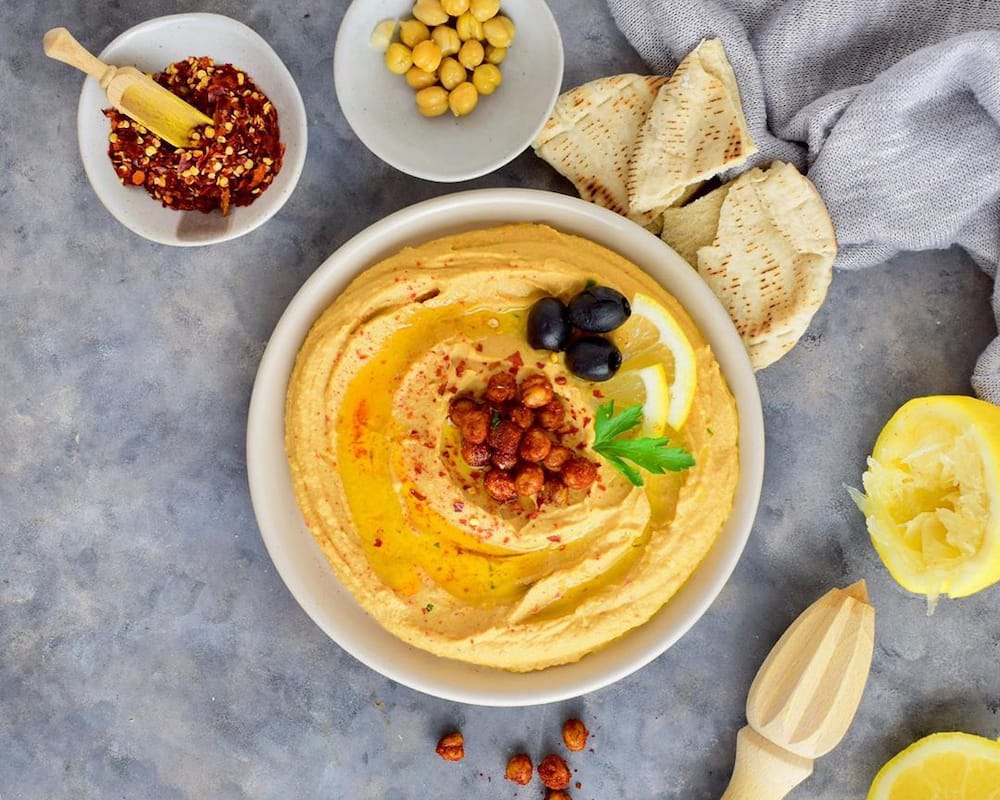 Ingredients
500g of cooked chickpeas
1/4 cup of tahini
3 cloves of garlic
5 dried red chillies
1 and1/2 tsp of cumin powder
2 tbsp of lemon juice
Olive oil
Salt
Directions
Remove the skins on the chickpeas to make the result smoother and creamier.
Add the chickpeas, tahini, garlic cloves, lemon juice, chilli paste, and salt to a food processor. You can start with just a teaspoon of chilli paste and adjust it according to your taste.
Process for a minute until it becomes a paste.
Add 2-3 tablespoons of olive oil and continue to process it for a minute. If the paste is too thick, add a tablespoon of water and keep adding until it is creamy and smooth.
Transfer to a dish and serve with your favourite pasta bread.
Frequently asked questions
Here are some frequently asked questions. Find out all the details about the preparation of this delicious dish.
What can you put in hummus to make it taste better?
You can add salt, greek yoghurt, or your favourite herb oil. Mixing the lemon and tahini before adding the other ingredients contributes to a great tasting hummus dish. You can also include some of your favourite herbs to improve the hummus.
What is hummus made of?
It is mainly comprised of chickpeas, tahini, and lemon juice. Besides these three, hummus can also go with some of your favourite herbs and spices. Hummus can be played around with based on your preferred tastes.
Should you cook chickpeas before making hummus?
Yes. Unless the chickpeas are canned, in which case they are ready to use immediately. To make the resulting dish smoother, you can skin the beans. Also, unshelled sesame seeds make the tahini much smoother.
How do you get the bitter taste out of hummus?
Tahini, garlic, lemon juice, and paprika can cause the taste balance to be off and give it a bitter taste. Also, blending tahini with olive oil can lead the oil to react with the blades, and you end up with a bitter taste. An additional 1/2 cup of chickpeas, 1 tsp of sugar and salt, 1 tbsp of fresh lemon juice, and 2 tablespoons water can offset the bitter taste.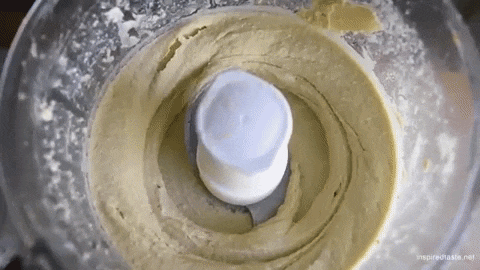 How do you fix bland hummus?
This can be due to little or no salt. Add 1 tsp of salt, and this can drastically change the taste of the hummus. Using unflavoured oil to prepare the beans also improves the flavours of the hummus.
Those are all the hummus cooking recipes that you need, all the tips needed to make any meal the perfect meal. Do you know other interesting tips for preparing hummus? Share them with us in the comment section below.
READ ALSO: Somizi Mhlongo announces new show and gets slammed for taking jobs
Briefly.co.za recently reported on dance choreographer Somizi Mhlongo who has recently been photographed with several celebrities. He announced that he would be hosting a cooking show.
Somizi released the exciting news on Twitter. He will host the show with several celebrities, and the show will air on 1Magic. He got lots of praise, but some Twitter users felt that he is taking all the jobs in the industry.
READ ALSO:
12 easy South African desserts recipes
10 delicious pasta and mince recipes in South Africa
12 easy spaghetti and mince recipes South Africa