- A proud mother, Cebi Zungu, decided to share adorable videos of her daughter on social media
- In the clips, the cute seven-year-old explains proper hygiene practices during the Covid-19 pandemic
- She managed to do the video in perfect English, Afrikaans and Zulu and it melted South Africans' hearts
PAY ATTENTION: Click "See First" under the "Following" tab to see Briefly.co.za News on your News Feed!
With more kids returning to school, a seven-year-old girl decided she wanted to play her part in helping keep them safe during the pandemic.
The little girl, Abongile Ndwandwe, aka "Abosh", was filmed patiently demonstrating how to sanitise hands, how to wash hands and she even sung the birthday song while doing it.
Not only did she perfect proper hygiene techniques but she also did the videos in three different languages - Afrikaans, English and Zulu.
Her proud mother, Cebi Zungu, decided to share the videos on Facebook, where they managed to get thousands of views and reactions.
Speaking exclusively to Briefly.co.za, Zungu revealed the videos were not planned. She said her daughter watched YouTube Kids during lockdown and developed an interest in creating her own page on the social media platform as well as Instagram.
She said:
"So we asked her what she wanted to do on the channel, she said she wanted to do kids fitness exercises, the next thing she started talking about anything and everything that comes to her mind, including these videos on Covid-19. She does all of this in different languages."
The seven-year-old clearly has a charismatic personality, which she got from her motivational speaker mom.
Zungu quit her full-time job to become a motivational speaker and life coach - an opportunity that has allowed her to follow her dreams and spend time with her kids.
The family of five - which includes Zungu, her husband, eldest son (22), Abongile and four-year-old Nzululwazi - reside Garsfontein, Pretoria.
Zungu revealed the current situation in the country has proved challenging for her family. She said:
"We went through serious setbacks financially as both my husband and I run our own businesses. Some projects we were working on were cancelled. Level 5 showed us flames but acceptance is the key. We were forced to accept that we are yet again dealing with the unexpected and had to regroup."
READ ALSO: Say what: Master KG reveals age and fans are in disbelief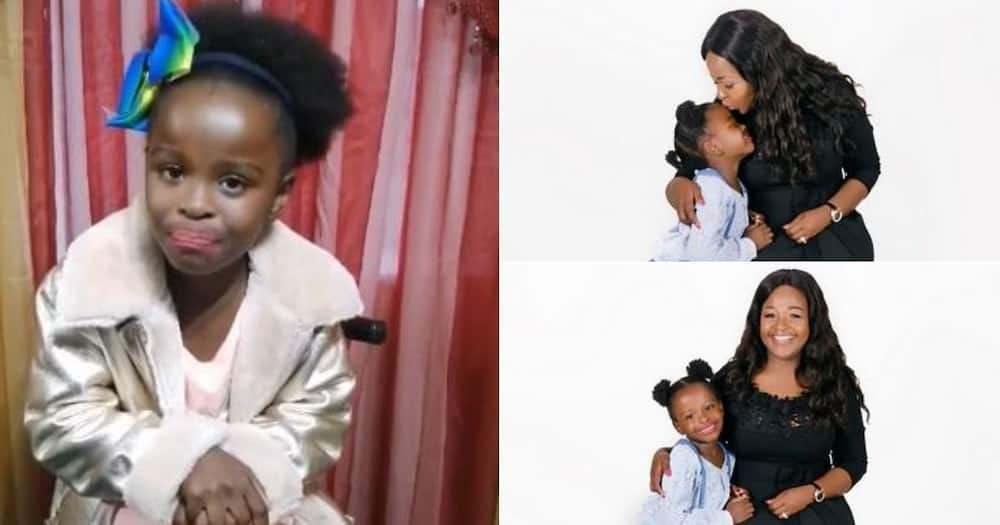 Zungu said the response to Abongile's videos have been overwhelmingly good. She said:
"South Africans really loved the video. They find it inspiring, motivating and refreshing. For Abongile to say 'wash your hands for 2 hours' had many people in stitches and entertained. They are quite thrilled with the fact that this was an original video of a child which was not edited to make it perfect but it came deep down from a kid.
"They also appreciated the fact that she is fluent in English, Zulu and Afrikaans and that she can be clear, articulate and commanding in her posture in all these languages and that she oozes with confidence. Some called her 'honourable Abosh' and others said funny things such as 'Fellow South Africans, President Abosh has spoken'. Some see her as a perfect fit for newsreading and hosting talkshows."
And it appears that is exactly what the little star wants to do when she grows up. According to her mom, Abongile dreams of becoming a presenter, actress, model and fashion designer - and she clearly has what it takes.
Abongile focused on hygiene during the pandemic as kids return to school and Briefly.co.za asked Zungu how she felt about her own kids going back to school.
The mom responded:
"I am quite comfortable with her going to school. I think she is well informed of what to do and what not do. Her school has made tremendous effort in educating them. If you look at the videos where she talks about Covid-19, most of that information she talks about, she learnt at school and mind you that is a public school. However as a parent you will always have that fear somewhere at the back of your mind."
The mom-and-daughter duo wanted to remind South Africans to stay positive during these troubling times.
Their message to Mzansi read:
"We are a strong nation that has survived the worst. We know that for many of us the road is not clear and the future looks bleak, many have lost their loved ones and many have lost their jobs and have no source of income as we speak. But this too shall pass.
"As difficult as it can be, we must soldier on. When I was in tears during level 5, I found comfort in these words by Robin Sharma 'Never get stuck or be discouraged. Get knocked down seven times, get up eight times.' When you find that you are discouraged and feel like giving up, keep moving forward."
Zungu concluded the statement with:
"We must never allow fear to paralyze us. The fact that we are still alive means that we can still conquer."
Take a look at the adorable videos below:
READ ALSO: Bongani Zungu and Cindy Mahlangu are a whole entire baed-up vibe
Meanwhile, in other news, a 54-year old woman, Funmi Ajagbe, has given birth to a set of triplets with her first pregnancy, a thing that does not usually happen.
The new mother's friend, Odunayo Olupona, took to Facebook to disclose that Funmi welcomed her babies despite the long wait. In her post on Tuesday, 11 August, she posed a rhetorical question, asking:
"Is there anything too hard for God to do?" as she emphasised with Yoruba praise words how great He is.
She said that the newborns are all same gender, boys. Odunayo said her case is a perfect example that no matter how rough the road is, joy always comes at last.
Enjoyed reading our story? Download BRIEFLY's news app on Google Play now and stay up-to-date with major South African news!