- Forbes released a real-time list of the world's US dollar billionaires
- South Africa's 7 richest people have made the list, Nicky Oppenheimer is still SA's richest man
- Steinhoff chairman, Christo Wiese, lost his billionaire status
The Forbes real-time billionaire list has revealed the seven richest South Africans also happen to be US dollar billionaires.
The most notable exclusion from the list is Steinhoff International's chairman Christo Wiese. His personal fortune has been cut from around $6 billion at the start of 2017 to under the one billion at the start of 2018.
READ ALSO: Medical tourism by African leaders is causing public healthcare systems to remain shameful
Wiese stepped down from Steinhoff International after an accounting scandal was uncovered in December 2017. The scandal has threatened to bring Steinhoff to its knees and wiped huge margins off its stock price.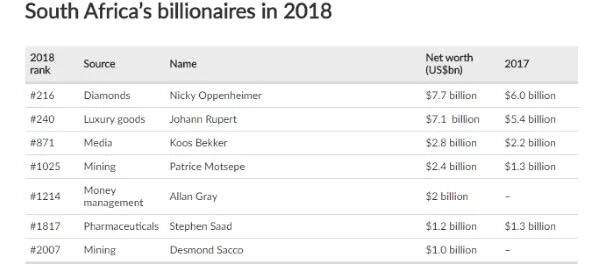 South African diamond magnate Nicky Oppenheimer once again ranks as South Africa's richest man and comes in as the 216th richest person on earth. Johann Rupert, Koos Bekker, Patrice Motsepe, Allan Gray, Stephan Saad and Desmond Sacco round out the list of dollar billionaires.
Briefly.co.za discovered Bloomberg released an alternate list, which shows Rupert ahead of Oppenheimer. According to Bloomberg Rupert is worth $8.1 billion while Oppenheimer is worth $7.18 billion.
The relative strength of the South African rand in recent weeks has no doubt also played a part in boosting or contracting the personal fortunes of the ultra-wealthy.
READ ALSO: Colourful, extravagant and unique: Cape Town gears up for the annual Kaapse Klopse
Do you think the people on this list actually care about being on the list or in what position they are? Visit our Facebook page where you can send us a message or leave us a comment. Your story could be shared online.
To stay up to date with the latest news, download our news app on GooglePlay or iTunes today.