Binnelanders teasers: September 2020
Binnelanders teasers September 2020, will immerse you in captivating stories about star-crossed lovers. The characters demonstrate how a healthy relationship should be and red signs to look for in a toxic one. You will also be wrecked by fictional heartbreaks that happen on the show. However, watch how the characters get rid of baggage from past relationships that bar them from exploring the possibilities that their new love may be the real deal.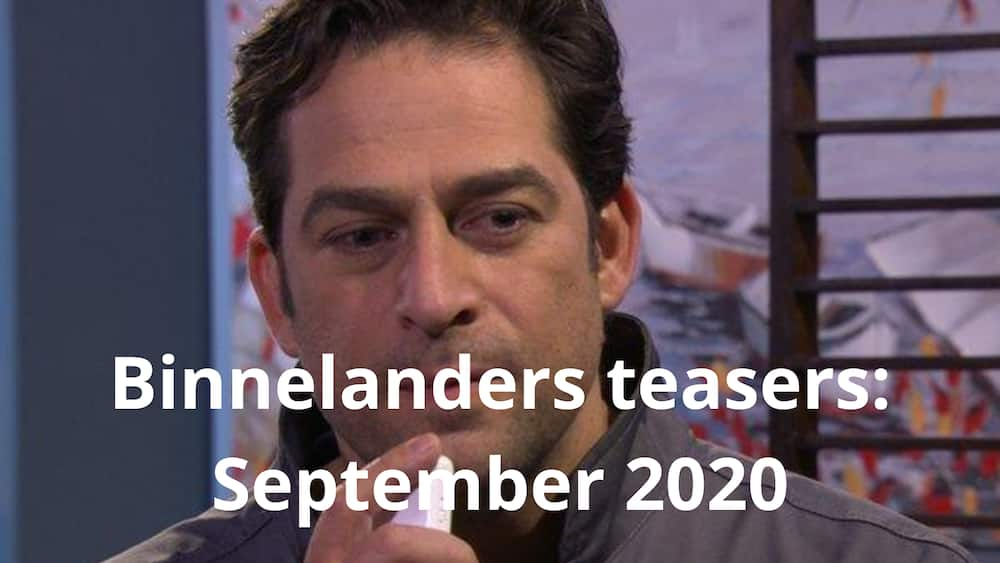 Danny chooses to be honest with Chanel at his convenience. Maya convinces Chanel to see a gynaecologist. Annelize has a surprise for At that might impact the judgment that will be passed by the court. There is a new suspect in the cybercrime case who will stir the case in a different direction. Meanwhile, some of the board members of the clinic fool the rest of the board.
What is coming up on Binnelanders teasers for September 2020?
It is interesting to see how these characters get themselves out of make-or-break situations. Enjoy Binnelanders on kykNET every Monday to Friday at 19h30, and the repeat airs on the same channel on Saturdays from 09h30. Here is what has been prepared for you.
Will Elana help the children?
The children have endured trauma that might affect their lives forever. Elana strives to help them get out of it.
READ ALSO: The Way to Paradise 3 Teasers: September 2020
1/09/2020: Tuesday (E 062)
While Elana builds more anxiety in Ruan, Maya's relationship is on the rocks. Sergio confronts De Klerk, and he narrates an upsetting theory to Okkie later. Meanwhile, Conrad receives a suspicious request while Chanel's fears turn into reality.
2/09/2020: Wednesday (E 063)
Danny and Chanel have an honest conversation while Ilse faces Sergio. At the same time, Elana seeks reconciliation as Steve makes up his mind concerning Lexi.
3/09/2020: Thursday (E 64)
De Klerk seeks the truth that will set him free, and Danny asks Steve's opinion about his decision. While Okkie requests help from Maya, Lexi confides her worries in Chanel.
4/09/2020: Friday (E 65)
Maya sets out on a secret investigation after Okkie lands on the truth. Louis learns about how Naomi is affected by Chanel's situation. Elana takes Steve's advice while Chanel clears Danny's doubts. Ilse suspects that something is wrong.
7/09/2020: Monday (E 66)
Danny is unlucky in love. Maya holds onto Sergio, and Elana finds out what is on the children's minds.
What will the judge decide on Annelize and At's case?
What is Annelize planning to do to At? Is it the perfect time for her to get what she wants before the judge rules out their case?
8/09/2020: Tuesday (E 67)
Tertius discovers the plans that Annelize has for At as the day of the court hearing draws closer. Steve puts pressure on Conrad regarding Fairgate as Maya gets depressed over her problems. While Delia asks Conrad for assistance, Ilse notices Okkie is in a foul mood. Someone knows more about the dirty politics that are being played among the board members of the organization.
9/09/2020: Wednesday (E 68)
Annelize tries to reveal her ideas to Conrad regarding their living arrangements. Danny hides his mistakes from Chanel, and Ilse stops persuading Okkie. Tracy's advice saves someone while Danny gets emotional over Naomi's words.
10/09/2020: Thursday (E 69)
Ilse doubts Okkie's operation, and Chanel is caught off guard by an upsetting surprise. Conrad confesses to Tracy, and his computer goes missing later. Delia is infuriated by the truth while Brandon undermines Danny's plans. Meanwhile, Rian suspects Delia and Conrad are up to no good.
READ ALSO: Zara's Nikah teasers: September 2020
11/09/2020: Friday (E 70)
Tracy advises Conrad to shut his mouth, and Ilse makes an outrageous suggestion. On the other hand, Brandon blurters the truth in anger. The event leaves Annelize in low spirits while Rian instigates a fight between Conrad and Delia.
Delia is curious about Conrad's private life
Her sudden interest in his love life is suspicious. If she has no feelings for him, her intentions may be destructive. Will he love her back?
14/09/2020: Monday (E 71)
Ilse inspires Naomi, and Delia is curious about Conrad's love life. While Danny is impressed by Louis' idea, the board meeting has more surprises for him. Elana's interruption opens Tracy's eyes; hence she vows to stick to where she belongs.
15/09/2020: Tuesday (E 72)
Elana knows who has been sending information to Annelize. Meanwhile, Tracy assures Conrad that she is not upset with him. Ilse starts her dream project while At's friend presents a profitable business idea. When Maya's father visits her, Brandon's words give some thoughts about her future with Danny.
16/09/2020: Wednesday (E 73)
Brandon is honest about how he perceives Danny's family. Ilse and Elana work on critical research, and Conrad explains himself to Tracy. At the same time, Liezl and Okkie discover that they share so much in common. Annelize expresses her opinion about Conrad to Delia, while Maya and Conrad find out the contradicting plans that Faf has about the business dinner.
READ ALSO: This is Fate 2 teasers: September 2020
17/09/2020: Thursday (E 74)
Brandon takes advantage of the situation to open Chanel's eyes. Maya suspects Faf has bad intentions, and Naomi is surprised by Okkie's reaction to the news. On the other hand, Delia and Rian doubt if they stand a chance of achieving their goals. Chanel loses control over her emotions; hence she makes irrational decisions.
18/09/2020: Friday (E 75)
Danny and Chanel need to make a tough decision soon, and Liezl entrusts Okkie with her secrets. Delia deceives Maya, and she also criticizes Conrad. Meanwhile, Conrad is curious about Faf's intentions. Tracy gives Felicity vital information about Kayla's father. Tertius gives two women the same answer unintentionally.
Why are Danny and Brandon fighting?
The two men are not on talking terms because of a woman. Who will she pick between the two of them?
21/09/2020: Monday (E 76)
Faf sets Annelize against Conrad. On the other hand, Tracy stands in as a witness in an agreement, and Danny and Brandon fight over Chanel. Gigi and Ian agree to have an exclusive relationship. Maya and Conrad stay behind after everyone has left. Okkie and Ilse lose the directions to where they are heading.
22/09/2020: Tuesday (E 77)
Conrad is concerned about Faf's source of money, and he also gives Annelize the wrong impression intentionally. Ilse disagrees with Okkie's moves against his enemies. Tracy overhears disturbing information about Felicity as Brandon reconciles wrangling parties.
READ ALSO: Suidooster teasers: September 2020
23/09/2020: Wednesday (E 78)
Annetjie informs Conrad about the undergoing problem. On the other hand, Conrad is overwhelmed by pressure from all sides, while an unexpected situation strikes Danny and Chanel. Ilse tells Naomi her worries, and Faf triggers Delia's curiosity about Tracy. Okkie longs for someone who will listen to his troubles.
24/09/2020: Thursday (E 79)
Naomi thinks through what Ilse was trying to make her understand. Louis reaps the fruits of doing the right thing. Liezl is not comfortable with the boundaries set for her. Maya advises Chanel to see a gynaecologist, while Conrad suspects Annelize's behaviour.
Tracy is still in love with her ex-lover
She gets tense and spends the whole night thinking about him. Is he in trouble, or are her thoughts triggered by memories of their happy moments?
25/09/2020: Friday (E 80)
Conrad warns Faf to be careful with Annelize, and Brandon receives a surprise invitation to an event. He also shows up at the Binneland Clinic unexpectedly. Later, Conrad's involves Mike Dykstra in his plans. Liezl gives Okkie the anticipated news while Naomi and Louis are shocked by Okkie's behaviour. Tracy worries about her ex-boyfriend.
28/09/2020: Monday (E 81)
Danny tells Chanel the truth while Naomi confirms her suspicions to be true. Ian plans on staying despite the danger he is in, and Louis embarks on a dangerous mission. Doctor Butler gives her client the results of the diagnosis.
29/09/2020: Tuesday (Episode 82)
Breakfast at the Koster Mansion feels strange, and Brandon and Danny are losing hope. People hold a secret meeting in the corridors of Binneland Clinic, and Louis cautions Conrad to be careful. On the other hand, Tracy is hiding the whereabouts of Ian.
30/09/2020: Wednesday (Episode 83)
Ilse asks Liezl a tough question, and Conrad informs Louis about Ethan. A new suspect is revealed in the cybercrime case. Meanwhile, Chanel confides in Ilse.
What is happening to your favourite characters on Binnelanders?
Conrad does not know that Delia is spying on his love life. Meanwhile, he is working on a secret investigation with Maya, and he also tries his best to be honest with Tracy and Chanel.
Brandon speaks ill of Danny's family. He also gets into a fight with Danny over Chanel.
Maya is optimistic that she and Sergio will restore their beautiful relationship.
Tracy worries about her ex-boyfriend the whole night. Not only does she share secrets with Conrad, but she also conceals information about Ian's hideout.
Find out how some characters become friends in September 2020 Binnelanders teasers. The unexpected friendships help them recover from challenges that they experience in life, such as breakups, and family and work-related problems.
READ ALSO: Age is Just a Number teasers: September 2020
In the Age is Just Number September 2020 teasers, Briefly.co.za highlights the forbidden love affair between Sahil and Vedika. While society expects young men to marry maidens from their age bracket, Sahil is adamant about conforming to these restrictions.
He falls in love with a mother of several children, who is not only a widow but also older than him. With a baby on the way, his family is left with three options: they can choose to approve their marriage, reject the mother and get full custody of their grandchild, or reject the mother and the baby.
READ ALSO:
Generations: The Legacy teasers: September 2020
Iron Rose 2 Teasers: September 2020
Game of Love teasers: September 2020
Source: Briefly News