- A survey by the Human Sciences Research Council (HSRC) and the Nelson R Mandela School of Medicine has been conducted camong 7 607 health workers from both public and private sector hospitals
- The study reveals that certain health professionals lacked knowledge about the incubation period of Covid-19 and that their training did not even prepare them enough to determine when patients have recovered
- Nurses, doctors and other health professionals were highly concerned that they were likely to pass on Covid-19 to their families
PAY ATTENTION: Click "See First" under the "Following" tab to see Briefly.co.za News on your News Feed!
By Neesha Maharaj: Freelance Journalist
The novel coronavirus has taken the world by surprise and reached pandemic status rapidly with dire consequences to human life and global economies. South Africa's already-burdened healthcare system is confronted with a deadly new challenge which has huge implications for its health professionals who are at the forefront.
A survey undertaken by the Human Sciences Research Council (HSRC) in conjunction with the Nelson R Mandela School of Medicine at UKZN on the impact of Covid-19 on healthcare workers reveals some interesting facts on how prepared healthcare workers are in diagnosing and treating patients infected by the virus and their own vulnerabilities as frontline workers.
A total of 7 607 health professionals from all nine provinces in South Africa comprising nurses (36.7%), medical practitioners (34.7%) and other health professionals (28.7%) participated in the study in April/May to establish how knowledgeable they were of the virus.
This included the levels of training they received to manage Covid-19; risk perceptions; personal protective equipment (PPE); infection prevention and control thereof; how at risk their family members were; the psychological distress they experience; and general health and wellbeing.
Interesting to note was that over 40% of healthcare workers did not know that the correct incubation period for the coronavirus was two to 14 days, an indicator that health professionals need to be continuously updated with information on new pandemics. The ordinary public may consider this information elementary for health workers to be aware of.
A large percentage of nurses lacked confidence in their abilities to deal with Covid-19, a sign that an unfamiliar pandemic may be too overwhelming for some health professionals to be confronted with daily.
70% of participants accurately identified surfaces as a common way for transmission of the virus to occur. 85% of respondents correctly identified the main symptoms of Covid-19 to be cough, fever and sore throats.
Just under 20% incorrectly identified a skin rash as the main symptom of Covid-19. This was a popular choice among nurses. About 40% of health professionals inaccurately believed Covid-19 to be airborne, an indication of the prevalent uncertainty that exists when a complex new pandemic arises.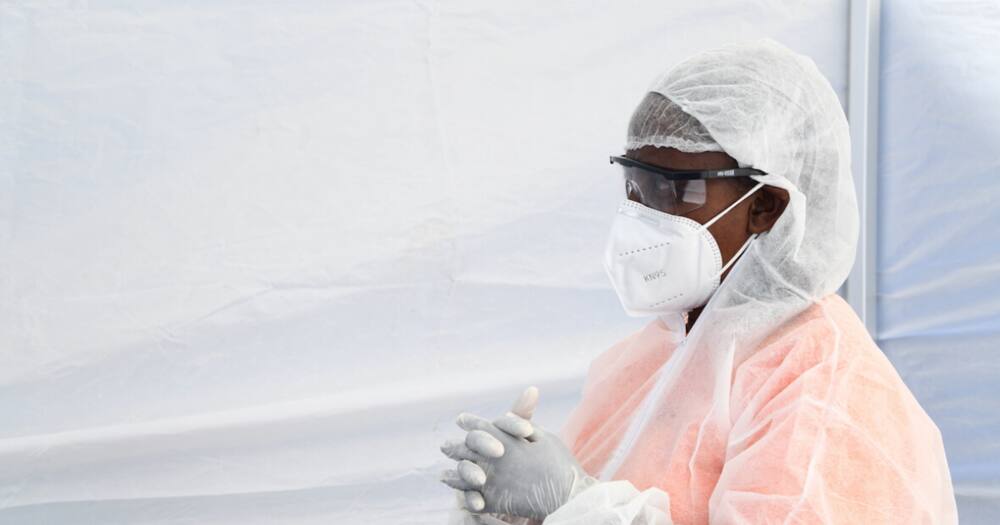 READ ALSO: Steenhuisen: Ramaphosa must 'grow a spine' and end national lockdown
Faced with a new pandemic to treat, only two-thirds of health professionals had received training. Researchers discovered limitations in training which impacted negatively on their ability to diagnose and treat Covid-19 patients.
Training on treatment guidelines was lacking with only one in two participants trained in this area. Of concern is that only one in four participants was trained to ascertain if an infected patient had recovered.
The study found there were disparities in training between medical practitioners and nurses, resulting in drawbacks in confirming diagnosis. Researchers believe training should be equitable across all categories of health professionals which will boost the confidence of workers in their response to Covid-19.
Researchers suggested the importance of training staff timeously and ongoing training to ensure that they are prepared to respond to a pandemic which is likely to increase patient numbers.
Frontline workers coming in contact with Covid-19 patients are at greater risk of contracting the virus. The statistics show that two-thirds of participants felt they were at greater risk of been infected and one-third of the health professionals interviewed believed their workplace context placed them at risk.
Two-thirds of the participants felt they were at risk because the public was not complying with preventative measures. More than half of the health professionals felt they were at risk due to insufficient PPE. A quarter of the participants were concerned that their existing health conditions made them vulnerable to Covid-19.
Statistics gathered on risk factors highlights the perilous reality of healthcare professionals and prove that by entering their work environments on a daily basis they are highly susceptible to Covid-19.
Research findings suggest that over two-thirds of health professionals believed there was a need for a variety of personal protective equipment (PPE) for different clinical contexts with many being sceptical about the availability and accessibility of PPE.
Over 45% of health professionals were more confident in their use of PPE but less confident in availability. More than 70% of those who were less confident in the use of PPE believed they were at higher risk of being infected.
Nurses (39.4%) were most concerned about passing on the virus to their family members while 29% of health practitioners were worried they might infect their family members. Over 20% were psychologically distressed as frontline workers. Nurses were highly distressed in comparison to other health professionals in this regard.
Researchers believe the fact that nurses come into contact with the public more often than other health professionals; the unfamiliarity of the disease and heightened awareness of the disease due to its novel nature could be reasons for them (nurses) being more distressed psychologically and concerned about their own well-being and that of their family members.
This study is an example of the huge impact Covid-19 has had on a sector that plays a crucial role in saving the lives of people.
Meanwhile, Briefly.co.za reported that the Democratic Alliance wants the Covid-19 national lockdown ended with immediate effect.
In a statement issued by interim party leader John Steenhuisen, President Ramaphosa was told to grow a spine:
"The DA calls on President Ramaphosa to end the hard lockdown now, including the irrational bans on tobacco and alcohol. The tourism industry, schools, and borders need to be fully opened, the curfew lifted and the state of disaster ended. It is high time for Ramaphosa to grow a spine, stand up to his party and start putting South Africa first."
Enjoyed reading our story? Download BRIEFLY's news app on Google Play now and stay up-to-date with major South African news!