The late Bob Mabena's memory was honoured on Thursday during a beautiful memorial. Seeing all the amazing messages that poured in showed just what a legacy Bob has left behind.
PAY ATTENTION: Click "See First" under the "Following" tab to see Briefly.co.za News on your News Feed!
The beloved media personality passed away on Monday afternoon, 10 August. The news of his death was confirmed by POWER 98.7 in a statement. Speaking on air, Given Mkhari said Mabena was admitted to hospital on Saturday and discharged on Monday morning. As the late star and his wife were driving home, he experienced some pain and returned to the hospital.
Briefly.co.za saw the overwhelming support Bob's memorial received. Friends, family and fans all took a moment to remember the legend and share their stories.
The memorial took place yesterday, 13 August at 3pm. Only 50 people were allowed to attend the memorial as a result of coronavirus restrictions but it was broadcast live through POWER 98.7.
Honoring the legendary presenter, here are just four of the moving speeches that were given at his memorial:
Dr Tiny Mhinga: Family doctor and friend
Dr Mhinga still cannot believe Bob is gone. After having seen him just last week, Mhinga was certain Bob would be back at work in no time.
Hearing the news, Mhinga said he was torn. Mhinga said staff told him when Bob's family came to fetch him, "His son rushed to him and he picked him up."
Mhinga ended off by letting everyone know that Bob went peacefully as doctors said he kept reading two religious books and repeating, "I'm happy to go back home."
Winston Maimane: Friend
"We've been blessed enough that given the challenges that we all have to operate under, we have secured everything that we needed so that Bob can have precisely the kind of send-off that, for some weird reason, he told most of us [about].
"As we were sitting on Tuesday trying to figure out everything, it very quickly became clear what needed to happen because he has conversations with us respectively and privately.
"I'm not going to fall apart because I cannot afford to. I can't replace him. I'll never be able to replace him for anybody, but I'm going to take care of you. Me and my kids will not cut bread in that house if I know that you can't do the same thing."
READ ALSO: Reebok responds to AKA's serious and public SneAKA accusations
Clementine Mabena: Daughter
"They say every soul that is due to be born picks its parents. And in all honesty, my siblings and I, we won the jackpot - goldmine of note."
Bob's eldest daughter Sihle opened up by explaining what an amazing father Bob was.
"He gave us the best of himself. The Jammer journey doesn't end here, it will continue. It is in these faces. The most effortlessly cool man anyone has ever met. He used to say 'Come home so I can smother you with love' - and he did. He did to every one of us.
"I want to be greedy and say I wish I had more time, but he gave me the best of himself and did the same with my siblings."
Donald Motlaung: Pastor
"People who live a life of great impact are people who leverage their power for the benefit of others - people who use their influence for the benefit of others,. A great life is not a life where you get everything for yourself; a great life is a life where you get everything for yourself so that you can give to others."
READ ALSO: 8 Minnie Dlamini-Jones facts in celebration of her 30th birthday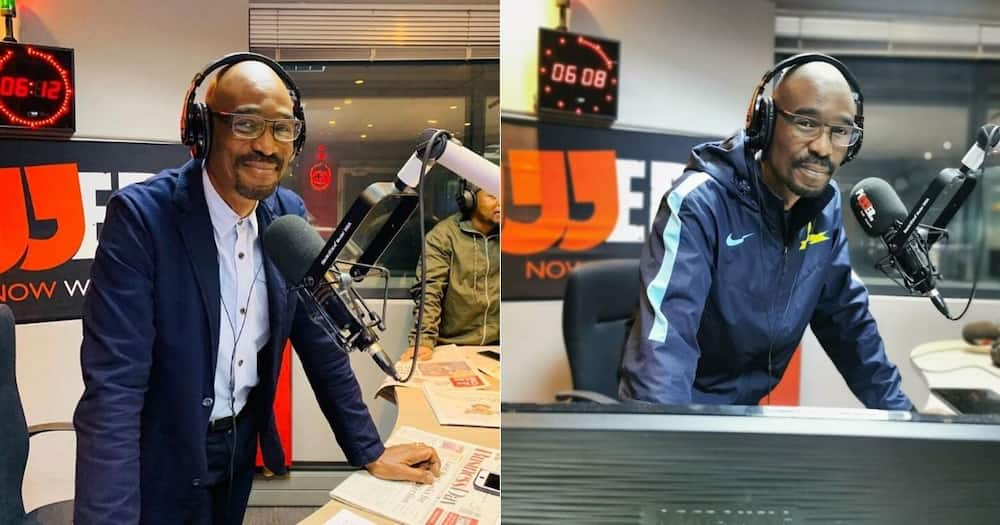 Briefly.co.za had previously reported that legendary radio presenter Bob Mabena lost his grandmother to Covid-19. The Power FM presenter revealed that his granny had gone to the hospital to treat a lung infection when she contracted the deadly virus.
Bob, who said Mzansi hospitals are not ready to deal with the coronavirus, revealed that his granny died just three days after contracting the disease.
Bob's peers in the music industry took to his comment section and sent him messages of condolences. Melanie Bala commented:
"Oh no Bob. So sorry for your loss."
Enjoyed reading our story? Download BRIEFLY's news app on Google Play now and stay up-to-date with major South African news!