Future doctor returns home after studying medicine in Cuba for 5 years
- From a young age, Thabang Godfrey Tooi knew he wanted to be a doctor to help save lives
- However, he got rejected to study medicine in SA and almost became an accountant as a second option
- Luckily, he got the opportunity to study medicine in Cuba for five years and will now complete his degree in South Africa
PAY ATTENTION: Click "See First" under the "Following" tab to see Briefly.co.za News on your News Feed!
Thabang Godfrey Tooi is the perfect example of someone who never gave up on his dreams. After he was denied entry to study medicine in South Africa, Tooi persevered until he landed an opportunity to follow his dream of becoming a doctor.
Tooi recently returned from Cuba after spending five years there to study medicine. Now, he is back in Mzansi and well on his way to completing his degree in the field.
The inspiring future doctor grew up a small town called Schweizer-Reneke in the North West province.
He recalled that his childhood was not easy and his parents did the best with what they had. Speaking to Briefly.co.za Tooi said:
"Life was not always easy but my parents did their best to provide me with all I needed. I was mostly raised by my grandparents since my parents had me at a young age but assumed the responsibilities of parenting once they completed school.
"Unfortunately my father passed away when I was 16 years old, leaving my mom a single parent. She has been everything to me and I wouldn't even dream of being where I am if it wasn't for her."
Despite hailing from a disadvantaged background, Tooi knew he had a calling on his life. From Grade 1, he knew he wanted to become a doctor.
His dream of becoming a doctor was further cemented when he saw his mentor, Dr Pitso, treating a sick man.
He said:
"I was shadowing my mentor Dr Pitso and I saw a man being brought in by paramedics in a stretcher and after a couple of days he walked out of the hospital by himself. Right then I knew that that is what I wanted to do for the rest of my life, heal and help people."
When Tooi matriculated from Itshupeng Secondary School he decided to enrol at the University of Cape Town to study medicine.
However, he was not accepted for the programme and because he did not apply to other varsities, Tooi went with his second choice - accounting.
After one month as an accounting student, Tooi knew he was not on the right path.
"I got into a residence that was close to the medical school and hospital. It was very hard seeing people in their lab coats and stethoscope going to med school while I had to go to upper campus to study accounting. I made a decision to follow my dreams and I dropped out after a month of being at UCT and applied to study medicine in Cuba."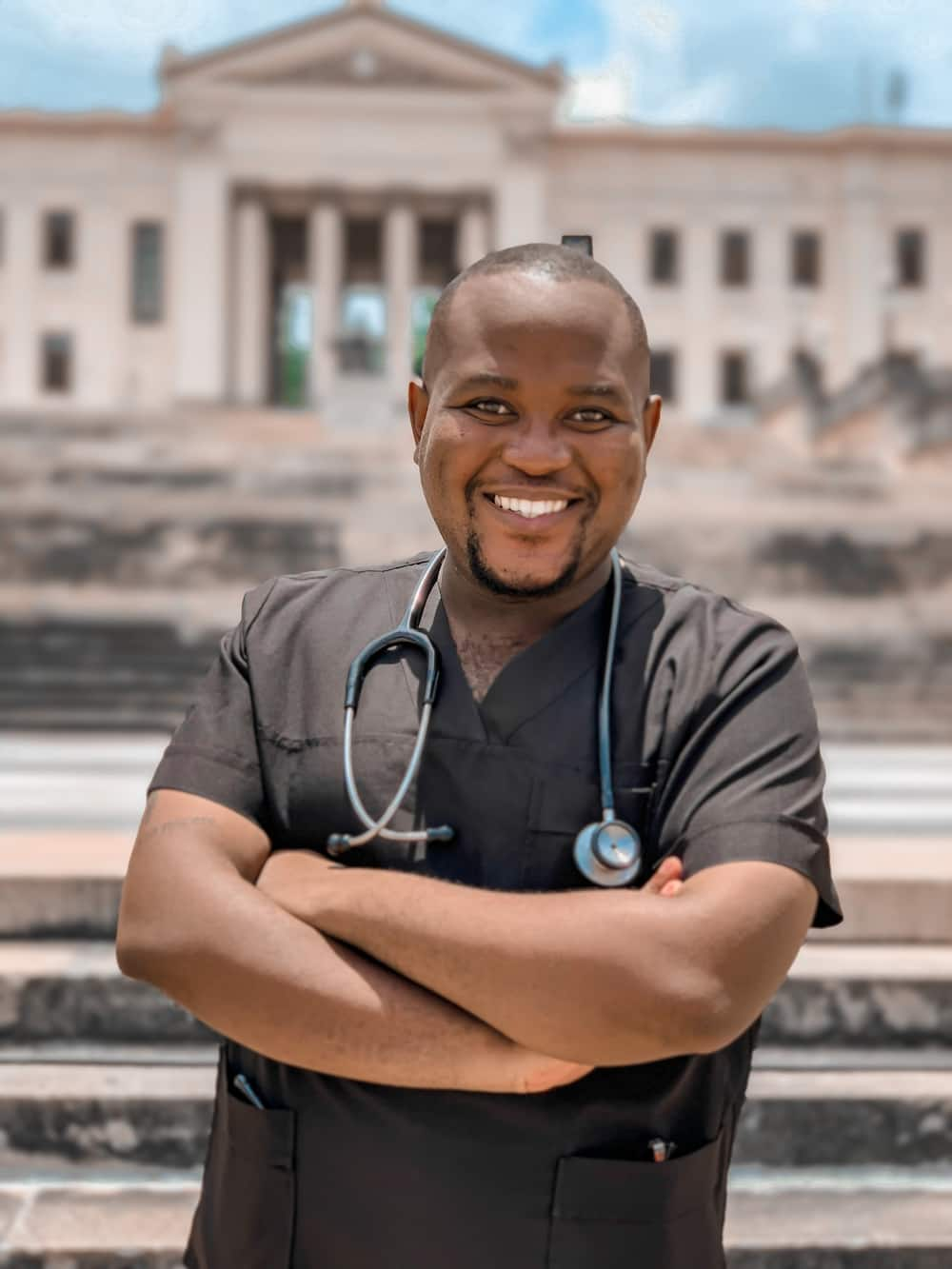 READ ALSO: Pure talent: Girl, 12, wins over the internet with tailoring skills
Tooi revealed his mentor, Dr Pitso, studied in Cuba so he was aware of the programme before he finished high school.
He took a shot and was accepted to study medicine in the northern Caribbean island. However, the transition was far from easy.
"Cuba was very challenging, being in a new environment, having to learn a new language since we study medicine in Spanish there and being very far from home was not easy at all but I knew what I wanted and I was not going to let anything stand in front of me."
Despite the challenges, Tooi found his time in Cuba to be rewarding:
"The love the Cubans have for humanity and healthcare really inspired me and instilled in me a love for my own people and my country. Also experiencing different cultures and nationalities since countries around the world send students to Cuba to study medicine, really made me more open-minded and understanding. Overall it was a beautiful experience."
READ ALSO: The Khunes: 5 times Itu & Sphelele served up major relationship goals
After five years abroad, Tooi finally returned home where he will finish his degree. He is set to do his final year at an university of his choice and he chose UCT.
"By 2022, I'll officially be Dr T.G. Tooi," he proudly said.
His dream does not end at becoming a general practitioner, Tooi told Briefly.co.za that he is working towards becoming a neurosurgeon.
He said:
"The brain is probably the most fascinating organ in the human body for me and surgery is my favourite speciality in medicine."
As for the pandemic, the young future doctor revealed it has had a negative impact on his personal life and mental health but he has learned how to adapt and cope during these troubling times.
Tooi concluded:
"My message to South Africans is that this too shall pass. Let us all comply with the lockdown regulations, wash our hands, use masks and maintain social distancing."
Meanwhile, another doctor has gone viral for his success story. A boy, Anejado Paul, was picked off the street by a good Samaritan from the US, Melissa, 19 years ago. The story did not end there. Paul went ahead to succeed and became a medical doctor.
The American lady spoke about how her family met Paul in a village in central Nigeria. She also recalled how her heart broke for the kind of condition he was living in, NigerianVoice reports.
"Our family first met Anejodo Paul in a small remote village in central Nigeria about 18 and a half years ago.
"I remember my heartbreaking when I saw this kid under a tree swatting flies away from the raw and open tissue on his leg that had been caused by a flesh-eating bacteria," she said.
Enjoyed reading our story? Download BRIEFLY's news app on Google Play now and stay up-to-date with major South African news!
Source: Briefly News