- Police Minister Bheki Cele released the crime statistics during the lockdown period in SA
- Cele revealed that 300 000 people have been charged with breaking the laws put into place in March
- The minister is adamant that the ban on liquor isn't related to crime, but the health of citizens during the Covid-19 pandemic
PAY ATTENTION: Click "See First" under the "Following" tab to see Briefly.co.za News on your News Feed!
Police Minister Bheki Cele has released the latest crime statistics for the period in time where SA was under the Covid-19 lockdown.
Speaking during a briefing on Friday, Cele revealed that nearly 300 000 people have been charged with violating the Disaster Management Act.
Fewer contact crimes were reported during this time with the alcohol ban highlighted as a contributing factor.
Cele addressed the sensitive issue, which has been hotly contested, denying that crime had been a reason the prohibition was imposed:
"I must emphasise the point that the banning of alcohol has nothing to do with crime. It had all to do with the health system and COVID-19 and giving the space to the victims of Covid-19 but, by the way, the crime situation benefited out of that."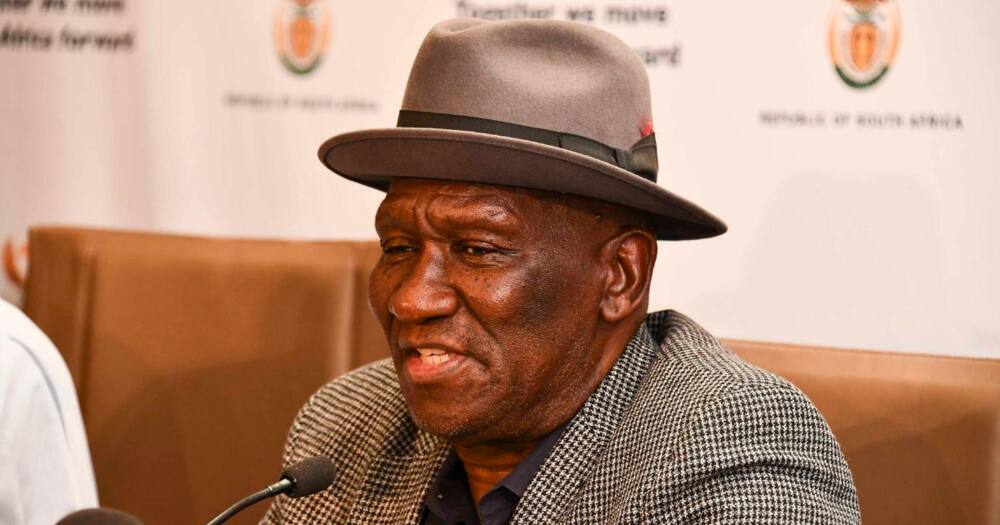 READ ALSO: President Ramaphosa: SA must unite, fight corruption as a country
537 Citizens were arrested for breaking into bottle stores while 649 were nabbed for breaking into schools. On the subject of schools being targeted
Cele explained that while some robberies were planned others were spontaneous. The highest factor leading to crimes during this time were arguments with robbery, mob justice and taxis also noted as having played a significant role.
112 Murders were recorded during this time while burglaries at residential premises saw a decline of over 30%. Burglaries at non-residential premises saw a 9.1% increase.
Overall, Cele was optimistic over the impact of the lockdown on crime saying that the statistics paint a 'never-before-seen rosy picture' of South Africa.
With the SA National Defence Force deployed in the early days of the lockdown Cele says there had been more boots on the ground to fight crime.
The SANDF helped the SAPS enforce lockdown regulations and aided in the confiscation of millions of rands worth of contraband and illegal weapons.
Meanwhile, Briefly.co.za reported that President Cyril Ramaphosa had called for South Africa to unite in the fight against corruption.
Ramaphosa says that the public's trust in the government needs to be restored, commenting that:
"We must work together to rid our society of the scourge of cronyism and corruption. It is of the gravest concern that we are confronted with the misdeeds of those abusing the access to political and state power to enrich themselves. Day by day, we learn more about the actions of thieving looting and corruption. Day by day, the trust of our people is eroded."
Enjoyed reading our story? Download BRIEFLY's news app on Google Play now and stay up-to-date with major South African news!