- Former US first lady Michelle Obama has blast President Trump, accusing him of causing chaos and creating division
- Ms Obama urged Americans to vote the US president out in the forthcoming election
- The former first lady appealed to American voters to cast their votes for the presidential candidate of the Democrats, Joe Biden, like their "lives depend on it"
PAY ATTENTION: Click "See First" under the "Following" tab to see Briefly.co.za News on your News Feed!
As the United States prepares for another presidential election in November, former first lady Michelle Obama has strongly appealed to Americans to vote President Donald Trump out.
The former first lady made the appeal in her powerfully-delivered speech on the first night of the Democratic convention on Monday, August 17, the New York Times reports.
In her speech, Ms Obama tore down the administration of President Trump, accusing him of creating "chaos," sowing "division" and governing "with a total and utter lack of empathy".
She urged Democratic voters to ensure they cast their votes in any way they could, even if it meant waiting in long lines to do so.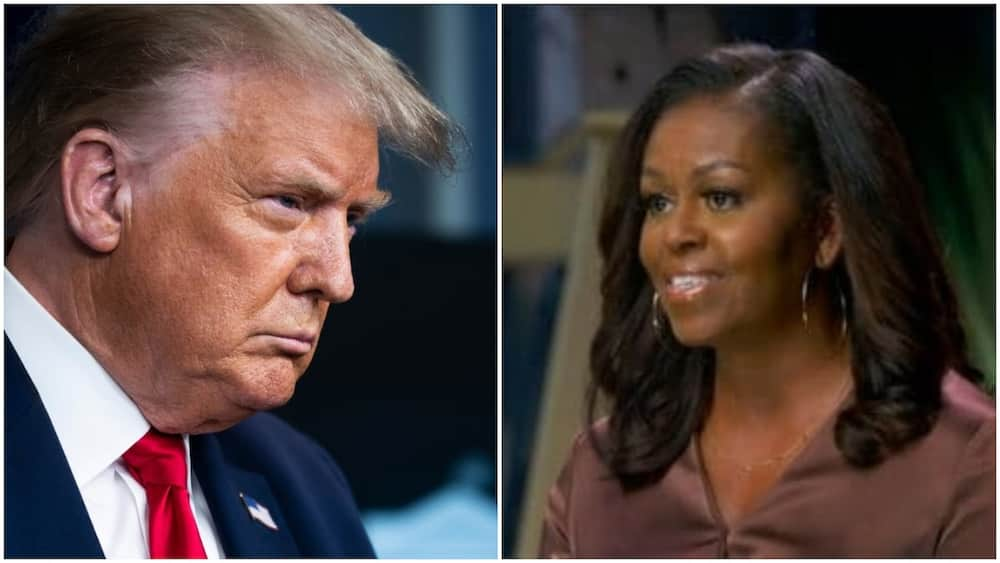 According to Ms Obama, President Trump has not mismanaged the strong economy he inherited from the previous administration but also launched a divisive approach on race relations, thereby emboldening white supremacists.
READ ALSO: Mthethwa wants consequences for SA rugby players who refused to kneel
She stated forcefully:
"Let me be as honest and clear as I possibly can: Donald Trump is the wrong president for our country. He has had more than enough time to prove that he can do the job, but he is clearly in over his head. He cannot meet this moment. He simply cannot be who we need him to be for us. It is what it is."
She submitted that the forthcoming election is the last chance for America to be redeemed from the steep moral, political and economic decline precipitated by President Trump.
Ms Obama urged American voters to cast their votes for the presidential candidate of the Democrats, Joe Biden, like their "lives depend on it".
"So, if you take one thing from my words tonight, it is this: If you think things cannot possibly get worse, trust me, they can; and they will if we don't make a change in this election. If we have any hope of ending this chaos, we have got to vote for Joe Biden like our lives depend on it."
READ ALSO: Justice for Kwasa: Woman, 19, killed in gender-based violence case
Meanwhile, President Trump has also been labelled as the first racist US president.
Democratic presidential candidate Joe Biden gave this tag to the American president on Wednesday, July 22, while answering questions at a Service Employees International Union roundtable.
Biden was specifically asked to respond to Trump's calling of the coronavirus pandemic the "China virus."
Biden said it was "absolutely sickening" how Trump "deals with people based on the colour of their skin, their national origin, where they're from".
"No sitting president's ever done this. Never, never, never. No Republican president has done this. No Democratic president. We've had racists, and they've existed, and they've tried to get elected president. He's the first one that has."
In other news, President Trump on Thursday, August 6, issued executive orders that would ban the social media app TikTok and WeChat from operating in the country in 45 days if they are not sold by their Chinese-owned parent companies.
Trump made his move under the International Emergency Economic Powers Act, a 1977 law that allows the U.S president to declare a national emergency in response to an "unusual and extraordinary threat," allowing him to block transactions and seize assets.
Brian Fleming, a lawyer based in Washington, told Bloomberg:
"IEEPA is an incredibly expansive authority and allows the president to declare a national emergency with respect to just about anything."
Enjoyed reading our story? Download BRIEFLY's news app on Google Play now and stay up-to-date with major South African news!