- Though there are a number of different reasons for having blue eyes but being black, but none are connected with being an evil person
- Science says this may be caused by a genetic mutation which happened many thousands of years ago
- Among other causes is Waardenburg Syndrome, an uncommon disease that could result in a pigmentation anomaly
PAY ATTENTION: Click "See First" under the "Following" tab to see Briefly.co.za News on your News Feed!
Having blue eyes as a black person is still a thing of wonder for many and a taboo to some as they believe that these people are born evil.
How Africa notes that having blue eyes is not only a peculiarity associated with the Asians or Europeans as there are different explanations for the rare iris colour.
The first reason for it could be linked to a genetic mutation. Livescience.com says:
"A single mutation which arose as recently as 6 000 to 10 000 years ago was responsible for all the blue-eyed people alive on earth today."
READ ALSO: Christmas comes early for local booze drinkers after beer truck crash
The genetic mutation theory was made public by a team of scientists from Copenhagen University and their findings published in the Journal of Human Genetics. They said that the mutation happened in a human gene around the coast of the Black Sea about 8 000 years ago.
A black person could also have blue eyes when they have Caucasian families on both sides, people who are known to have a gene carrying that eye colour.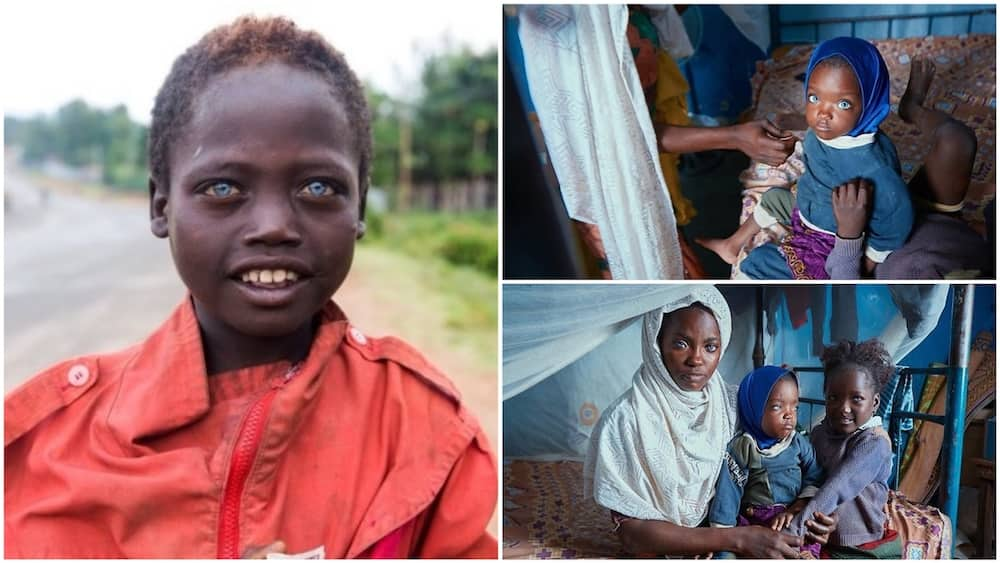 Aside from genes, the condition could also be caused by Waardenburg Syndrome, a disease that could be inherited from either parent. The syndrome is characterised by what is called sensorineural deafness, which could result in defective pigmentation.
It should, however, be noted that having blue eyes is not an evil thing as there are many celebrities around the world with them. Science is adequately able to explain the condition.
Meanwhile, Briefly.co.za earlier reported that amazing things happened to Kaosarat, the blue-eyed girl, and her family as people stretched hands of help to them.
Toyin Saraki, the wife of the former Senate president, Bukola Saraki, also helped them through her foundation called the Wellbeing Foundation Africa.
READ ALSO: Free State high school goes viral after participating in #JerusalemaChallenge
In a detailed account on her site, the advocate explained the reasons why she decided to intervene in their matter.
She said that she was most struck by their condition because Riskiat's (the mother's) story reflects the typical story of many women in Nigeria.
In other related news, the wife of Kwara state governor, Olufolake Abdulrasaq, also came to the rescue of Kaosarat, her sister and mom Risikat.
Following the viral news about the family who was abandoned by their father because of their eyes' colour, the First Lady of the state said she had contacted them through her NGO, called Ajike People Support Centre.
Enjoyed reading our story? Download BRIEFLY's news app on Google Play now and stay up-to-date with major South African news!