Dr Zweli Mkhize made a promising prediction for SA during the pandemic but he is still concerned about the impact of alcohol consumption on the healthcare system.
PAY ATTENTION: Click "See First" under the "Following" tab to see Briefly.co.za News on your News Feed!
South Africa is nearing 600 000 positive coronavirus cases but the Minister of Health, Dr Zweli Mkhize, believes the worst might be behind us.
He did however express his concerns over the impact alcohol consumption has had on the healthcare system.
Briefly.co.za took a look at the latest Covid-19 updates in South Africa:
1. Zweli Mkhize believes SA is passing Covid-19 peak
Health Minister Zweli Mkhize believes South Africa might be passing the Covid-19 peak as the country is closing in on 600 000 cases.
The minister said SA's death rate it much lower than other countries' and the recovery rate continues to climb.
He said:
"On that point, it is the right time for us to start considering the steps that must be done as we move through the risk-adjusted approach towards normality."
READ ALSO: Frustrated SA youth convince their parents to stop voting for ANC
2. South Africa recorded 3 880 new Covid-19 cases
The country recorded 3 880 new coronavirus cases on Thursday. The new cases put the total number at 599 940.
Taking to social media, the health minister shared an update on the latest numbers.
Mkhize wrote:
"As of today, the total number of confirmed Covid-19 cases is 599 940, the total number of deaths is 12 618 and the total number of recoveries is 497 169."
Take a look at his post below: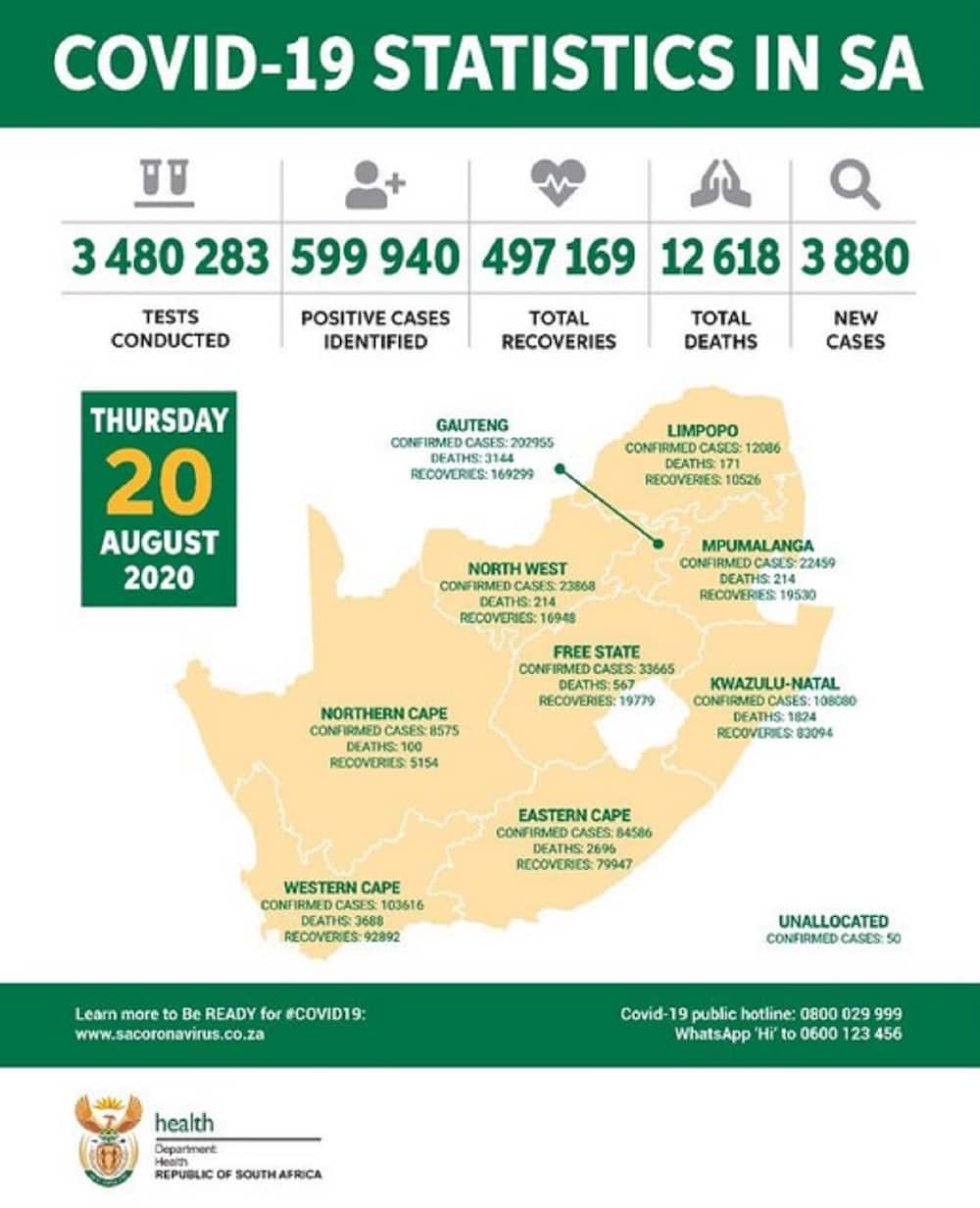 3. Alcohol is still burdening the healthcare system
On Tuesday, South Africans were able to buy cigarettes and alcohol again as the country moved to lockdown Level 2.
However, Mkhize is not so sure that selling booze is the best idea during this pandemic. In a column published by News24, Mkhize wrote that despite only 31% of the SA population consuming alcohol, it still has a negative impact on the healthcare system.
The health minister wrote that prior to the lockdown, there was a consistent increase in trauma cases over the weekend.
However, when the ban on booze was imposed, those statistics saw a massive drop. Mkhize has previously said that alcohol-related injuries and cases overwhelmed hospitals' trauma units when it saw the reinstatement of the alcohol ban at the time.
4. Mangosuthu Buthelezi beats Covid-19 just a week before turning 92
IFP MP Mangosuthu Buthelezi has recovered from Covid-19, his family confirmed in a statement on Thursday, 20 August.
The 91-year-old leader received a negative test result on Thursday, family spokesperson Bhekuyise Buthelezi said. The politician has recovered just in time for his 92nd birthday celebration on 27 August.
5. Elective surgeries to return in Western Cape following decline in cases
The Western Cape has experienced a rapid decline in Covid-19 cases and is looking to move down to Level 1.
This will mean that elective surgeries could return to public hospitals and the return of international flights.
According to News24, there are no testing backlogs and the province has the capacity to test should the need arise.
However, the Garden Route is yet to see a decline in cases and 32 nurses and six doctors were sent to help the medical professionals there.
6. Nehawu threatens strike over Covid-19 safety
The National Education, Health and Allied Workers' Union (Nehawu) plans on striking over the government's refusal to increase public servants' salaries, as well as their failure to adequately protect workers with personal protective equipment (PPE) during the pandemic.
Nehawu general-secretary Zola Saphetha told News24:
"Workers are extremely angry at the poor pace of transformation and government's inability to improve the lives of public servants, including freezing their wage increase by reneging on the implementation of Resolution 1 of 2018, while watching the elite benefiting from the proceeds of corruption through PPE tenders and supply of other Covid-19 essentials."
In other news, the Beitbridge border fence has been a disaster with corruption and poor construction resulting in the project going massively over budget.
Initially, it was feared that the project was R14 million overpriced but a government-commissioned report revealed that it is actually R17 million overpriced.
A laundry list of issues have been revealed - the fence is not high enough, barbed wire being stretched too far and over 100 breaches to the fence, to name a few.
Enjoyed reading our story? Download BRIEFLY's news app on Google Play now and stay up-to-date with major South African news!