- Lasizwe's father was not around much and it has caused him a pain he wouldn't wish upon his enemy
- Taking to social media, Lasizwe expressed how he prays no one will ever have to experience the anguish he has as a result of his father
- Lasizwe's heart has been crushed but he will never let his absent father break him more than he already has
PAY ATTENTION: Click "See First" under the "Following" tab to see Briefly.co.za News on your News Feed!
Lasizwe took to social media to share a very personal part of his journey. Not having a present father hit Lasizwe hard and has clearly left a bitter taste in his mouth. There are a lot more people who feel the same way Lasizwe does.
A father is a very important part of a child's life; however, that title is earned. A father who chooses when to be a dad and when not to can break a child in more ways than most understand.
Briefly.co.za saw the heartbreaking post Lasizwe made on social media in which he poured his heart out about his experience with his dad. Seeing the hurt Lasizwe has been through and is still going through is truly heart-wrenching.
The Fake it Till You Make It star has never hidden the fact that his father hasn't been the most stand-up guy. Both Lasizwe and Khanyi Mbau have been deeply hurt by their father and never have a nice thing to say about him.
Lasizwe was raised mainly by his mother and his older half-sister. His father was hardly ever around when he was a child and that has stuck with Lasizwe for life. Lasizwe was not about to let his father walk in and out when he felt fit – that isn't how it works, baba, sorry!
Taking to social media with a heavy message, Lasizwe expressed how he hopes no one ever has to experience that hurt he has had to endure as a result of his absent father. What triggered Lasizwe that day we are not sure but we felt his pain.
No father in the world should ever make his child feel this way and if he does, he is not a father. Being a father is a blessing and is a title that should be honoured and respected.
READ ALSO: Reebok responds to AKA's serious and public SneAKA accusations
"I pray you experience what it means to be loved by your father! I pray you don't experience the level of brokenness and anger I have towards my father... I pray I find some healing coz that man really tore my heart into pieces from a tender age!"
READ ALSO: 8 Minnie Dlamini-Jones facts in celebration of her 30th birthday
Briefly.co.za previously reported that Lasizwe Dambuza is not one to post about his personal life on social media, especially not his relationships. Being in the public eye, Lasizwe has learnt the value of privacy.
We saw the commotion a few pictures posted by Lasizwe caused on social media. Lasizwe manages to keep his private life out of the public eye even though he has a reality TV show called Fake It Till You Make It.
Choosing what goes on his show and what he shares on social media has really helped Lasizwe enjoy being in the public eye more. Lasizwe posted two pictures of him and a man who everyone has assumed to be his hunky bae.
Posting the pictures, Lasizwe took advantage of the option to turn comments off, stopping haters from hating – ain't nobody got time for that.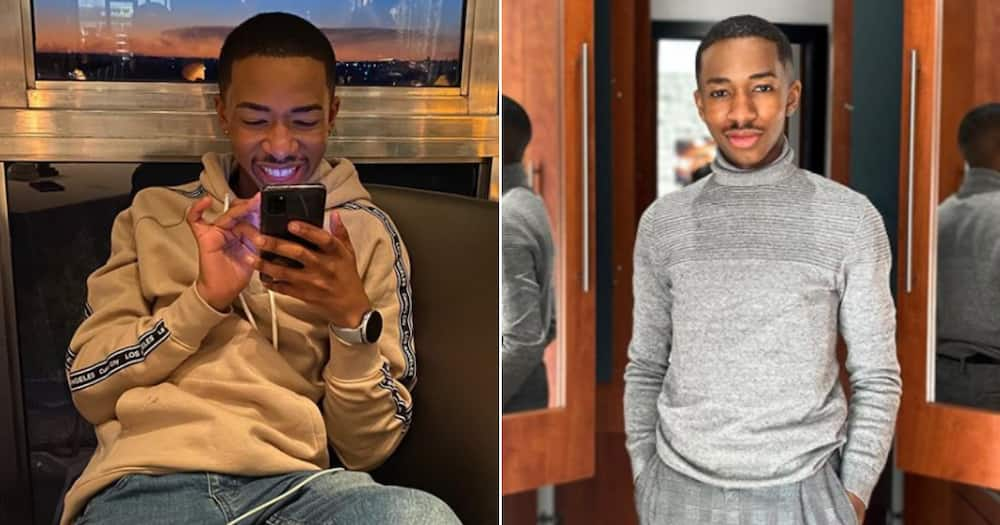 Enjoyed reading our story? Download BRIEFLY's news app on Google Play now and stay up-to-date with major South African news!