- Zandile Gumede has been appointed to the KwaZulu-Natal Legislature amidst widespread concern from opposition parties and the public
- Former public protector Thuli Madonsela has said that an internal disciplinary process should be conducted to help remove the perception that corruption is being tolerated
- The Organisation Undoing Tax Abuse (OUTA) shares Madonsela's sentiments and believes that Gumede should step down until her criminal charges are dealt with
PAY ATTENTION: Click "See First" under the "Following" tab to see Briefly.co.za News on your News Feed!
Zandile Gumede's appointment to the KwaZulu-Natal Legislature has caused a widespread outcry from opposition parties and the public. She will be rewarded with a R1.1 million salary.
Gumede is facing criminal charges relating to alleged tender fraud and had been removed as eThekwini mayor last year. Former public protector Thuli Madonsela has broken her silence on the appointment.
In an interview with eNCA she said that the appointment was a promotion. She believed that an internal investigation should have taken place while the criminal investigation is ongoing.
READ ALSO: Osei Nyame: Meet the mechanic turning old cars into luxurious rides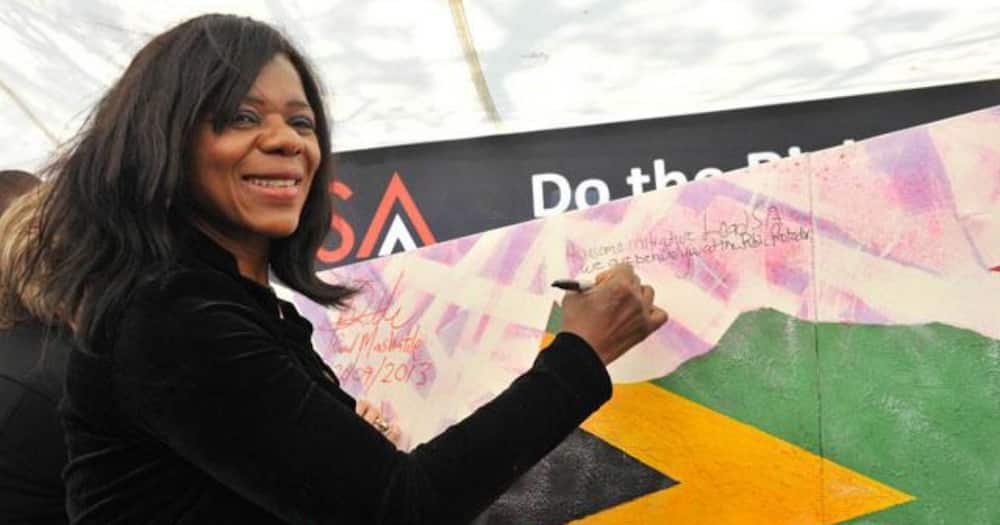 Madonsela said that an internal disciplinary procedure would have helped with the perception in the public that corruption is being rewarded.
She made it clear that she was not insinuating that Gumede had done anything wrong but an internal investigation would have helped a lot.
READ ALSO: Johannesburg boys' school goes viral after singing Thina Siyazalana
The Organisation Undoing Tax Abuse (OUTA) is particularly incensed at Gumede's appointment. She was removed as eThekwini mayor due to poor performance and not the R430 million tender scandal. She is currently out on R50 000 bail.
OUTA noted the KZN ANC provincial executive council in March 2019 stated that:
"All comrades charged with serious crimes must step aside from their positions of responsibility in government, pending the conclusion of their legal cases."
Tim Tyrrell, OUTA's project manager in KZN, said that Gumede's appointment is a reward for poor leadership, according to Business Tech.
"Gumede's earnings will now drastically increase. As an ordinary councillor she earned a gross salary of about R512 000 per annum. As a Member of the Provincial Legislature (MPL) in the KwaZulu-Natal Legislature, her gross salary will be R1.1 million as well as several perks such as 24 free flights a year and various other allowances," said Tyrrell.
In September 2019, ANC deputy secretary-general Jessie Duarte said that Gumede was removed due to poor performance.
Project manager, Thabile Zuma, said:
"It is unclear what benefit Zandile Gumede will bring to the provincial legislature. Considering she was officially removed as mayor for her poor governance performance, her skills are wholly unsuited within a legislature setting.
"If she was unofficially removed because of the criminal charges, then her lack of judgement for at the very least being tainted by such a scandal should be questioned. It is unfair that South Africans should carry her financially while she attempts to clear her name."
Earlier, Briefly.co.za reported that the African National Congress (ANC) in KwaZulu-Natal (KZN) is still considering electing former eThekwini Mayor Zandile Gumede as chairperson of cooperative governance and traditional affairs (Cogta).
This has caused a widespread outcry from opposition parties as Gumede is currently facing criminal charges.
Last year she was arrested and was released on R50 000 bail after she was linked to an alleged case of fraud involving a multi-million-rand tender. Gumede was sworn in as a KZN MP after Ricardo Mthembu passed away after contracting Covid-19, according to EWN.
She said that she is still a member of the ANC and will be active in eThekwini.
"Well, I am not completely lost to eThekwini as branches of the ANC still want me to be their regional chairperson. I only left the local government sphere, but since I am a member of the ANC I will still be active in eThekwini."
In other news, former eThekwini mayor, Zandile Gumede is officially an honourable member of the KwaZulu-Natal legislature.
The ANC politician was sworn in on Wednesday afternoon as an ANC MPL. She replaces the late MPL Ricardo Mthembu, who passed away from Covid-19 in June.
Gumede was removed as mayor by the ANC in KZN after she was accused of corruption. There is an ongoing R430m corruption case against her and her 17 others. News of her return has gone viral on social media and South Africans are not happy at all.
Enjoyed reading our story? Download BRIEFLY's news app on Google Play now and stay up-to-date with major South African news!