GoodLuck is a South African music group that is focused on the electronic, pop and dance genres. It is one of the top SA bands, having been founded by Ben Peters and Juliet Harding in 2011. The group is best-known for its chart-topping sizzling brand of music, including songs like GoodLuck Chasing Dreams ,which was released in 2016 and is now very much global.
PAY ATTENTION: Click "See First" under the "Following" tab to see Briefly.co.za News on your News Feed!
Having a woman as their front of the band, GoodLuck is just one of the very many Mzansi groups promoting female growth and empowerment. SA women are so strong and deserve to be celebrated.
With August being Women's Month, Briefly.co.za thought it would be a good idea to get GoodLuck's front lady Juliet Harding to answer a few questions about the rights females have in SA and the struggles they still face.
1. What does Women's Month mean to you?
I think it's two-fold for me - an opportunity to celebrate women, our creativity, talents and achievements as well as a chance to reflect on and take action against the levels of violence that are still happening to women all around the globe.
I don't really try to focus on being 'equal' to men because our energy is completely different but I feel we need to protect and celebrate what it means to be a woman because it is beautiful, nurturing and powerful on so many levels.
I don't like to use women's month to polarise against and compete with men, it is not about that. It is about celebrating and protecting women around the globe.
2. What changes would you like to see in the short term that will benefit women in South Africa?
For me the right to choose around the topic of having a child. In South Africa there is a very big patriarchal hierarchy and a culture of expectation that a woman must always use her body to give a man a child and this is really not right.
All women should have the right to choose whether or not they are willing and able to do that. I would like to be a part of the process that helps to educate women that they have a choice.
Also, I would like to see more women in the music industry being celebrated for their talents as opposed to their 'looks' / physical attractiveness, I think that element puts a lot of women off ever trying to make it in this business.
Of course, I think we need to mentor men to have an understanding of where to draw the line on aggression leading to physical violence. We have far too much gender based and domestic violence in this country and that is something that needs urgent attending and dialogue.
READ ALSO: Reebok responds to AKA's serious and public SneAKA accusations
3. What do you think is stopping South Africa from making the changes you mentioned above?
Leadership is one thing. Setting a good example from the top down, we really do lack that in our country at the moment. Also personal accountability which comes through education.
I think that my view's are very 'first world' but I appreciate that I have had the opportunities that most others have not. To travel for example is a HUGE privilege and one that I wish all South Africans could experience to broaden their thinking.
Poverty is also a huge factor and that ties into leadership. Our leaders are corrupt and stealing from the poor who remain in stressful and impoverished circumstances. This stress leads to anger which leads to violence.... So ultimately we need stronger leaders but we also need our educated population to assist in mentoring those who have had a very different perspective on the world through circumstance.
4. In light of the death of 19-year-old university student, Asithandile Zozo at the hands of her boyfriend, as well as the upcoming anniversary of the tragic death of Uyinene Mrwetyana, what do you think needs to be done to curb GBV in South Africa quickly and effectively?
I think we need to mentor young men. I believe these violent acts are coming from a place where they are unable to communicate effectively so they lash out in ways that sometimes lead to tragedy and death.
We need to talk to them, hear them and empathise with their situations and only THEN can we try and help them to understand how GBV is not a solution or an option. Meditation is also a practice I would love to see taught in poorer communities because so often these acts are linked to drinking which is caused by a need to 'escape' but ultimately it has the reverse effect.
If more of our community was taught the skills of meditation we would see far fewer violent outbreaks and less crime and suffering.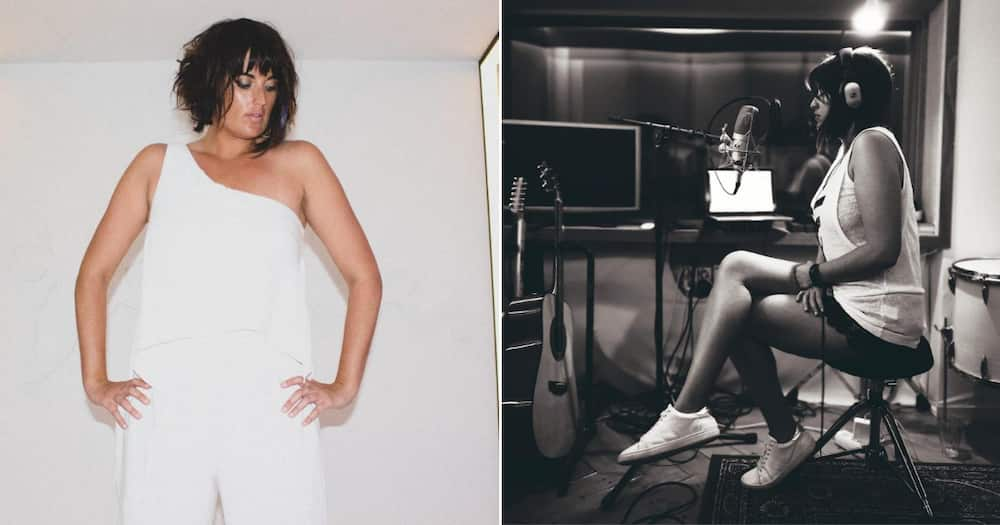 5. Who is the woman you look up to most and why?
Right now I have huge admiration for New Zealand's female president Jacinda Adern. I think she is an incredible woman and is showing the world how females in leadership positions are the way of the future.
READ ALSO: 8 Minnie Dlamini-Jones facts in celebration of her 30th birthday
Briefly.co.za previously reported that Minnie Dlamini-Jones took to social media to show love to industry peer Nandi Madida. Minnie expressed her pride in Nandi for all her accomplishments thus far.
The heartfelt social media post mentioned that Nandi made her believe that anything was possible. She posted a stunning picture of the media personality to accompany the lengthy caption. She said:
"I would like to celebrate this queen today. I am beaming with pride for the incredible journey you're on. You were the first girl I looked up to growing up, my big sis who always showed @langamngoma and myself that anything is possible.
"You were always MY Beyonce and to see you in #BlackisKing was such a full circle moment. From little girls who would sing, dance, act and do pageants, to woman who never stopped dreaming and inspiring. Halala Queen Nandi Halala nandi_madida I love you siswam."
Enjoyed reading our story? Download BRIEFLY's news app on Google Play now and stay up-to-date with major South African news!