- KwaZulu-Natal Premier Sihle Zikalala has accused eNCA reporter Shahan Ramkissoon of disrespecting and belittling him
- The incident took place in an interview which was held earlier in the month
- He revealed this during a Zoom meeting with the South African National Editor's Forum (Sanef)
PAY ATTENTION: Click "See First" under the "Following" tab to see Briefly.co.za News on your News Feed!
KwaZulu-Natal Premier Sihle Zikalala has said that Shahan Ramkissoon, an eNCA reporter, "disrespected" and "belittled" him.
He claims the incident happened earlier this month during a live broadcast. Zikalala announced this during a Zoom meeting which was organised by the South African National Editor's Forum (Sanef).
Zikalala was asked by one of the journalists at the meeting if he would withdraw from talking to the media after he made deprecating remarks about the news industry.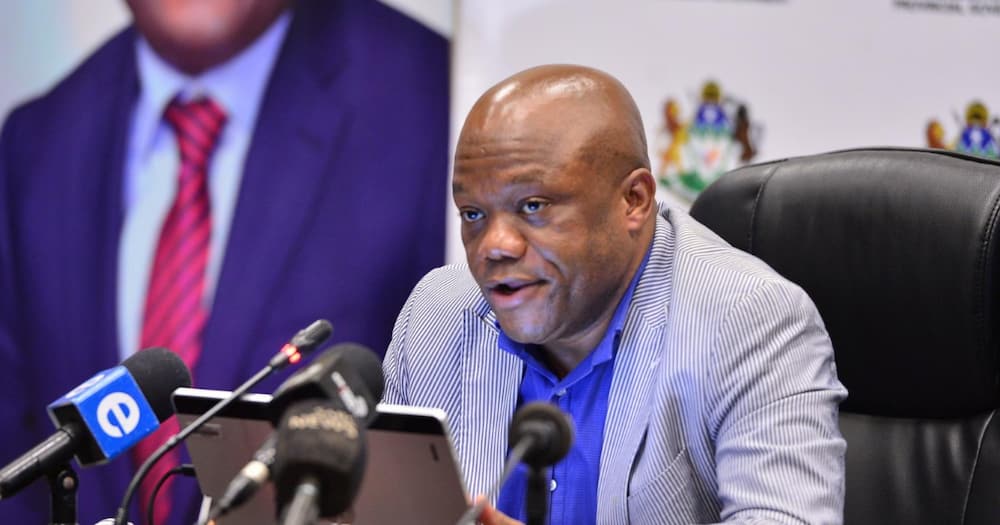 Former eThekwini mayor Zandile Gumede, who had been removed as mayor and is facing criminal charges relating to alleged tender fraud, also withdrew from talking to the media, according to IOL.
Briefly.co.za learned that Ramkissoon and Zikalala got into a heated discussion during their interview earlier in the month.
READ ALSO: Osei Nyame: Meet the mechanic turning old cars into luxurious rides
Zikalala said, making reference to the officials who were suspected of corruption in the PPE scandal:
"When I say there are so and so who have committed a crime, now you (Shahan) are coming and everyone has committed the crime. That's what you have misconstrued and you are wrong."
He accused Ramkissoon of not allowing him to respond to questions. During the Friday Zoom meeting, Zikalala commented on the way Ramkissoon addressed him, saying:
"I'm sure in the engagement with Shahan, there was a bit of disrespect [from him], and there was a lack of ethical conduct on his side."
Zikalala also said that how Ramkissoon spoke to him bordered on racism.
"The manner in which Shahan was engaging with me was disrespectful and bordering on the element of discrimination. He was trying to belittle me."
The premier said that he believed that there is a sentiment among "others" that "Africans" are unable to lead or accomplish anything. He said that is was important that we respect each other and form social cohesion.
"Even if eNCA calls me tomorrow to do an interview, I will be there. As long as the interview is conducted with respect. Scrutinise any point (referring to the state of affairs) but don't treat me with disrespect. I will always respect each and every journalist, each and every editor, but I must always enjoy respect too," he said.
READ ALSO: Johannesburg boys' school goes viral after singing Thina Siyazalana
Earlier, Briefly.co.za reported that Sihle Zikalala recently criticised police for inviting the media when they carry out high-profile arrests and raids against politicians.
The SABC reports that the ANC KZN chairperson had condemned authorities during a meeting of ANC branches, with President Cyril Ramaphosa in attendance in eThekwini, home of the embattled former mayor Zandile Gumede.
Briefly.co.za reported that raids carried out against Gumede had made headlines, with allegations abounding that she had violated her bail conditions over confusion surrounding her address.
In other news, Zandile Gumede's appointment to the KwaZulu-Natal Legislature has caused a widespread outcry from opposition parties and the public. She will be rewarded with a R1.1 million salary.
Gumede is facing criminal charges relating to alleged tender fraud and had been removed as eThekwini mayor last year. Former public protector Thuli Madonsela has broken her silence on the appointment.
In an interview with eNCA she said that the appointment was a promotion. She believed that an internal investigation should have taken place while the criminal investigation is ongoing.
Enjoyed reading our story? Download BRIEFLY's news app on Google Play now and stay up-to-date with major South African news!