- Tito Mboweni has denied any intentions of resigning adamant that he is 'firmly' in place
- The Finance Minister hinted that once of his own 'colleagues and comrades' had peddled stories to the media
- Mboweni recently commented that it never paid to be nice to 'un-nice' people in politics
PAY ATTENTION: Click "See First" under the "Following" tab to see Briefly.co.za News on your News Feed!
Tito Mboweni has made it clear that he has no intentions of throwing in the towel as South Africa's Finance Minister.
In a comment made on Saturday, Mboweni cheekily hinted that one of his own 'comrades' had been behind this rumour:
"There are people, your own colleagues and comrades who peddle stories to Sunday papers. Tito this, Tito that. He is resigning etc etc! Va tamba! I am firmly here."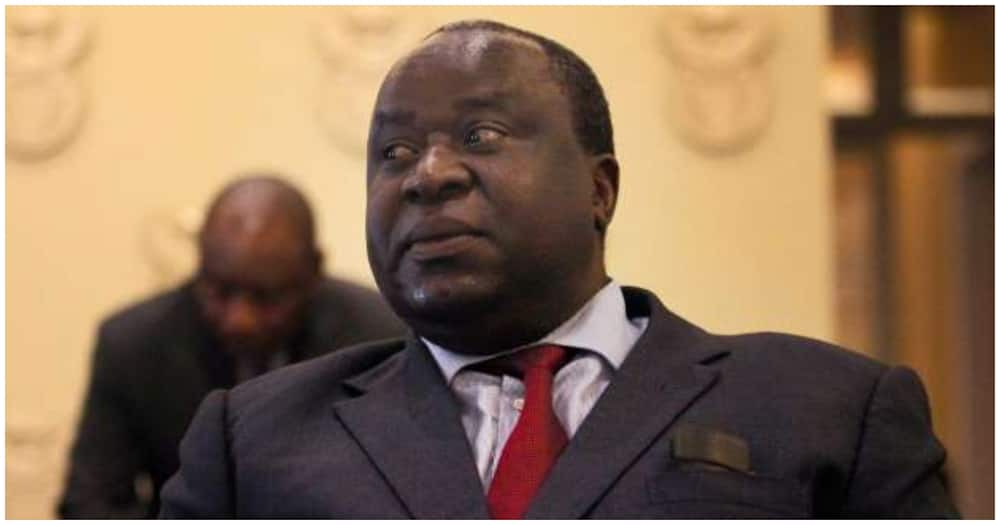 READ ALSO: Covid-19 corruption: Car wash, pub amid companies handed PPE tenders
Mboweni also addressed the sensitive subject that is SA's R500 billion Covid-19 fund, answering the question on everyone's mind: What happened to the money?
The minister promised to release a detailed statement on the matter soon, explaining that:
"The R500 billion announcement has many components. R200 billion is the National Credit Guarantee Scheme and the rest are about Social relief of Distress, UIF, etc. It has not been eaten! Look out for my statement on the National Treasury website."
Mboweni had also made it clear that he intends to stand his ground when it comes to 'un-nice' politicians:
"One of the cardinal lessons learnt in over 40 years in politics: Never be nice to people who are un-nice to you. Confront them; head to head, cheek to cheek, fist for fist, tongue to tongue, don't turn the other cheek as they say in the Holy Book. No! Defend your space!"
Meanwhile, Briefly.co.za reported earlier that the SA Revenue Service had uncovered how a car wash and pub were amongst the companies that managed to score Covid-19 tenders with local government.
SARS also discovered that fewer than 30% of the businesses were tax compliant in its probe into R2 billion in contracts dished out during the pandemic.
More details on what Edward Kieswetter dubbed 'shenanigans' relating to relief funding are expected in the space of the next few weeks.
Enjoyed reading our story? Download BRIEFLY's news app on Google Play now and stay up-to-date with major South African news!