Liopelo Maphathe is a South African actress and television presenter who has been in the game for many years. Getting some inside information from this small screen beauty is like gold.
PAY ATTENTION: Click "See First" under the "Following" tab to see Briefly.co.za News on your News Feed!
Having starred in many Mzansi soapies, Liopelo is best known for her role as Luyanda on the e.tv soapie Backstage, who she played back in 2000.
Briefly.co.za got the opportunity to ask Liopelo a few questions about being on TV during an exclusive interview. Often we watch our favourite soapies but hardly know anything about what goes on behind the scenes.
Speaking to Liopelo about being on set as well as her stand regarding some of the pressing gender-based issues in SA, the star gave her invaluable insight, posing a lot of pertinent points.
1. Can you take us through the process of a day on the film set of a daily soapie?
So, in the soapy world (film set), you start off with self-preparations (which I find a lot of people aren't aware of) which sets the precedent for the day! Then you get on to set very early as per scheduled call time. The day starts with breakfast, then make-up, wardrobe, dry run (rehearsals with cast members, camera rehearsal and then "a take" final cut, which one can do over and over until the director is happy).
2. Is there a specific way you pick your roles? Have you ever refused a role because of how it portrayed women?
The process starts with one being invited to an audition and that's the first leg, which allows an actor to make an informed choice (of either going for the casting or not). As a trained actress, I take full responsibility for the importance of this first process. As the saying goes, one has to always ace the audition. In Moonyeenn Lee's words, "Go into an audition and give it your all like it's a shoot." Fortunately for me, no role can be personal otherwise I wouldn't be an actress.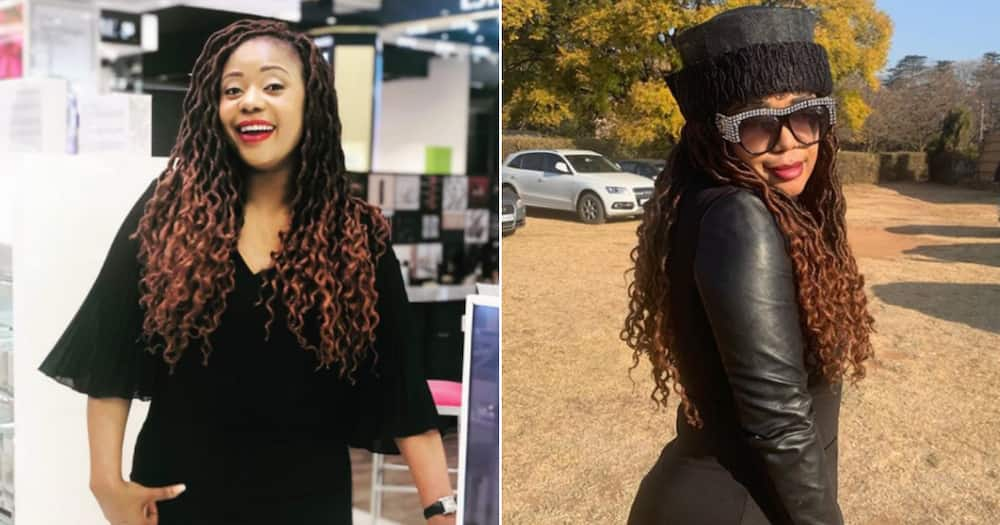 3. As the country grapples with gender-based violence, what do you think women in entertainment can do to spread messages of support to the people in this country?
As an actress, I'm cognisant of the responsibility it comes with; therefore being female, my core responsibility comes with making sure we live in a safe and protected South Africa that's free for us all.
President Nelson Mandela once stated: "Freedom cannot be achieved unless women have been emancipated from all forms of oppression. Therefore, we need to speak out, trust in calling it out and support each other as women (building trust formulates unity and unity destroys perpetrators).
READ ALSO: Reebok responds to AKA's serious and public SneAKA accusations
4. Some have argued that the violence depicted in TV dramas perpetuates the violence in reality. As an actress, do you think this is true?
Yes, to a certain degree it's true because South Africa is a vast nation which unfortunately has due a high poverty rate. I strongly believe it is indeed our responsibility to make sure we serve the needs of the people by creating more motivating and positive stories, instead of what we currently are seeing on our screens, i.e., dramas, soapies and films. Surely, we can help influence our viewers more positively.
5. Entertainers are being forced to change and adapt as we enter a new Covid19 induced normal. Has the acting industry changed? If so, how?
The reality is that we have all woken up to this pandemic and therefore it's forced us to comply to all the safety precautions! Also, a fact is for actors, it's 'No work, no pay'!! It's a sad reality, yet it also forces one to realise the responsibility to be safe. In a nutshell, being an artist, it's a calling and it's our responsibility to entertain, therefore the show must go on!!
READ ALSO: 8 Minnie Dlamini-Jones facts in celebration of her 30th birthday
Briefly.co.za previously reported that Rami Chuene and Zenande Mfenyana have been in the Mzansi TV industry for some years now. The two stars have both worked on big South African productions including Generations and The Queen, among others.
As it is Women's Month, the two celebs have advised young women who would like to take up space in the entertainment industry to do research, remain strong and never give up. Zenande, 34, believes that women's voices have not yet been adequately represented on screen.
"The steps towards representing women's voices in the creative industry are on a slow but steady climb."
Enjoyed reading our story? Download BRIEFLY's news app on Google Play now and stay up-to-date with major South African news!