- A successful Nigerian man, Wilfred Asuquo, has emphasised the need for education as a way to succeed in life
- Wilfred said that having an education changed his life for good as he rose from being an errand boy in 1997 to a pilot in 2009
- The Nigerian man said that it very important to be educated because even financially successful people without it depend on those who went to school
PAY ATTENTION: Click "See First" under the "Following" tab to see Briefly.co.za News on your News Feed!
A business operation analyst and pilot, Wilfred Asuquo has used himself as a perfect example of how education is very important in achieving great success.
On his LinkedIn page, the Nigerian advised people against the belief that education is unimportant in making it in life, stressing the fact that even the so-called billionaire dropouts hire educated individuals to help them run their businesses.
He said he knew the value of education when he left his village at the teenage age of 16. Sharing a throwback picture, he said he was a common uneducated errand boy in 1997.
READ ALSO: Christmas comes early for local booze drinkers after beer truck crash
In the photo, he could be seen pushing a wheelbarrow carrying 50-litre kegs barechested. He added that as soon as he finished his Higher National Diploma (HND), his situation improved to being a pilot.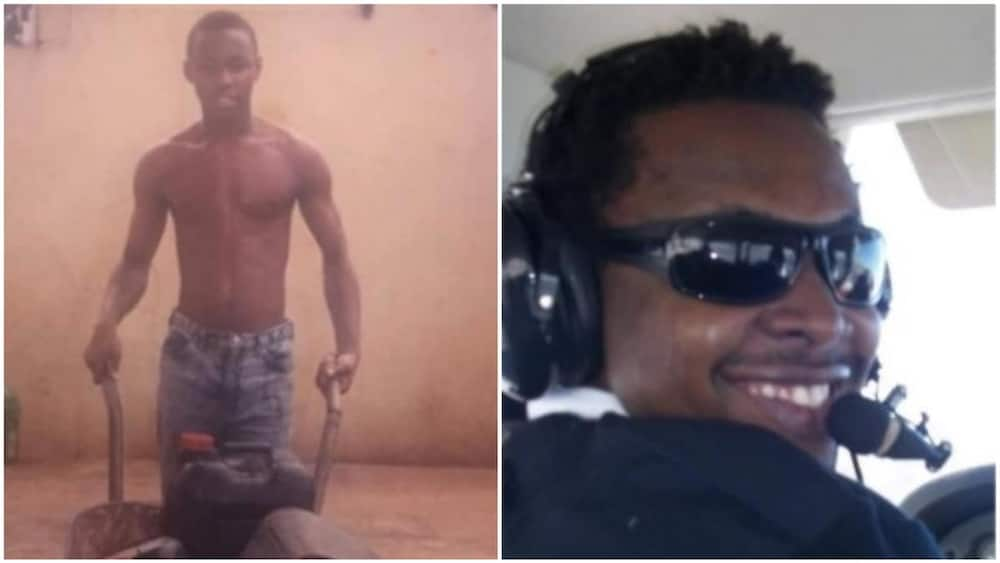 Wilfred said that education plus the one he received at technical schools like flight college made a big difference in his life. The Nigerian, however, said that in as much as education is a significant tool, improved emotional and social quotient go a long way too.
Meanwhile, it was earlier reported that the same man narrated how he broke the stigma that is commonly associated with HND.
He said that he graduated with an amazing 3.30/4.0 CGPA despite the fact that many took him for an unserious student because he was into school politics.
READ ALSO: Queen Elizabeth is swapping Buckingham Palace for Windsor Castle
Wilfred said he had to go to a polytechnic because he could not afford the financial cost of attending a university, and not that he couldn't get admission into one.
He even added that he had admission into three different universities for pharmacy, medicine and pharmacology.
On commenting on the bias between an HND holder and a university graduate, he said no one should ever allow that stop them.
"With my HND certificate without PGD or prerequisites, I have broken boundaries from being a cabin crew to being a trained commercial pilot then transitioned to being a business and data analyst. Remember, I got my MSC by just WES evaluation in the US. How I did it, you can also do it," he said.
Meanwhile, in other Briefly.co.za news, it has been decided that amidst the pandemic, the Queen and presumably her husband, Prince Philip, will not be returning to their permanent home, Buckingham Palace, for the foreseeable future.
The two will instead take refuge in their other home, just about an hour away from the palace, Windsor Castle. The Queen and her husband are currently on a summer vacation in Scotland.
Having recently turned 96 years old, the Queen is at a higher risk of catching the virus, which is why the best decision for her health and safety was to move to her private home. According to abc.news, her stay at Windsor Castle could turn out to be the longest recorded period of time she has been away from Buckingham Palace in history.
Enjoyed reading our story? Download BRIEFLY's news app on Google Play now and stay up-to-date with major South African news!