- The government has published the official salaries, which Kings, Queens and other traditional leaders will receive in 2018
- Salaries will increase with between 4.5% and 8% in 2018, in line with those of MPs
- Traditional leaders have little political power, but are seen as important figureheads in traditional communities
The South African government has published the official salaries which all Kings, Queens and other traditional leaders will receive in 2018.
Traditional leaders were subjected to a pay freeze in 2017 but will receive between 4.5% and 8% more this year, which is in-line with the increase which Members of Parliament (MPs) will receive.
READ ALSO: Never too young to be rich: The 5 youngest billionaires in the world
While traditional leaders in South Africa wields little to no political power, they are seen as important figureheads who help resolve local disputes, offer advice to government and they play an important part in the lives of traditional and rural communities.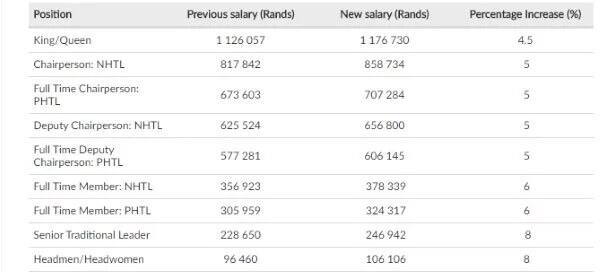 Briefly.co.za discovered that all South African Kings, Queens and traditional leaders are entitled to a salary from government.
In 2010 the traditional leadership commission of South Africa recommended that government should only recognise seven royal families, with six falling by the wayside.
This recommendation means that once the current leaders of six of the 13 royal families pass their families will not officially be recognised by the government.
The leadership structures are split into National House of Traditional Leaders (NHTL) and the Provincial House of Traditional Leaders (PHTL).
READ ALSO: Trevor Noah hopes to win one of Donal Trump's #TheFakies awards
Do you think taxpayer money should be spent on royal salaries? Visit our Facebook page where you can send us a message or leave us a comment. Your story could be shared online.
To stay up to date with the latest news, download our news app on GooglePlay or iTunes today.
Source: Briefly.co.za