In celebration of South Africa's Women's Month, Briefly.co.za spoke to some of the top women at Stellenbosch University to find out what the month means to them, the challenges women still face in South Africa and how the country should tackle those issues.
PAY ATTENTION: Click "See First" under the "Following" tab to see Briefly.co.za News on your News Feed!
1. What does Women's Month mean for you?
Prof Amanda Gouws: Professor in Political Science
For me, it is the celebration of the 20 000 women who marched to the Union Buildings in 1956 to demand human rights. But lately, it symbolises rhetoric by the government that has come to replace positive action to champion gender equality, as well as neo-liberal initiatives of commodified societies, such as offering women discounts at stores and spa treatments.
Prof Deborah Blaine: Associate Professor, Mechanical & Mechatronic Engineering
An opportunity to showcase role models for the success women are achieving, more and more each year. And an opportunity to highlight the real challenges that women have to face in order to participate, let alone succeed.
Prof Anita Bosch: Stellenbosch University Business School
The day serves as a reminder of the unity of South African women and how, with dignity and without force, together, we can effect change.
Dr Selina Palm: Unit for Religion and Development Research
It should seek to raise attention to the specific challenges still faced by women and girls in South Africa today and hold all our institutions, cultures and religions accountable for change. But it often falls back into a patriarchally-shaped 'let's celebrate women' where men 'spoil' women for a brief moment by taking on 'their roles' and giving them a 'break'. Women matter 365 days and we need to make sure Women's Month is about justice.
Ilhaam Groenewald: Chief Director: Maties Sport
Celebrating each other and all our achievements in all spheres of life, however, also a time to reflect and be reminded about what needs to change, improve and to be clear about what next beyond the one month.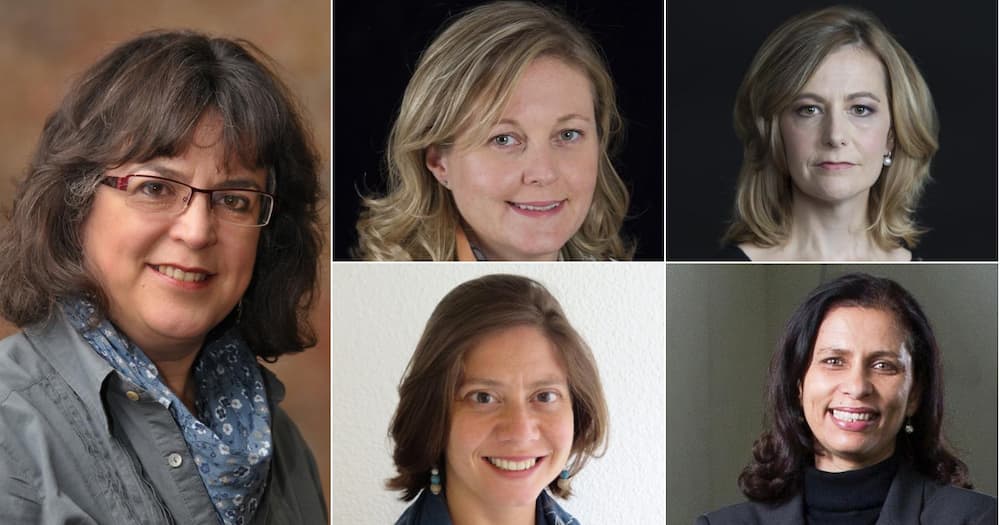 2. What changes would you like to see in the short term that will benefit women in South Africa?
Prof Amanda Gouws:
That the government implements the National Strategic Plan on Gender-Based Violence and starts to distribute the funding committed by the President for interventions
Prof Deborah Blaine:
Gender-based violence is a serious problem that needs immediate and dedicated attention. I would like the men who fight for and support women every day to be acknowledged – this should not be an 'us against them' fight.
It should be a collective effort of every person in our society to be more inclusive and encouraging for a better world for all. Men continue to hold positions of power, and many of them are using this power to provide access and space for women in the workplace.
The example these men are setting should be shared so that other men realise that there is something they can do and that there are men who are actively working towards a more equal environment.
Prof Anita Bosch:
Mandatory gender pay audits for designated companies, including higher education institutions.
Dr Selina Palm:
Zero tolerance on all forms of GBV – increased accountability and access to justice for all women at all levels in all systems.
Gender dis-aggregated data in reporting. Serious commitments to engage all men and boys around the hard topics of male privilege and its intersections with race and class.
Ilhaam Groenewald:
A swift change in our sport boardroom profile with at least 50% female representation and increasing investment.
3. What do you think is stopping South Africa from making the changes you mentioned above?
Prof Amanda Gouws:
The lack of political will.
Prof Deborah Blaine:
I truly believe the core issue lies in poverty. It erodes self-esteem, excludes from education and economic empowerment. I think a lot of the violence we see is born out of people feeling overwhelmed, disempowered, out of control.
They are using violence to give themselves a sense of power and control. Violence will not be eradicated if poverty is eradicated, but I believe we will see a marked drop.
South Africa needs to improve the economy, stamp out corruption (which further perpetuates the notion that crime can and will go unpunished in our country) and make sure our children are safe, educated and nurtured in love. When people do not feel threatened, they open their hearts.
Prof Anita Bosch:
We have great legislation that guarantees gender pay equality. Without policy guidance on its implementation, it is left to organisations to implement. Many do not know how to approach gender pay equality.
The University of Stellenbosch Business School in partnership with the WDBIH has published a Gender Pay Gap Guide for the Already Converted to enable a greater understanding of the pay gap and aid companies to start implementing necessary changes.
Dr Selina Palm:
Lack of understanding or commitment to change the root causes of discrimination and violence and lack of political will by both men and by some women who remain complicit in patriarchy to do the work to enable sustainable change.
Lots of surface assent by male leaders is seen regarding anti GBV campaigns but little in-depth work to show follow-through.
Ilhaam Groenewald:
Patriarchy and not having the right leadership at the table that understands the need for inclusivity and diversity and its overarching benefit for any organisation.
READ ALSO: Woman shares her 'Tupperware' online and Mzansi 100% relates
4. In light of the death of 19-year-old university student Asithandile Zozo at the hands of her boyfriend, as well as the upcoming anniversary of the tragic death of Uyinene Mrwetyana, what do you think needs to be done to curb GBV in South Africa quickly and effectively?
Prof Amanda Gouws:
We need more than the focus on the incarceration of perpetrators, but projects that will intervene in the socialisation of boys and girls and large scale projects to change attitudes of men towards women and their sexual entitlement.
Prof Deborah Blaine:
Unfortunately, I don't think there is a quick fix. I think an intense and dedicated effort into making sure our children grow up differently is critical to a sustained violence-free future for women and children in South Africa.
Prof Anita Bosch:
Having access to a network that can protect you effectively is essential for women that suffer at the hands of a perpetrator.
I'm part of an international research project which aims to link technology to the needs of South African women. Our hope is that technology can serve as a way for women to access the right helping networks.
Dr Selina Palm:
A serious and public look at the underlying patriarchal root causes around power and authority and a refusal to merely blame surface factors – alcohol.
Universities must fund independent, detailed research into campus rape culture that takes the voices of female students in these spaces seriously.
Like the one we are currently running at the Unit for Religion and Development Research here at Stelenbisch University.
Ilhaam Groenewald:
Legislation that ensures quick turnaround time and harsher punishment for the perpetrators.
5. Who is the woman you look up to most and why?
Prof Amanda Gouws:
Feminist activists all over the globe because they have a commitment to change the conditions of gender inequality. Right now I admire Kamala Harris for her fearlessness. She may become the first woman Vice-President of the USA, something that is long overdue for women in the USA.
Prof Deborah Blaine:
There are so many women who I admire. I have as much admiration for Dr Tagwa Ahmed Musa, as I do for the single mom who works hard, loves hard and makes sure her children are safe every day.
Dr Musa is Dean of Petroleum Engineering at the Sudan University of Science and Technology. She became an engineer and an academic in a country with one of the highest gender inequity scores globally, despite coming from a family of 10.
She graduated with her PhD while being a mother, wife and academic. But she is not alone – there are thousands of women out there who are succeeding against all odds – and millions more who are surviving in the circumstances they find themselves. I admire every woman who shows up, is brave and tries her best.
Prof Anita Bosch:
My mother, for her courage, determination and strength to continue working at the age of 74, unfailing love and unending commitment.
Dr Selina Palm:
I look up to all the many ordinary women who survive violence and have found ways to tell their stories in transforming ways and push for change.
Let's not glorify celebrities but make room for all women's so-called ordinary stories. I also look up to the younger generation of feminist young women (and some men) who stand on the shoulders of women past to demand more and speak up in new ways for gender justice.
Ilhaam Groenewald:
My late mother remains my inspiration and in sport it is our athletes, noting their responsibilities of academics, sport, work, and personal life. Most of our women in sport do not have professional contracts and yet they continue to perform at the highest levels.
Meanwhile, Briefly.co.za decided to share another story of an inspiring, hard-working mom.
The lady, who was only identified by her Twitter handle @niqita11, converts old tyres into breathtaking pieces of furniture.
On Monday, she took to the social media platform to share her designs with other South Africans. The Durban-based woman asked Mzansi to show her support and she shared photos of her products as well as a pic of herself in action.
Twitter user, @K_Kgotlelelo, wrote: "I love it" while another tweep, @grace22chisomo, added: "This is really beautiful, I love it."
Enjoyed reading our story? Download BRIEFLY's news app on Google Play now and stay up-to-date with major South African news!