- A Durban University of Technology (DUT) Master's student, Sameer Khan, has developed a device that could made South Africans' lives easier
- Khan created a generator called the Hydra Gen that is designed and developed by hydra power, using water
- The Hydra Gen could help reduce the impact of load-shedding in the country and he is proud of his invention
PAY ATTENTION: Click "See First" under the "Following" tab to see Briefly.co.za News on your News Feed!
Sameer Khan is a dynamic DUT master's student who is goal-orientated in both his career and life - and his latest invention just shows how dedicated he is.
The student, who is currently doing his Master's degree Applied Science: Biotechnology, designed and developed a device that could help South Africans with a major issue - load-shedding!
Khan's invention is called the Hydra Gen, a generator designed and developed by hydra power, and it took him five years to perfect it.
According to the university's official website, Khan came up with the idea in 2014.
He said:
"I saw a pigeon fly up to the window and had a drink of water, I wondered where the water came from as it did not rain nor was there any form of window washing done. After further investigation I noticed that it was the building itself that was emitting water."
For half a decade, Khan worked on a unique catchment and release system to harvest and store the water and then to release the water to pass a turbine.
The innovator said:
"This in return charges the lithium ion batteries and from our calculations the system can power up 10-watt Light Emitting Diodes (LEDs) for 6hrs+. This in turn allows for a series of LEDs to be implemented in buildings."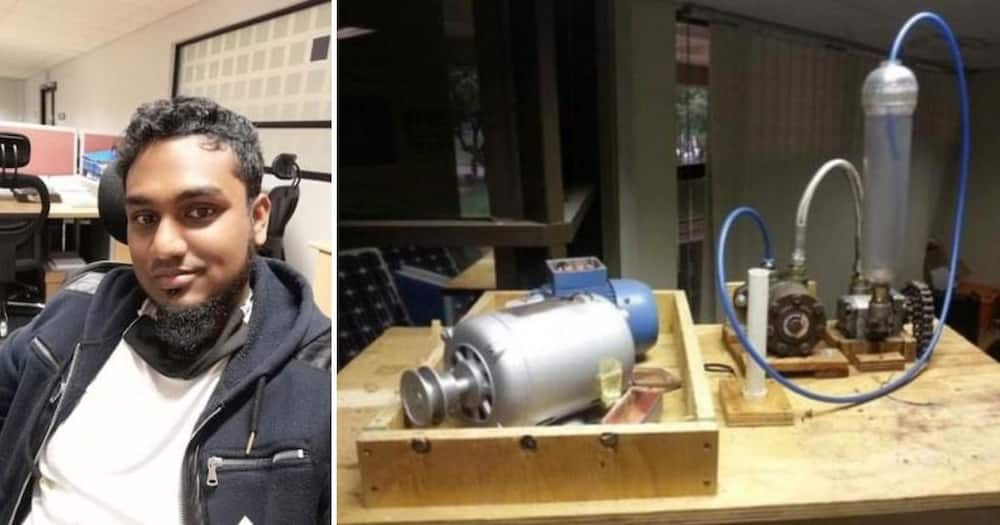 READ ALSO: NPA filmed doing Jerusalema challenge at court: "Lawyers have rhythm"
His generator can be used in middle and high-income residential properties as well commercial and industrial buildings, DUT reported.
The main focus of his invention was to help reduce the impact of load-shedding. Khan got his generator patented and all his designs, calculations and processes are also covered under the Paris Convention.
Not only will his device help South Africans during the dreaded stages of load-shedding, but it is also environmentally friendly.
He said:
"The Hydra Gen generator is renewable and it is an efficient energy system."
The young innovator has always had a passion for biotechnology, yet he has a diploma and degree in horticulture.
Briefly.co.za learned he opted to do his Master's in biotechnology because the horticulture department doesn't have a Master's programme.
Khan has entered multiple competitions and even bagged the Innovation of the Year award 2019/20 at DUT. He has now set his sights on the South African Innovation Summit, which is one of Africa's biggest start-up events.
Meanwhile, in other news, a young lady, who was only identified by her Twitter handle @Phennymabala, shared a sweet video of herself dancing with her mom.
On Monday, @Phennymabala posted the clip on her Twitter page and captioned it:
"So my mom and I decided to hop onto JunkPark vibezzz."
The video gathered over half a million views and although South Africans were left impressed by their dance moves, they were confused as well.
Social media users found it nearly impossible to distinguish between the two women. They had no idea who was the mom and who was the daughter.
Enjoyed reading our story? Download BRIEFLY's news app on Google Play now and stay up-to-date with major South African news!