- The young boy completed his record-setting 20-minute flight on July 10, 2020
- He soared 400 feet for a mile and a half over the Sautee Valley near Helen in North Georgia
- The fourth-grader learned to fly from his dad who had been piloting balloons for four decades
PAY ATTENTION: Click "See First" under the "Following" tab to see Briefly.co.za News on your News Feed!
An 8-year-old boy from North Georgia has become the youngest person ever to solo pilot a hot-air balloon.
The young boy identified as JT Head took his record-setting 20-minute flight on July 10, soaring 400 feet for a mile and a half over the Sautee Valley near Helen.
Local TV station 11 Alive reported JT, a fourth-grader, learned to fly from his dad, Tarp Head, who has been piloting balloons for four decades.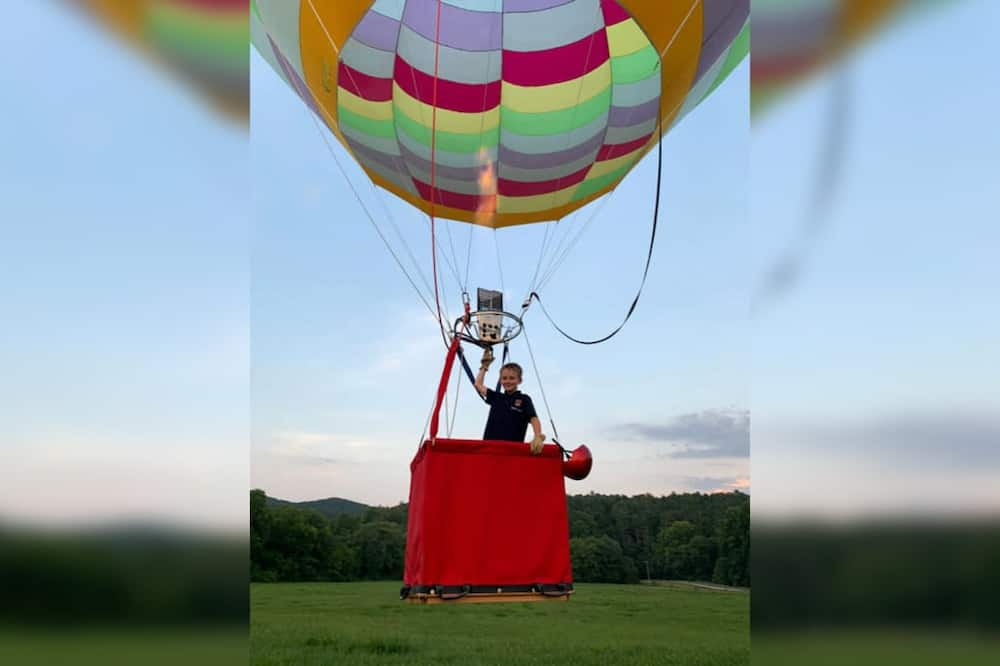 "My dad owns a hot-air balloon company, so I got really interested in hot-air balloons, and so I decided that I wanted to do a solo flight one day," JT told the station.
His mother, Desiree Head, has flown in balloons for 30 years, while his father had been piloting them for 45 years and owns Head Balloons Inc., a hot air balloon manufacturing company.
While watching her son ascend on his own, Desiree said she felt both excited for his accomplishment but also slightly wary.
READ ALSO: George Lebese scores stunning goal; Saffas react to commentator
"He has done quite a bit of preparation for years," his father Head said, adding JT had practised flying a remote-control model before he took off alone.
TJ's mother said watching her son ascend on his own, she felt both excited for his accomplishment but also slightly wary.
"(As a mother) Anytime you child gets out of your arms, you are afraid. We are the kind of parents where we like to gauge if our child is comfortable, and he felt comfortable," she said.
On the other hand, Head said he did not have any apprehension while his son took flight because he knew he was prepared and equipped with the proper gear.
They included a harness, walkie-talkie, helmet and extra striker in case the burner goes out.
During the flight, JT had the chance to see ordinary things in a new way.
"I saw the sun setting. I saw a lot of cows…my favourite thing was probably seeing the back of Yonah Mountain," said the young boy.
After landing, JT called Bobby Bradley, who broke the record when he was 9 in 2011 to notify him that he had broken his record. Bradley made his flight in New Mexico.
READ ALSO: Lady gets expensive Benz from her parents, shows it off online
"When I was 4, I said that I would beat his record," JT told 11 Alive.
And Bradley penned a message for the new record-holder, Head said.
"Well, you did it. You told me you would do it, and you — I guess you have done it now," said Bradly.
TJ promises to keep flying and go even higher.
Previously, Briefly.co.za reported an 11-year-old girl has inspired thousands of South Africans with her amazing skills and creativity.
Her proud mom, Keitumetse Senne, shared a photo of an outfit the teen made by herself. The future fashion designer used an old curtain to make a stunning two-piece outfit which she rocks in the pic.
Enjoyed reading our story? Download BRIEFLY's news app on Google Play now and stay up-to-date with major South African news!