- President Cyril Ramaphosa says that public service is one of the most important callings an individual can have
- Ramaphosa denied a bloated civil sector but admitted that cadre deployment was an issue
- With Public Service Month kicking off, Ramaphosa encouraged public employees to rededicate themselves to their work
PAY ATTENTION: Click "See First" under the "Following" tab to see Briefly.co.za News on your News Feed!
President Cyril Ramaphosa has taken a moment to discuss Public Service Month, which begins on Tuesday. Ramaphosa highlighted the call to public service as one of the most important career paths, commenting:
"It is an opportunity to improve people's lives and change society for the better. It carries great responsibility and often demands much of individuals and their families."
The public sector can make an immense difference when it comes to a capable state, continued Ramaphosa:
"A streamlined, efficient and well-integrated civil service is the hallmark of a capable state. Likewise, an unproductive, inefficient and cumbersome civil service can frustrate the implementation of even the best policies."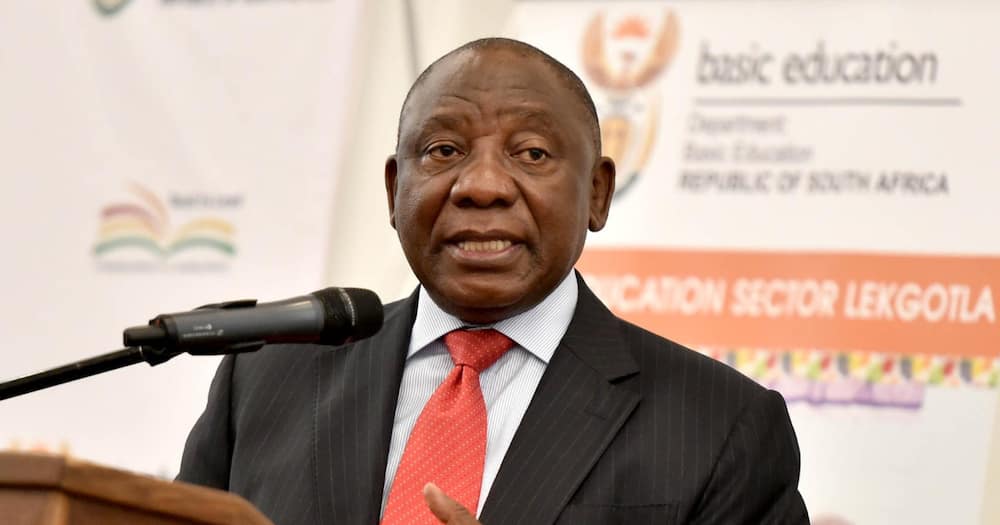 READ ALSO: Ramaphosa agrees to ANC probe on R400 million CR17 campaign funds
Ramaphosa denied a bloated public service, adamant that the vast scope of the government requires more hands:
"The view that the public service is bloated is misplaced. Public servants include officials and administrators, but they also include doctors, nurses, policemen and women and teachers who play an invaluable role in keeping the wheels of our country turning."
The real issue, in the President's opinion, is whether or not SA's public sector is performing:
"The real issue is whether – given its size, cost and needs of our country – the public service is performing as it should. The experience of our people is that in several areas, the state is falling short of expectations. There are some fundamental problems that we are working to fix."
Cadre deployment was highlighted as another issue by Ramaphosa, who acknowledged the negative impact of incompetent officials:
"Senior appointments are sometimes made on political considerations rather than expertise. This severely limits the capacity and effective functioning of the state."
Ramaphosa reminded politicians that public servants are meant to be the guardians of state resources.
The president said that civil servants should use the opportunity to rededicate themselves to this important calling:
"At a time when we have been confronted with a series of scandals that point to clear complicity by certain public servants in acts of corruption, this Public Service Month should be an opportunity for the men and women tasked with this weighty responsibility to set themselves apart – to rededicate themselves to their calling and to fully comprehend what it truly means to be a servant of the people."
Earlier, Briefly.co.za reported that President Cyril Ramaphosa had committed to lead by example amid a rising number of controversies facing the party.
Ramaphosa revealed that he had presented himself to the ANC's Integrity Committee to explain R400 million in funding donated to the CR17 presidential campaign.
This move closely follows his open letter addressing corruption within the ruling party, one that was not well-received by many members and resulted in calls for Ramaphosa's removal.
Enjoyed reading our story? Download BRIEFLY's news app on Google Play now and stay up-to-date with major South African news!