Exclusive: Sjava's mum jumps to his defence amid Lady Zamar's claims
- Sjava's mother, Thandi Nkabinde, has defended the accusations levelled against him by Lady Zamar
- The woman insisted that her son would never commit the crime he is being accused of and called the allegations a "fallacy"
- Sjava shares a close relationship with his mother and even has a beautiful song dedicated to his strong maternal figure
PAY ATTENTION: Click "See First" under the "Following" tab to see Briefly.co.za News on your News Feed!
By Wisely Manzini - Freeelance Journalist
As the calls grow to mute award-winning musician Sjava over accusations of rape by his ex-lover and musician Lady Zamar, his mother has leapt to her son's defence. Thandi Nkabinde has described the allegations as "fallacy".
In an exclusive interview with Briefly.co.za, Thandi Nkabinde said the allegations against her son were a deliberate ploy to derail him from his work.
She said Sjava, real name Jabulani Makhubo, would never commit such a crime.
"It's painful to me as a mother to see my son going through such turbulent times. But I'm a praying woman, I will pray for this to pass. We have encountered many challenges with Jabulani and we emerged stronger."
Sjava's mother, who was initially reluctant to give an interview, said if her BET Award-winning son had committed the alleged crime then he should be subjected to the legal processes rather than the public spectacle.
"I'm an elderly woman who is rooted in values and morals. I say if my son is guilty he must face the consequences instead of what is going on. I hear every day on radio that he is guilty but not one person has arrested my son."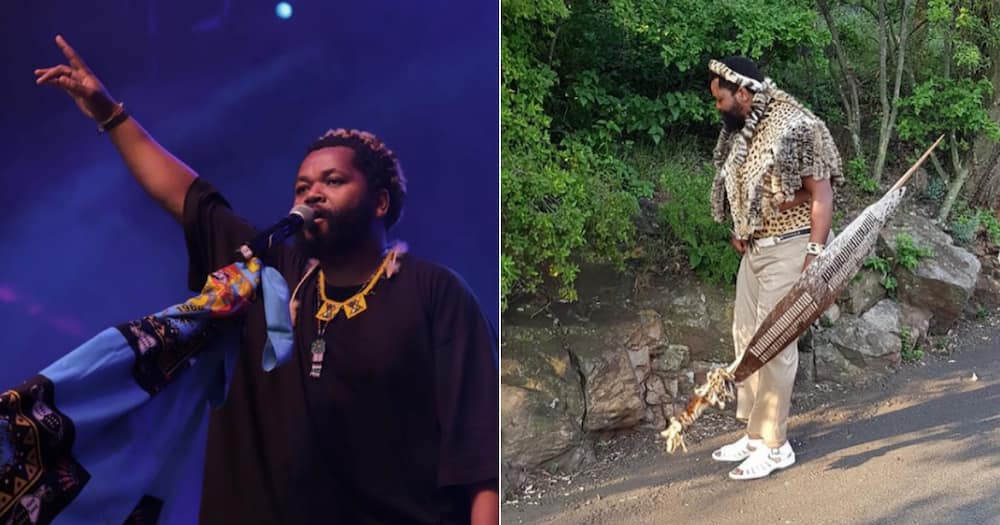 She said since she gave birth to Sjava 35 years ago, she had not received any complaints against him.
"Even when he went to Joburg, I did not oppose that move because I know the kind of a child he is. I was shocked when I first heard of the allegation. I said 'not my Jabulani' because I know the kind of a person he is."
Sjava has a close and warm relationship with his mother, which led him to release the hit song Mama, in which he pays respect to her.
The musician recently released a series of videos in which he refutes the allegations levelled against him by Lady Zamar.
In one of the videos he shared on his social media platforms, Sjava said the breakdown of his relationship with Lady Zamar was precipitated by claims that he was married.
These claims were initially thrust into the spotlight by his mother during his sold-out show last year dubbed One Night With Sjava at Sun Arena at Time Square. Nkabinde would not be drawn into commenting about her son's marriage status, saying that was not of any significance at this stage.
"What is important now is that I know my son is not guilty. If he is guilty then he must be arrested," said Nkabinde, sighing heavily between her words.
After Sjava released his series of videos, Lady Zamar retaliated by posting her own, where she stuck to her guns that Sjava had sexually assaulted her. She added that the ordeal still traumatised her and vowed that she wanted justice to be served.
Sjava was reportedly axed by Mzansi's most-watched drama series, Uzalo over the rape allegations hovering over him. However, the SABC refuted the claim.
READ ALSO: Adele rocks Bantu knots and racy bikini, leaves internet divided
Briefly.co.za learned that the SABC has spoken out against claims that they axed Sjava from the popular . The media personality was reported to have joined the stellar cast of the show but claims were later made that he was fired.
Reports alleged that Sjava's contract was terminated due to Lady Zamar's ongoing court case against him. TshisaLive reported that acting SABC spokesperson Mmoni Seapolelo has refuted the claims that the musician was fired.
"Spokesperson Mmoni Seapolelo has refuted the claims that the musician was fired. According to Seapolelo, Sjava's contract was for a limited time."
Enjoyed reading our story? Download BRIEFLY's news app on Google Play now and stay up-to-date with major South African news!
Source: Briefly News