- President Cyril Ramaphosa has made it clear that he has no intentions of responding to Jacob Zuma's letter
- Leading the ANC NEC press briefing, Ramaphosa said he won't be entertaining the ex-president's comments
- Zuma had slammed Ramaphosa for insinuating that the ANC is 'Accused No.1' when it comes to corruption in SA
PAY ATTENTION: Click "See First" under the "Following" tab to see Briefly.co.za News on your News Feed!
Former president Jacob Zuma shouldn't hold his breath for a reply to his scathing open letter address to President Cyril Ramaphosa.
Speaking during a briefing announcing the decisions reached by the ANC National Executive Committee on Monday, Ramaphosa brushed off the notion of validating Zuma's comments with a response.
Ramaphosa made it clear that he would not be entertaining his predecessor's opinion, saying that:
"I receive many letters as the president of the ANC and this letter is one of those. So, I have not responded. Obviously, the letter is being debated and being talked about. I don't even know what the reasoning for the letter was and I will not even publicly entertain issues that are raised in the letter."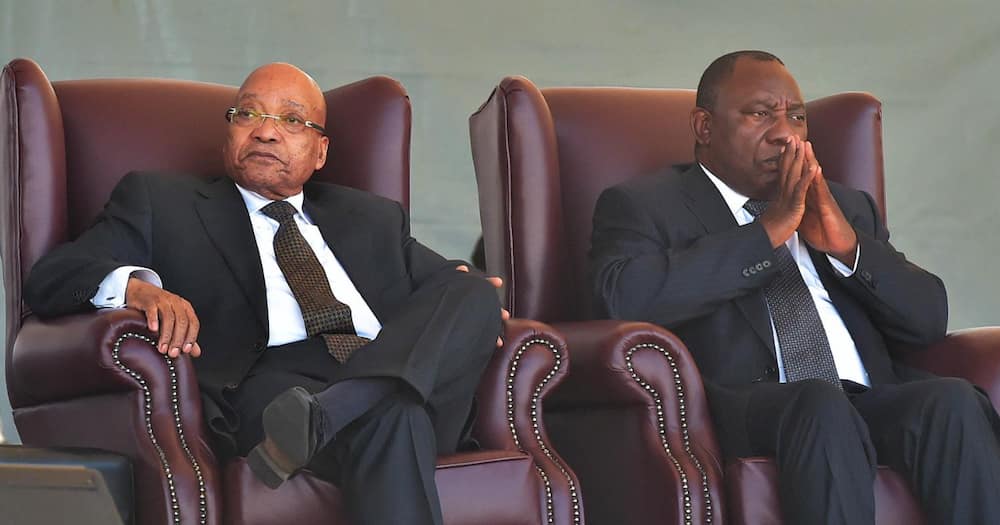 READ ALSO: Zuma: Ramaphosa's corruption comments will serve to destroy ANC
Ramaphosa continued to say that his letter had been endorsed by the NEC after much debate on the matter:
"The ANC emphasised that what seems to be a choreographed campaign against the president will not distract the movement from undertaking an intensified programme against corruption and state capture, as mandated by the 54th national conference."
Earlier, Briefly.co.za reported that Zuma had made his bleak opinion on Ramaphosa's comments public.
The former president had slammed Ramaphosa's letter as fundamentally flawed in his response:
"Apart from the fact that your letter betrays a lack of understanding of how the leadership of the ANC should communicate with its structures."
The president's generalisations weren't well-received by Zuma, who dubbed them 'absolutely unjustified':
"It is absolutely unjustified to attribute to the entire ANC and its ordinary members, misconduct of a few individuals that have access to state power and its resources as well as ANC leadership positions."
Duduzane Zuma had agreed with his father on the subject, voicing the opinion that Ramaphosa won't finish his term as president.
Enjoyed reading our story? Download BRIEFLY's news app on Google Play now and stay up-to-date with major South African news!