The best Mzansi beef jerky recipe with and without seasoning
Mzansi beef jerky is popular dried meat that we sometimes eat as a snack. It is popularly known as biltong in the Southern African countries, mainly Zimbabwe, Namibia, Botswana, Zambia, and South Africa. Biltong is a high protein food added to stews, muffins, and other meals. Read on for the full recipe!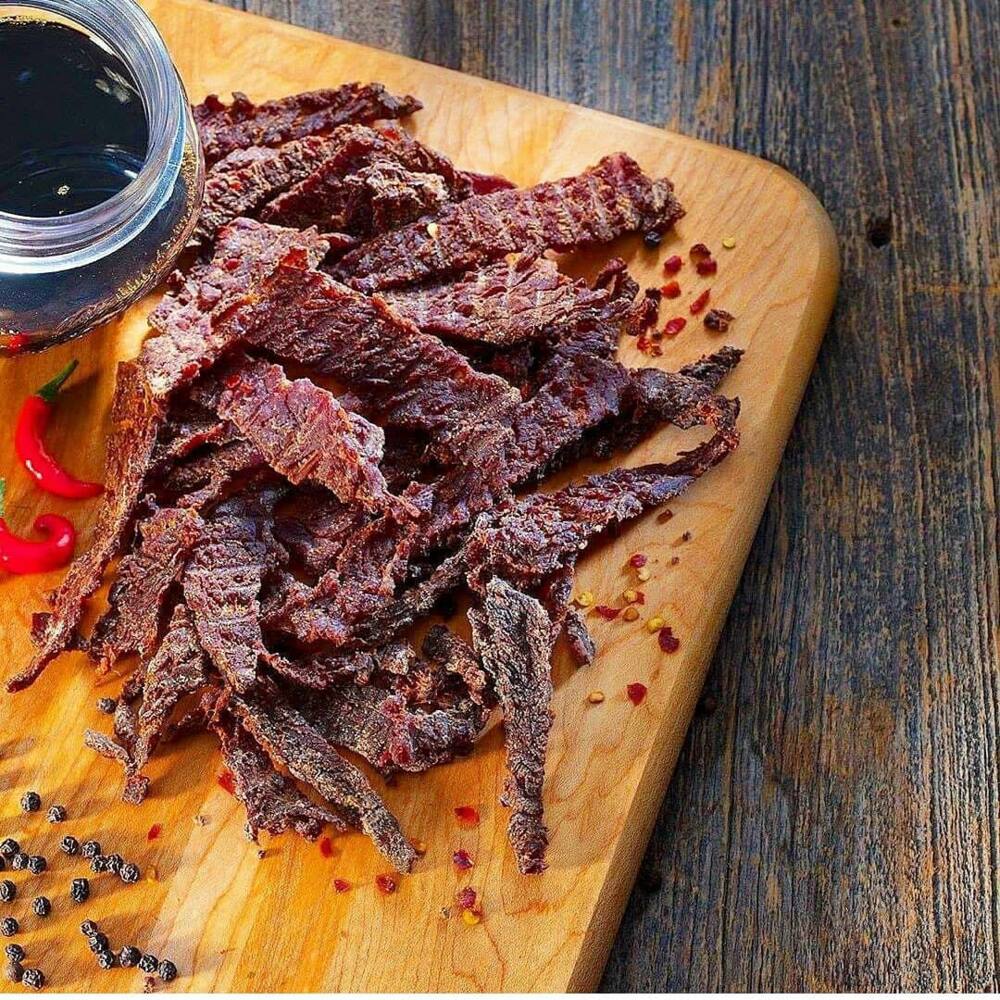 Biltong is flavored meat with spices such as black pepper, coriander, salt, vinegar, garlic, etc. You can make it with other meats such as chicken, fish, and ostrich.
However, we mostly use beef due to its availability and low cost. Read on about how to make the perfect unique beef jerky with or without seasoning.
How to make Mzansi beef jerky
Most recipes call for salt and other seasonings; however, you can make it with or without seasoning.
Below are some recipes that are guaranteed to bring out the best flavors in your meat.
READ ALSO: The best homemade tortilla recipe from scratch
Teriyaki beef jerky recipe
The best jerky meat for making teriyaki recipe is the London broil. The steak marinates in teriyaki, soy sauce, and honey mixtures before drying.
Ingredients
Brown sugar (1 tablespoon)
Garlic powder (1/2 teaspoon)
Kosher salt (1 1/2 teaspoons)
Black pepper (1/4 teaspoon)
Teriyaki marinade (2/3 bottle teriyaki marinade)
Onion powder (2 teaspoons)
Water (1/2 cup)
Orange juice (orange juice)
Honey (1 tablespoon)
London broil beef (1/2 kg) thinly sliced
Marinating
Mix brown sugar, onion powder, garlic powder, pepper, and salt in a bowl.
Add water, honey, soy sauce, teriyaki marinade, and liquid smoke to the mix.
Whisk until the salt dissolves.
Put the beef strips in a zip lock bag, add the marinade, seal it, and toss it until well mixed.
Open the bag, squeeze out the air, and reseal.
Refrigerate for 24 to 36 hours.
Drying
Remove the pieces from the zip lock bags and pat them dry with paper towels.
Add a hook to the thickest end of the strips and hang them in a well-aired space.
If possible, have a fan gently blowing to increase airflow.
The pieces should not touch.
The drying time varies based on the humidity, temperature, and meat sizes.
Test whether the meat is ready every couple of days by squeezing the meat between your fingers.
The meat will be done when it bends but does not break.
Beef jerky recipe using a smoker
Using a smoker makes sure that the smoky flavor is infused in your meat. The beef jerky recipe smoker does not call for liquid smoke as the smoker's wood will infuse intense flavor into the jerky.
READ ALSO: Easy butter chicken recipe South Africa
Ingredients
Use the ingredients in the previous recipe except for the liquid smoke.
Method
Marinate the steak for 6–24 hours and follow the instructions of the smoker.
Make sure to smoke the meat for 30 minutes to one hour.
Once all the wood is burnt, open the tray door a bit to allow the strips to dry faster.
Your jerky is ready if it bends but does not break.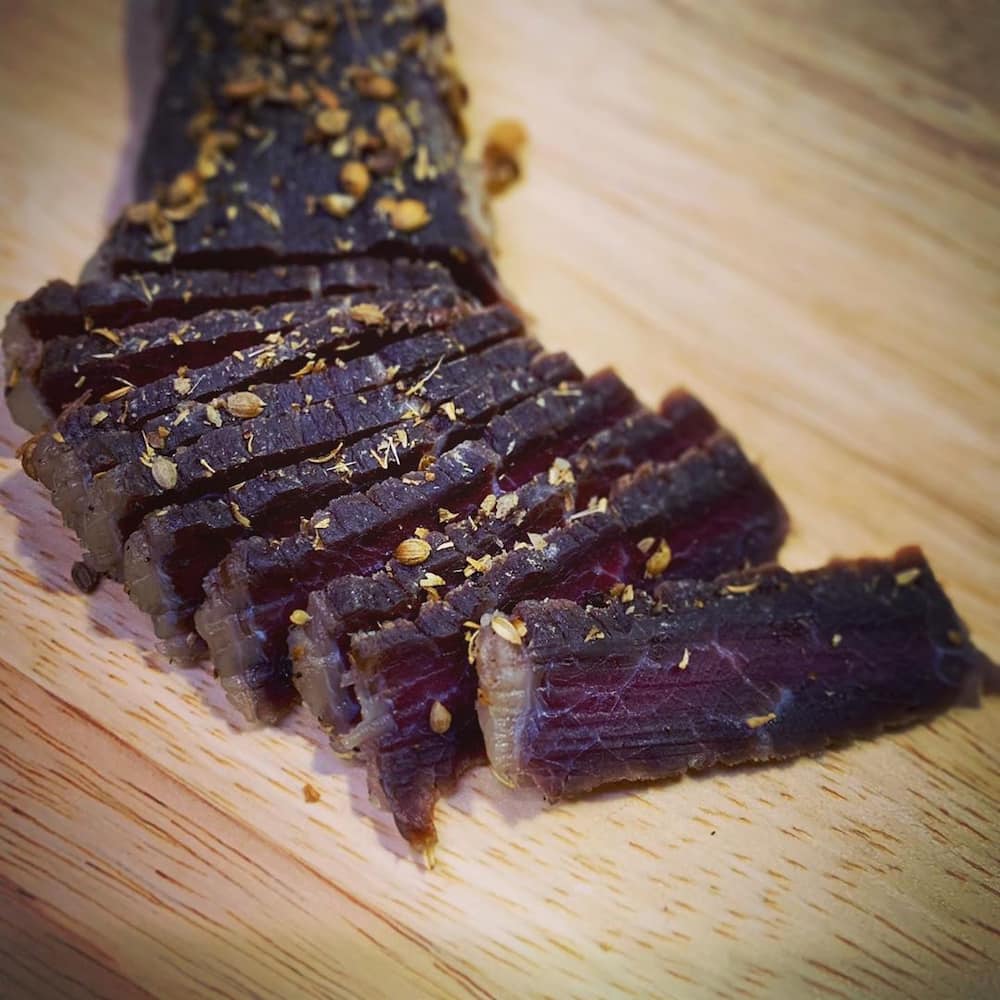 Sweet and spicy beef jerky recipe
This recipe will give you a sweet and spicy snack full of flavor if you are into spicy food.
Ingredients
Flank steak (1 kg)
Honey (¼ cup)
Minced garlic ( 6 cloves)
Red pepper flakes (1 ½ tablespoon)
Sesame oil (1 teaspoon)
Worcestershire sauce (1 teaspoon)
Onion powder (1 teaspoon)
Liquid smoke
Ginger (1 tablespoon minced ginger)
Soy sauce (1/2 cup)
Method
Mix the honey, garlic, ginger pepper, sesame oil, Worcestershire sauce, onion powder, and liquid smoke in a zip lock bag.
Add the meat and mix well.
Marinate the meat overnight in the refrigerator.
Remove the meat from the marinade and pat it dry.
Follow the drying method of the teriyaki beef jerky.
You can also make the spicy snack using lots of black pepper and chili flakes. If you love hot spicy food, the peppered beef jerky recipe will do the trick.
Excalibur jerky recipe
When making jerky, one can use a smoker, oven, or a dehydrator. One of the most popular brands of dehydrators is Excalibur. It is a machine that is not expensive but lasts long.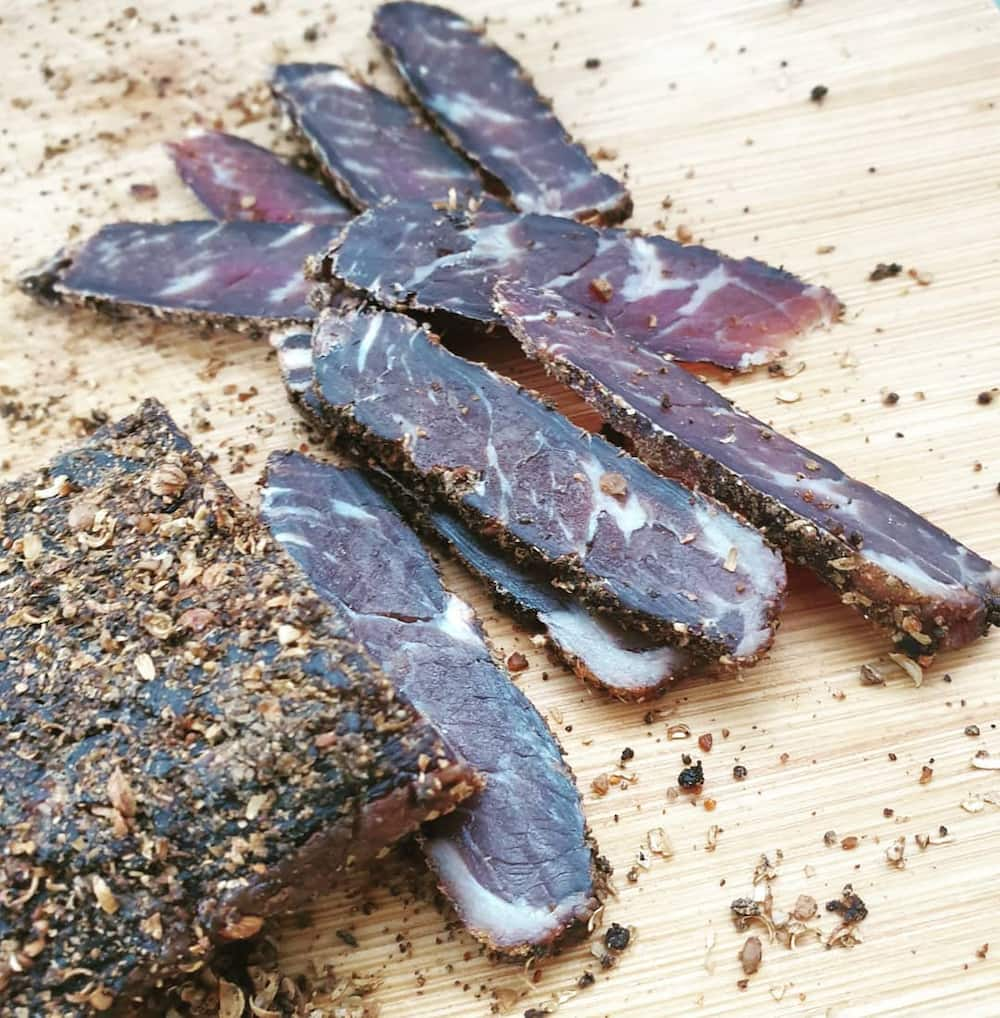 You can also use the machine to make the bison jerky recipe. Bison is meat from the buffalo and is just as delicious as beef. Use the above recipes but make sure to dehydrate the meat for 12 hours.
Below are some frequently asked questions regarding this type of meat.
Jerky vs Biltong: Is biltong better than jerky?
Biltong and jerky are both dried meats. However, biltong is softer and more flavorful. Jerky is drier and smokier and originates from the Americas. The biltong originates from South Africa.
What is the best jerky seasoning?
To get the perfect seasoning, marinate your meat in a mixture of the following ingredients.
Garlic powder
Salt and pepper
Soy sauce
Brown sugar
Meat tenderizer
Liquid smoke
Worcestershire sauce
Paprika.
Ensure your meat is adequately covered and refrigerate for at least 8 hours.
What is the best way to make jerky?
You can make jerky using an oven, a dehydrator, or a smoker. Dehydrators or smokers are not readily available in most homes. However, using an oven will give you a finger-licking jerky.
Is it safe to make pork jerky?
It is safe to make pork jerky. However, ensure that your pork contains 10 percent fat or less. The perfect cut should be from pork tenderloin, although it should be trimmed off most of the fat before preparation.
What is the best meat for beef jerky?
It is advisable to use sirloin, fillets, or steaks cut from the silver side or topside to cook the perfect beef jerky.
Now that you have learned different recipes of making beef jerky, its time to make that delicious snack for your family or friends.
READ ALSO: 15 best breakfast in Cape Town (popular brunch and breakfast spots)
As a traveller, it is advisable to know the best spots for everything. This includes breakfast spots around the country. Briefly.co.za compiled a list of popular brunch and breakfast spots around Cape Town.
Check out the locations of some of the finest spots with delicious breakfast dishes, their specials, locations, and contacts.
READ ALSO:
The best keto soup recipes for a healthy and tasty diet
Quick and easy homemade pizza dough recipe
Best and easy homemade koeksister recipe South Africa
Source: Briefly News