- Things between the EFF and a pair of news representatives got heated after the party instructed the crew to leave
- The cameraman and reporter were quickly confronted by nearby supporters after Veronica Mente gave the order for them to leave
- The agency in question had refused to cover the EFF's elective conference last year, prompting this response from the Red Beret chairperson
PAY ATTENTION: Click "See First" under the "Following" tab to see Briefly.co.za News on your News Feed!
The Clicks protests undertaken by the EFF were already heated to begin with, but things at the Goodwood Mall quickly escalated.
A reporter and cameraman were chased away from covering the protest on Monday after the political party had arrived at the Cape Town mall as part of the national movement.
Party chairperson Veronica Mente had spotted the crew as she prepared to address the media outside of the Clicks store, demanding that they should leave.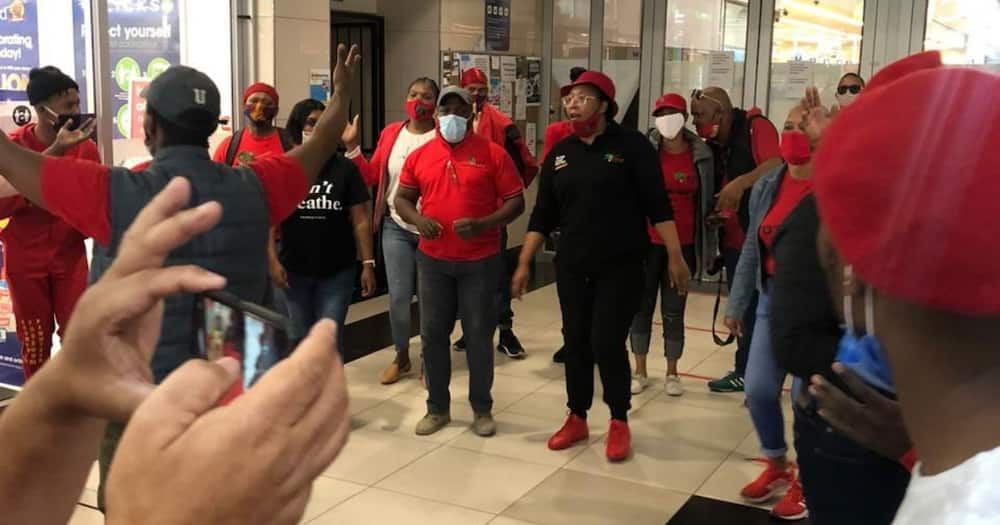 READ ALSO: Clicks petrol-bombed during EFF protests, photos go viral online
Referring to the eNCA media house's refusal to cover the elective conference last year, Mente had been adamant that she would only speak once they had left:
"Go, go, go, you thought you were being dramatic."
News24 reports that, shortly after this order was given, EFF supporters who had been blocking the entrance to the store engaged in a scuffle with the cameraman.
The pair were intimidated into leaving after police helped to break up the fight, prompting other reporters attending the event to leave in solidarity.
The incident that prompted the ordeal had been in response to the Red Berets barring media houses that had published less than flattering reports about the party, with a number of unaffected publications boycotting the event to show their support for their blacklisted peers.
Commenting on her experience, reporter Nobusuthu Hejana said that other journalists had claimed they felt unsafe covering the protest at close range after the incident.
Earlier, Briefly.co.za reported that things had turned truly violent at other Clicks branches across the country, with reports of petrol bombings and destruction surfacing as the day progressed.
The EFF is protesting the racially charged advert in which Clicks referred to African hair as 'dry and damaged' prompting outrage amid citizens.
Despite warnings issued by the company in addition to an apology for the transgression, the Red Berets remain as determined as ever to continue protesting the incident.
Enjoyed reading our story? Download BRIEFLY's news app on Google Play now and stay up-to-date with major South African news!