- Clicks' attempt to halt the Economic Freedom Fighters in its determined bid to shut down stores across the nation this week has failed
- The court dismissed, with costs, the application seeking to halt protests over an allegedly racist advert displayed on the retail giant's website
- The EFF has welcomed the dismissal, saying it is 'vindicated' that Clicks' arrogance was dealt with 'harshly'
PAY ATTENTION: Click "See First" under the "Following" tab to see Briefly.co.za News on your News Feed!
The Economic Freedom Fighters are immensely pleased that Clicks' attempt to halt nationwide protests against racism has fallen flat in court after the company's application was dismissed.
In a statement released in response to the court victory, the political party relished the moment, saying that:
"The Economic Freedom Fighters welcomes the dismissal of racist Clicks SA's court application to stop protests against their unrepentant racism. The application by Clicks was dismissed due to being defective, with costs, and as the EFF, we are vindicated that their arrogance was dealt with harshly by a court of law."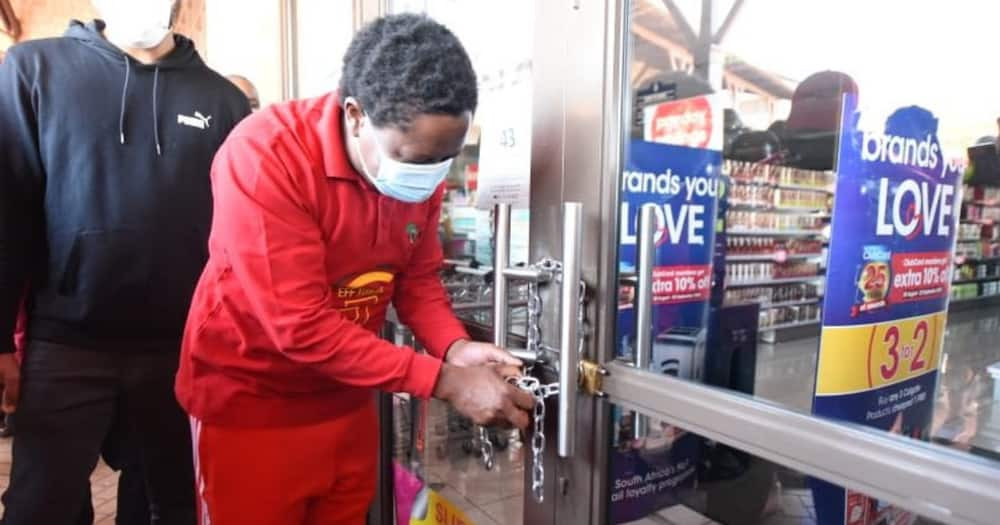 READ ALSO: Clicks petrol-bombed during EFF protests, photos go viral online
The party dubbed the retail giant's attempt to gain court assistance in the situation as 'irrational and silly', continuing to say that:
"Their approach to the courts was nothing but a waste of time of our judiciary at a time when it has far more important matters before it. Clicks can no longer avoid accountability for their assertion that the identity of black people is inferior to that of white people."
The party slammed Clicks for what it views as the protection of racism, adamant that its demands are simple despite the company's reluctance to adhere:
"The commitment Clicks has shown to protecting racists and defending racism will come at significant cost to their own profits. As the EFF, we have made simple demands. Instead of doing this, Clicks arrogantly pronounces that its operations would continue at the expense of the dignity of black people."
The EFF vowed that the protests would continue for the remainder of the week unless their demands are met by Clicks.
The party responded to incidents of violence linked to the protest, making it clear that the EFF has distanced itself from any illicit activity undertaken during the movement:
"We will continue our peaceful protests, and we condemn any, and all violence meted out on Clicks. This is in no way associated with the EFF as our protest action is conducted peacefully and lawfully."
Earlier, Briefly.co.za reported that violent incidents, including petrol bombings and destruction of store property, had taken place during the EFF protests.
This strong response comes after the party had issued a list of demands to Clicks following the publication of a racially offensive advert.
The company had responded with a 'condescending' apology and the Red Berets had resolved to shut down every Clicks outlet until the demands were met.
Enjoyed reading our story? Download BRIEFLY's news app on Google Play now and stay up-to-date with major South African news!