- Clicks may have managed to secure an interdict against the Economic Freedom Fighters, but the party remains unfazed
- Noting the High Court's judgement over their nationwide protests, the EFF insinuated that the move has little impact on their movement
- The party insists that its demonstrations are peaceful, pointing out that the interdict only banned intimidation and threatening behaviour
PAY ATTENTION: Click "See First" under the "Following" tab to see Briefly.co.za News on your News Feed!
The recent High Court interdict against the Economic Freedom Fighters has left the party unfazed and determined as ever to continue their nationwide protests against Clicks.
In response to the judgement, the EFF pointed out that it simply reaffirmed their right to protest in response to the controversial advert in a statement on the matter:
"The EFF notes the judgement by the High Court in the matter between Clicks and the EFF, in which the court reaffirmed the EFF's right to peaceful and just protest."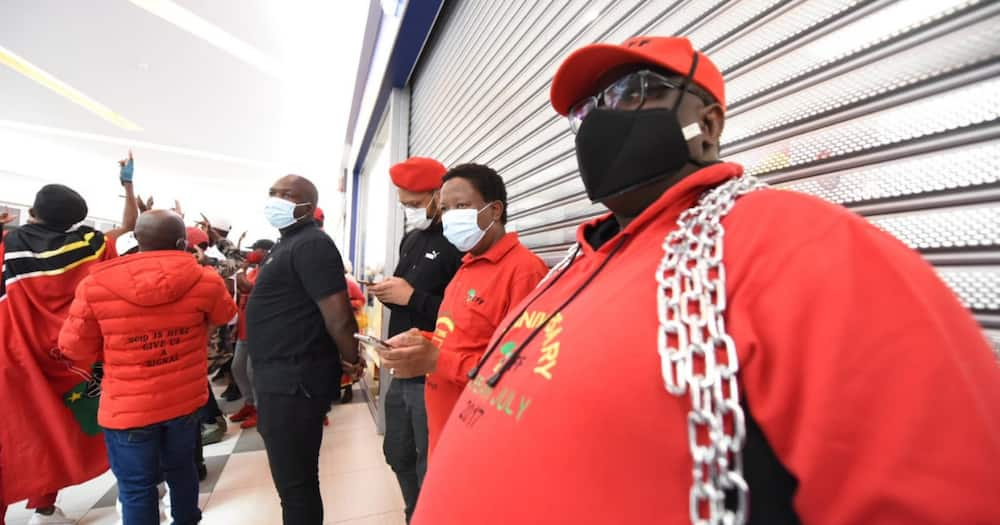 READ ALSO: High Court grants Clicks urgent interdict against EFF protests
In the EFF's view, Clicks had 'failed to interdict' party leadership with the statement commenting further that:
"We welcome the complete and utter failure by Clicks to interdict the EFF, and its leadership, from participating in protests against Clicks. The High Court resolved to interdict acts of intimidation and violence against employees, customers and the commercial operations of Clicks.
"The EFF would like to categorically state that we have not engaged in or commissioned any violence against employees, customers or commercial operations of Clicks."
The Red Berets made it abundantly clear that the protests would continue, with all members under orders to keep up the demonstrations:
"All members of the EFF have under our instruction engaged in disciplined protests, engaging prospective customers of Clicks on the racism perpetuated by the entity and engaging workers on the conditions they face while working for Clicks."
The party clarified that the interdict had not declared the protest itself illegal, only the intimidation and threatening of staff and customers:
"It should be clear to Clicks that the court has not declared the protest illegal and accordingly, the lawful and peaceful protests continue until Friday."
Earlier, Briefly.co.za reported that the EFF had committed to protesting until Clicks complies with demands set out in an earlier letter sent to the company in response to the advert making negative comments about African hair.
The party had called for contracts with providers involved in the production of the ad to be cancelled in addition to the immediate dismissal of those involved, amongst other demands.
The company's response to these demands had been, in the EFF's view, condescending and devoid of any remorse.
Enjoyed reading our story? Download BRIEFLY's news app on Google Play now and stay up-to-date with major South African news!