President Cyril Ramaphosa has announced three major amendment Bills that are aimed at combating gender-based violence in SA. Briefly.co.za explores the reasons why the president has lauded these laws as one of the 'most far-reaching legislative overhauls'.
PAY ATTENTION: Click "See First" under the "Following" tab to see Briefly.co.za News on your News Feed!
President Cyril Ramaphosa, just over a year ago, was faced with thousands of citizens outside the gates of Parliament, demanding that 'Enough is enough' when it comes to gender-based violence.
Ramaphosa vowed to direct a large number of resources to tackle the issue, including changes to South African law,
President Ramaphosa has announced that the introduction of these Bills will honour the promise made to the nation last year, commenting that:
"The three amendment Bills are designed to fill the gaps that allow some perpetrators of these crimes to evade justice and to give full effect to the rights of our country's women and children. These Bills, once finalised, will help to restore the confidence of our country's women that the law is indeed there to protect them."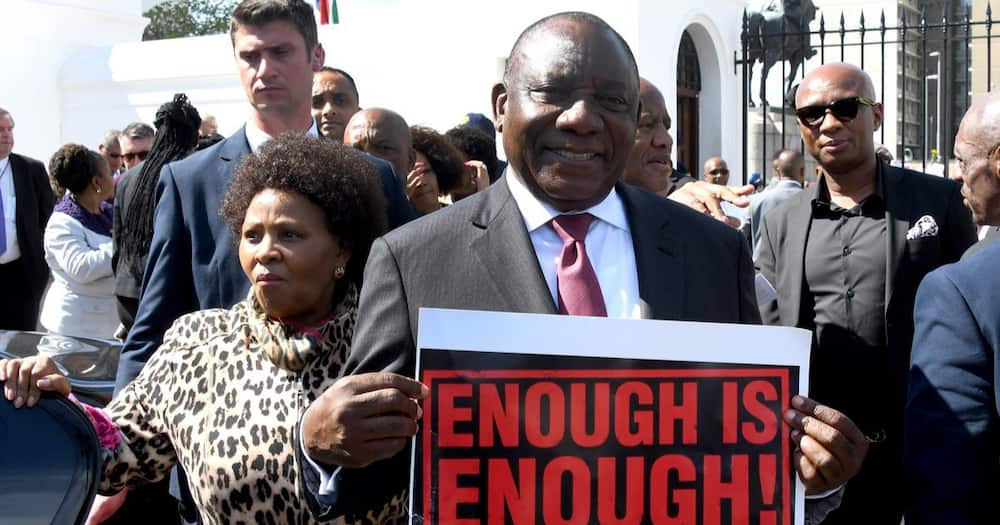 READ ALSO: Ramaphosa calls for the silence to end: Report gender-based violence
1. Bill to amend the Criminal Law Amendment Act
The first of the Bills is an amendment to the Criminal Law (Sexual Offences and Related Matters) Amendment Act.
Ramaphosa explained that this introduces a new offence of sexual intimidation and extends the duty of persons to report someone suspected of a sexual offence.
The National Register for Sex Offenders will also be expanded to include all offenders after only including a few, with Ramaphosa commenting that:
"The time an offender's particulars must remain on the register has been increased, and those listed on the register will have to disclose this when they submit applications to work with persons who are vulnerable. The Bill also makes provision for the names of persons on the National Register for Sex Offenders to be publicly available."
READ ALSO: Ramaphosa: Young men must lead fight against gender-based violence
2. Tightening of the Criminal and Related Matters Amendment Bill
The Criminal and Related Matters Amendment Bill aims to tighten the granting of bail to offenders and expands the offences for which minimum sentences must be imposed.
Ramaphosa commented that citizens are outraged that legal loopholes are being exploited:
"People are angry that many perpetrators of such serious crimes are exploiting legal loopholes to avoid imprisonment and are frustrated that sentencing is often not proportionate to the crimes. The amendments impose new obligations on law-enforcement officials and on our courts."
Now, when a prosecutor fails to oppose bail the reasoning needs to be placed on record. In addition to this, a person accused of gender-based violence must provide 'exceptional' reasons why they should be released and if they fail to do so, bail cannot be granted.
Some of the factors courts must consider when granting bail include:
Pre-trial reports on the desirability of releasing an accused on bail
Threats of violence made against a survivor
The view of the survivor regarding his or her safety
When considering parole, a complainant or a relative of the victim will be required to make representation to the board involved.
3. Tightening of Domestic Violence Act
Ramaphosa explained that, given the 'unacceptably high levels of intimate partner violence' in SA, the provisions of the Domestic Violence Act have been tightened.
The definition of 'domestic violence' now includes:
Engagements
Dating,
Customary relationships
Actual or perceived romantic, intimate or sexual relationships of any duration
Protection of older persons against abuse by family members
Citizens will now be able to apply online for a protection order and an integrated repository of orders will also be established to avoid perpetrators hiding past offences.
Numerous departments will now be obliged to provide certain services to victims in addition to referring them for shelter and medical care.
In what Ramaphosa has dubbed the most 'groundbreaking proposed amendment' to the Act, citizens can face a fine or even imprisonment for failing to report abuse or suspected abuse.
A member of the SA Police Service who fails to comply with their obligations under this Act will be charged with misconduct and reported.
Earlier, Briefly.co.za reported that Ramaphosa called on citizens to end the silence and report perpetrators of gender-based violence:
"Criminals have descended to even greater depths of cruelty and callousness. It simply cannot continue. We note with disgust that at a time when the country is facing the gravest of threats from the pandemic, violent men are taking advantage of the eased restrictions on movement to attack women and children."
Ramaphosa committed to addressing the factors that are fueling this trend amid the Covid-19 lockdown:
"According to the SAPS there has been an increase in violent crime, especially murders, since we entered alert level 3. We need to understand what factors are fuelling this terrible trend and, as society as a whole, address them urgently."
Enjoyed reading our story? Download BRIEFLY's news app on Google Play now and stay up-to-date with major South African news!