- The African National Congress has responded to the alleged remarks made by US President Donald Trump over the late Nelson Mandela
- The ruling party condemned the comments, shading Trump as one of the most 'misogynistic and disrespectful' people to ever occupy the office of the president
- The ANC says that Mandela stands in 'stark contrast' to Trump, confident that had he been alive Madiba would have reached out to show the world leader the light
PAY ATTENTION: Click "See First" under the "Following" tab to see Briefly.co.za News on your News Feed!
The ANC has broken its silence on allegations that US President Donald Trump had made offensive comments about the late struggle veteran and ex-president Nelson Mandela.
A statement issued by National Spokesperson Pule Mabe slammed Trump as one of the most distasteful people to ever have occupied the office of the president:
"All freedom-loving people of the world are appalled by these insults which come from a person who, himself, is not a model of competent leadership. Trump is a divisive, misogynistic and most disrespectful person ever to occupy the office of the president."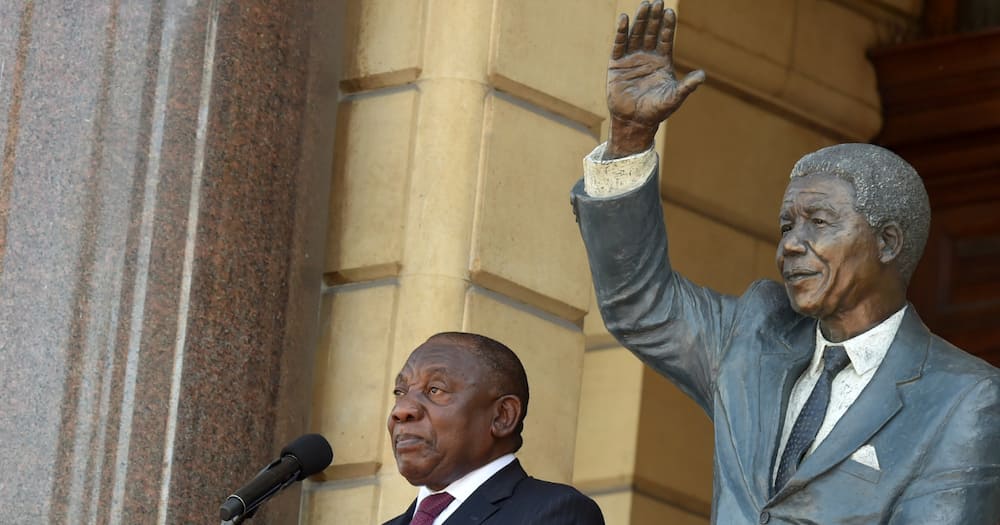 READ ALSO: Trump allegedly said Mandela made South Africa into a "s*@thole"
Mabe compared Trump to Mandela and found the US leader lacking considerably, commenting that:
"The icon of our struggle President Nelson Mandela stands in stark contrast to Trump. A unifying and principled leader, President Mandela reached out to the world and sought to bring peace and a just society."
The ANC is convinced that, had Madiba still been around, he would have extended the hand of friendship to Trump and sought to enlighten him:
"The ANC is confident that President Mandela would have reached out to Donald Trump to teach him to understand the complex challenges of the developing world. President Mandela understood the value of international friendship amongst the countries of the world. The mark of a true leader is not how many enemies you create but how many friendships you cultivate, even where strong differences of opinion exist."
Trump's alleged comments against the late icon
Earlier, Briefly.co.za reported that back in 2018, Donald Trump made international headlines when he allegedly called third-world countries "sh*th*les".
Many South Africans assumed Trump was talking about other countries and that SA was not included.
It was, and according to Trump's former fixer and personal lawyer Michael Cohen, the US president went further and had some not-so-nice things to say about former South African president Nelson Mandela himself as well.
In his tell-all book, titled Disloyal: A Memoir, Cohen says that Trump had some choice words for Mandela, calling him a bad leader. Upon Madiba's death in 2013, Cohen states that Trump said:
"Mandela f*cked the whole country up. Now it's a sh*thole. F*ck Mandela. He was no leader."
Enjoyed reading our story? Download BRIEFLY's news app on Google Play now and stay up-to-date with major South African news!