- The Economic Freedom Fighters have urged ground members to meet threats of violence with 'double the violence and aggression'
- This comes in response to the incident involving an elderly white woman who pulled a gun out and pointed it at EFF members during protests
- The party urged members to meet force with even more force, commending those involved in the ordeal for remaining 'calm' when their 'lives were being threatened'
PAY ATTENTION: Click "See First" under the "Following" tab to see Briefly.co.za News on your News Feed!
The Economic Freedom Fighters have responded to the incident involving a woman pointing a gun at protesting members on Wednesday afternoon.
In a statement released on the incident, the EFF commended members for 'maintaining calm and restraint in a moment where their lives were being threatened'.
However, the party had an ominous warning for anyone considering threatening the EFF in the future, cautioning that:
"We wish to warn all racists and sociopaths that we will no longer practice restraint against their threats and provocations."
READ ALSO: EFF opens case against gun-wielding lady: Will make life living hell
Members were instructed in the official communication to double any violence they are met with during demonstrations:
"We wish to communicate to all ground forces and members that if they push you, push them back. If they attack you, hit them back with double the violence."
The party explained that this reaction is due to the failure of law enforcement to protect its members, continuing to say that:
"We will now meet violence with double the violence because black people in this country cannot depend on law enforcement to protect them. One can only imagine what the headlines would have been had a member of the EFF pulled out a gun against a white person in this country."
Concluding this order to fellow EFF members, the party urged for peace but only until threatened by external forces:
"Let us continue to operate with the principle of peace, but should anyone put their hands on you, help them unite with their ancestors."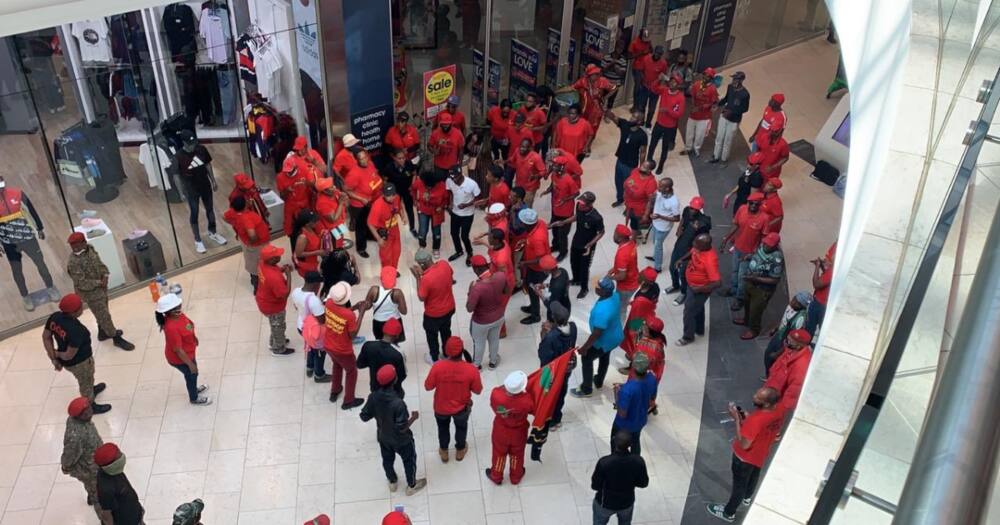 Earlier, Briefly.co.za reported that the incident in question had involved a woman and protesting members of the EFF in a Port Elizabeth shopping centre. The woman had pulled a firearm out of her jacket during an altercation with the protestors, resulting in the EFF laying charges against her.
In a statement released by the regional EFF Command Team on the incident, the party confirmed opening a criminal case against the woman:
"We are therefore opening a criminal case at the Walmer Police Station and we are making this known so that we are not later accused of being anti-white or wrong because we have never threatened the life of anyone and we will make the life of this racist, white, old women a living hell so that she becomes a lesson to many others that the EFF is not a place to think you can do such and get away with it."
Enjoyed reading our story? Download BRIEFLY's news app on Google Play now and stay up-to-date with major South African news!