- The Economic Freedom Fighters have expressed gratitude to those who participated in the 'noble fight' against Clicks and Unilever this week
- The Red Berets recently managed to negotiate the terms of their ceasefire with the corporate giants, ending protests on Thursday afternoon
- However, the party says that there is still a long way to go in the fight against racism in South Africa despite the successful outcome of their campaign
PAY ATTENTION: Click "See First" under the "Following" tab to see Briefly.co.za News on your News Feed!
The Economic Freedom Fighters have emerged the victors in their lengthy face-off against Clicks and later Unilever this week over the racially charged advert that prompted widespread outrage.
In a statement issued by the party, it expressed its gratitude to members and ground forces for the assistance in putting considerable pressure on the companies during the protests:
"The EFF extends its gratitude to the selfless and disciplined Commissars, Fighters and Ground Forces for waging a noble fight against the racism of multinational goods company Unilever and pharmaceutical retailer Clicks."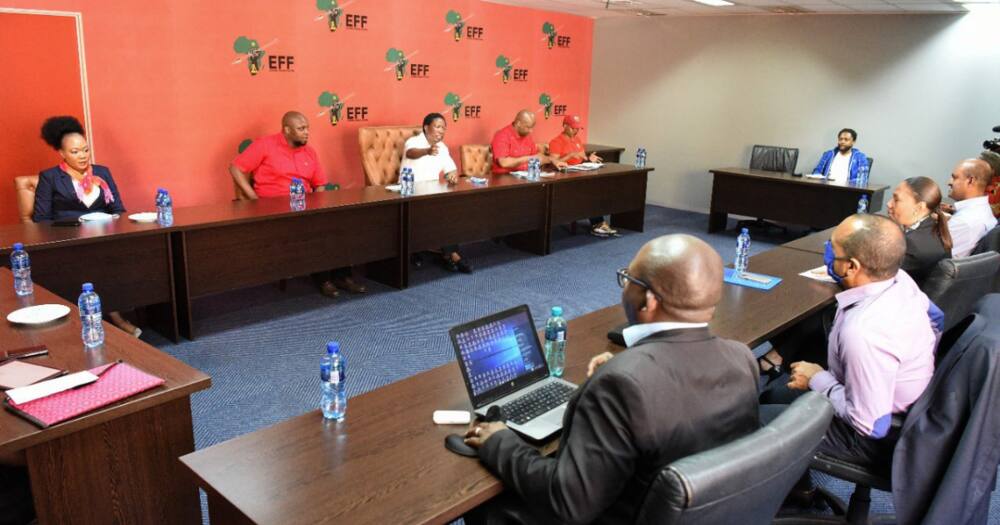 READ ALSO: EFF and Unilever reach agreement over ad, ending week of protests
While the debacle over the advert seems to have been laid to rest, the EFF made it clear that the war on racism is still a long one:
"The fight against racism still has a long way to go. The character of the SA economy remains capitalistic and racial, as a white minority continues to dominate patterns of ownership, job creation and control of key sectors of the economy."
EFF members were called upon to continue the engagement and confrontation of the 'racist financial sector':
"We call on all members to remain disciplined as they have been in the face of provocation and continue to educate society above any and all reactionary commentary by regressive forces. Victory is certain!"
Earlier, Briefly.co.za reported that the EFF had held meetings with both companies responsible for the advert that prompted so much chaos in Mzansi this week.
The Red Berets had managed to negotiate a number of benefits with both entities, including a considerable donation of pads to informal settlements of the party's choosing.
In addition to this, scholarships were promised in addition to future discussions on how the brands could contribute to transformation.
However, numerous retail giants have already committed to pulling TRESemmé products from shelves in response to the controversy surrounding the line. This includes Clicks itself, Checkers, Pick n Pay, Shoprite, Dischem and Makro, who all opted to distance themselves from the ordeal.
Enjoyed reading our story? Download BRIEFLY's news app on Google Play now and stay up-to-date with major South African news!