Covid-19 update: Funeral industry threatens to embark on strike
The funeral industry has threatened to go on strike on Monday unless the government meets demands. Briefly.co.za explores the latest Covid-19 updates in South Africa.
PAY ATTENTION: Click "See First" under the "Following" tab to see Briefly.co.za News on your News Feed!
Disgruntled funeral industry employees have threatened to go on strike unless their demands are met. Should the demonstrations go ahead as planned, burials across the country will be put on hold.
Briefly.co.za explores the latest updates on the Covid-19 pandemic.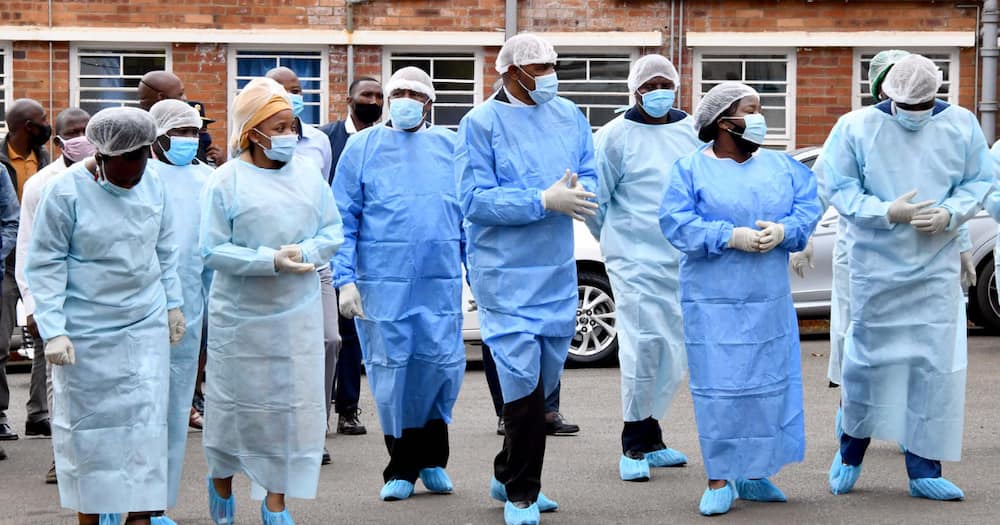 READ ALSO: Covid-19: Zweli Mkhize breathes sigh of relief as new infections fall
1. Funeral industry threatens to strike
Over 3 000 funeral industry employees are threatening to down tools on Monday, which could see burials grinding to a halt.
Workers in the industry are adamant that no corpses will be collected from either government or private hospitals, as well as homes, if the state ignores their demands.
eNCA reports that the demands include the outsourcing of mortuary facilities to be recognised and by-laws amended to allow for shared storage.
One of the nation's largest undertaker group, the SA Funeral Practitioners Association, has voiced its disapproval. The group's Ndabe Ngcobo commented that:
"Our position is very clear regarding the proposed strike, we are not supporting the strike, we are against the proposed shutdown of the funeral sector."
The government has since released a statement reminding the industry of the importance of certification:
"All funeral undertakers and mortuary premises used in connection with the preparation, storage and preservation of human remains must be in possession of a valid certificate of competence issued by the relevant local authority."
The statement warned that legal action would be taken against those who fail to heed these regulations:
"Environmental Health Practitioners are and will continue to conduct inspections in all funeral undertakers' premises in the country to check compliance to the Regulations. Legal action will be taken against owners of premises found to be in contravention."
Citizens were urged to ensure the legitimacy of an institution before deciding to utilise it:
"Family members are urged to check the legitimacy of the undertakers and agents being utilised for overall management of the burial of their loved ones to ensure proper tracking and tracing and that the handling of the remains is done with dignity and within the law."
2. Mkhize provides update on statistics
Health Minister Dr Zweli Mkhize has updated SA on the latest Covid-19 statistics as the nation continues to battle the virus.
In a statement issued by the Health Ministry, Mkhize confirmed a rise in infections:
"As of today, a cumulative total of 649 793 confirmed Covid-19 cases in South Africa have been recorded with 1 579 new cases identified."
The minister also confirmed that a number of new fatalities have been recorded, commenting that:
"Regrettably, we report 20 more Covid-19 related deaths: 4 from KwaZulu-Natal, 6 from Gauteng, 4 from Eastern Cape, and 6 from Western Cape. This brings the total number of Covid-19-related deaths to 15 447."
Mkhize said that recoveries now stand at 577 906 which translates to a recovery rate of 88,9%.
Earlier, Briefly.co.za reported that Dr Zweli Mkhize has taken to Twitter to share his relief with South Africa as new infections and hospital cases continue to drop. He said that the recovery rate is up to 90% and the mortality rate has dropped down to just 2%.
This is good news for South Africa and the economy as it means that if this trend continues, restrictions on the economy can be lifted even further.
"Today, we cautiously but optimistically breathe a sigh of relief as we continue to see our detected cases, hospital admissions, deaths and even excess deaths declining. Our recovery rate is now almost at 90% and our mortality rate has remained stable at around 2%."
Enjoyed reading our story? Download BRIEFLY's news app on Google Play now and stay up-to-date with major South African news!
Source: Briefly.co.za