Municipality continues with sleeping areas for homeless post-Covid-19
- The Denis Hurley Centre's (DHC'S) efforts led to 1 700 homeless people in Durban staying in safe haven outdoor camps while South Africa was under Level 4 and 5 lockdown
- The Director of the Centre, Mr Raymond Perrier, claims they were promised funds by the municipality for allocating its indoor facility to the older homeless people but have yet to be paid
- Perrier believes the eThekwini Municipality's spend of R450 per day for each homeless person was "nonsensical"
PAY ATTENTION: Click "See First" under the "Following" tab to see Briefly.co.za News on your News Feed!
By Neesha Maharaj- Freelance journalist
When South Africans realised a national lockdown was imminent in March to curb the spread of the Coronavirus, NGOS like the Denis Hurley Centre (DHC) were concerned about the fate of the homeless people.
There were fears that infections would rise among this sector of the population and that they (homeless) would be breaking the law if found roaming the streets.
Mr Raymond Perrier, director at the facility, said it was a massive relief to discover that the eThekwini Municipality, under the leadership of Deputy Mayor Belinda Scott, was rallying the support of NGOs to set up temporary outdoor camps to house the homeless.
The Denis Hurley Centre, which has been campaigning for homeless shelters for many years, had taken the lead in coordinating all NGO efforts towards this initiative.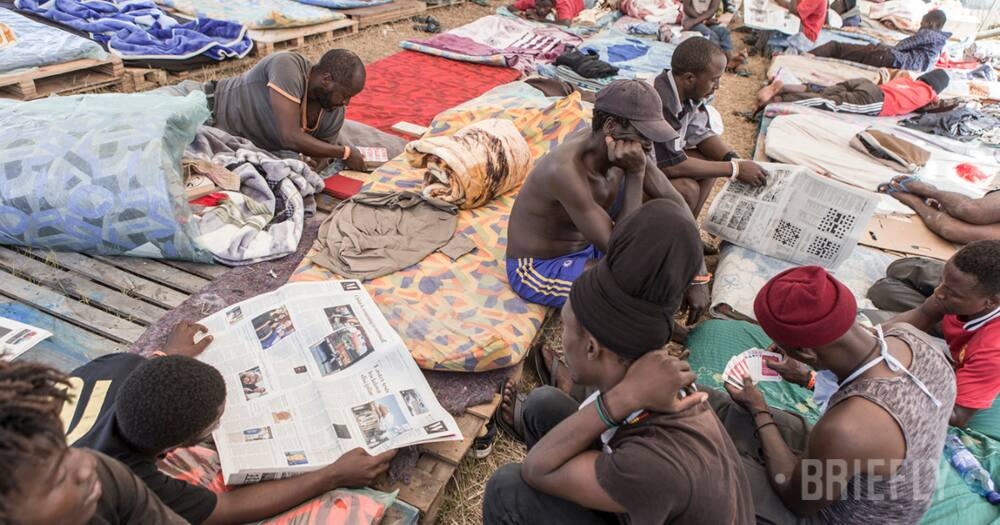 READ ALSO: Ramaphosa: SA government has 'to a large extent run out of money'
Within four days, the DHC had set up 15 shelters to accommodate 2 000 people. According to Perrier, 1 700 homeless people were relieved that safe spaces were made available for them and took advantage of this opportunity.
"They had to undergo screening to ensure they were not infected with the coronavirus. We were anxious that the roaming lifestyle of the homeless people meant they were exposed to other people. We were uncertain about the infection rate among them (homeless)," he said.
About 100 homeless people, including the elderly and those with other vulnerabilities, were housed at the DHC indoor facility.
Perrier indicated there had been phenomenal support from a range of faith organisations offering various services to the shelters.
Organising safe havens for 2 000 people is a mammoth task that comes with challenges; one such challenge was that 160 of the homeless at the camps had drug and alcohol addictions and were able to access their substances of choice while under lockdown.
The Future Centre operating at the DUT (Durban University of Technology) had helped the addicts.
According to Perrier, some of the addicts experienced withdrawal symptoms and were unable to cope; others realised it was an opportune time to stop substance abuse while others had serious health issues arising out of their addictions that needed to be taken care of.
There were some startling revelations in terms of the eThekwini Municipality's spending towards the homeless camps, which Perrier describes as "nonsensical".
"The municipality announced it had spent about R450 per day on each homeless person. This was money badly spent. About R1m went to staff nurses who couldn't work effectively; R12 000 had been spent per month on tents. Funds went towards security and overtime hours for Metro Police. None of the funding went to NGOs, who contributed a lot during the lockdown," said Perrier.
According to Perrier, the DHC was also promised funds by the municipality for use of its indoor facilities to house the elderly and vulnerable but they have not been paid to date.
Instead, DHC fundraising resulted in the organisation gaining R1.6 million which was distributed to various NGOs that assisted with the camps during the lockdown.
Perrier indicated when corporates, NGOs and the municipality join forces, much can be achieved to solved Durban's homeless problem.
"It took the Covid-19 pandemic to trigger the relevant action needed to attend to Durban's homeless problem, something we have been trying to get the municipality to deal with for many years," said Perrier.
Positive spin-offs out of setting up the temporary camps is that a shelter for women known as Strollers in the CBD has been set up to assist 250 people in double bed rooms.
Also two outdoor campsites still stand, allowing the homeless a safe place to sleep at night.
"This experience has revealed that resources are available to attend to the City's homeless problems but we are not using it effectively. The problem lies in the attitude of most municipal staff who will give you reasons not to do something instead of reasons to do something. They do not see delivering service as important," said Perrier.
Perrier also citing an example of how the Denis Hurley Mobile Clinic had to step in at the initial stage of lockdown to provide ARVS and other medication to 25% of the homeless who (were HIV positive or had TB). It took the City's Health Department five weeks before they provided medication.
Responding to Perrier's assertions that the DHC was promised funding by the eThekwini Municipality, Mr Msawakhe Mayisela said:
"We are not aware of any payment arrangement. However, the position of the City is that we subscribe to an open-door policy and if anyone has a grievance, they are encouraged to engage with us."
Mayisela said the shelters were set up as part of the Covid-19 response to deal with the homeless people. Once lockdown regulations ease they would be decommissioned.
"The City is now moving to the model of Safe Sleeping Spaces wherein people will be allowed to sleep in a "safe place" but to vacate the site in the morning and come back in the afternoon to sleep. This project is underway in the Inner City and hence we are moving people who are still not able to return to their homes closer to the inner city where they will be provided with a safe sleeping space. There are two safe sleeping spaces that are available in the inner city and this is being promoted as a response to homelessness post-Covid-19," said Mayisela.
Mayisela did not respond to a question on the City's spend of R450 per homeless person as overspending.
Earlier, Briefly.co.za reported that President Cyril Ramaphosa, discussing the efforts to kickstart the economy after the devastation of the Covid-19 pandemic, has admitted that the South African government is essentially bankrupt.
An Economic Recovery Plan is urgently being formulated with Ramaphosa highlighting its successful implementation as crucial.
The plan is so crucial that Ramaphosa has dismissed calls from those involved in creating it to extend deadlines.
Enjoyed reading our story? Download BRIEFLY's news app on Google Play now and stay up-to-date with major South African news!
Source: Briefly.co.za