Meet Dishal Sooku, the heroic businessman who stopped a kidnapper
- A Gauteng businessman has gone viral after a video trended online showing him stopping a criminal
- Dishal Sooku has been identified as the heroic man who stopped a thug from kidnapping girl last week
- Sooku has opened up about the experience and dubbed it a "selfless" act
PAY ATTENTION: Click "See First" under the "Following" tab to see Briefly.co.za News on your News Feed!
While some people turn a blind eye when it comes to crime, others don't hesitate to risk their own lives to save someone else. Last week, a video went viral showing a man attempting to steal a child at Bella Napoli, Goldman Crossing, Florida, West Rand.
However, the kidnapper's attempt was foiled by a heroic man who tackled him to the ground and immobilised him long enough to be arrested.
South Africans applauded the good Samaritan for stopping the thug and many tried to track the hero down.
Dishal Sooku has been identified as the man who stopped the heinous crime.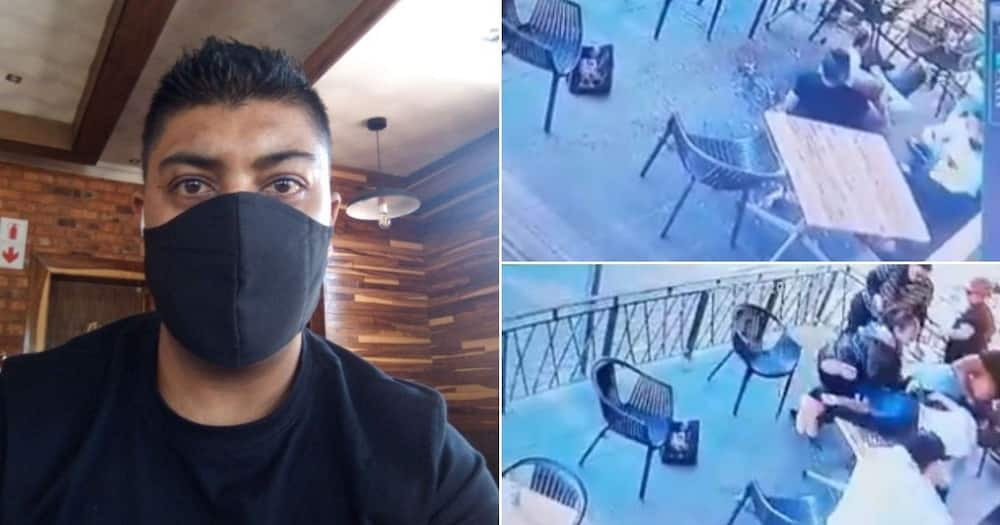 READ ALSO: Miss Universe, Zozibini Ntunzi is finally back on home ground
According to Cape Town Ect, Sooku is a businessman who resides in Johannesburg. Many who saw the video highlighted that it seemed as though Sooku had been trained in combat - and they were right.
A 2015 post by Jikishin Ju-Jitsu International South Africa revealed not only is he a skilled fighter, but Sooku is already at a Sensei level in the combat sport.
Take a look at the post below:
However, his heroic actions were not simply because of his training in Ju-Jitsu. Taking to his own Facebook page, Sooku thanked South Africans for all the love and he revealed why he did what he did.
He wrote:
"I want to thank everyone for your support and love. It was a selfless act and glad the child is safe. But thank you for all the love from everywhere."
Speaking to News24, Sooku revealed he never in his wildest dreams would have thought that he would stop a kidnapper.
The 38-year-old Roodepoort restaurant owner said his father noticed the "suspicious-looking man" and told Sooku to keep an eye on him.
It was because of this that Sooku reacted within seconds when the thug made his move. Sooku, who has years of experience in marital arts, said his training kicked in and he was able to stop the man's evil plan.
Social media users were in awe of how quickly Sooku was able to react to the would-be kidnapper and he revealed even his wife was shocked.
"My wife asked me, 'Did you plan this thing?' " he recalled.
Sooku not only used his fighting skills but he practised discipline as well. While many people felt he should have given the criminal a good beating, Sooku only pinned him down until the law enforcement authorities could take over.
Thereafter, the brave man stepped aside and he revealed the thug did not even say anything to him.
Meanwhile, in other news, Briefly.co.za earlier reported a young man and his friends have introduced what may just be a very progressive plot twist to traditional baby showers. The event, which is usually a no-guy zone and held for expectant mothers, was recently held for a man who just had a baby girl.
Pictures of the doting dad and his little girl surrounded by pink decor were shared with surprised Facebookers who were both taken aback and happy for the dad. In the pictures, the new dad sits with his newborn with many gifts placed all around them.
Social media users who are obviously not accustomed to seeing a man in a baby shower setting expressed their surprise as well as congratulatory messages for the young, proud father. Many of them took a liking to the idea, calling it "progressive."
Enjoyed reading our story? Download BRIEFLY's news app on Google Play now and stay up-to-date with major South African news!
Source: Briefly News