Faceless hero BI Phakathi blesses unsuspecting petrol attendant
- BI Phakathi has shared another heartwarming clip in which a petrol attendant gets blessed with some cash
- In the video BI overpays for his petrol, giving the excited attendant the large amount of change
- Facebookers who love watching BI do good enjoyed the clip just as much as they did all the rest of his heartwarming clips
PAY ATTENTION: Click "See First" under the "Following" tab to see Briefly.co.za News on your News Feed!
BI Phakathi has done it again. At the receiving end of his hand, which seems to always be giving, was a lucky young petrol attendant. In the video, BI can be heard asking the unsuspecting petrol attendant about his job.
After the attendant is done pouring his petrol, BI then pays for it. Just as the petrol attendant thinks the exchange is over, BI hands him some money. And right when the surprised yet delighted attendant thinks it's time to thank him and say goodbye, BI offers him more and more cash.
The excitement and shock are clear on the attendant's face as it becomes increasingly obvious that he had never before received a tip as big as this. BI, who seems to thoroughly enjoy putting a smile on his face, laughs on in the background. Watch the clip below
READ ALSO: Congratulations Mufasa: Cassper Nyovest is now a proud father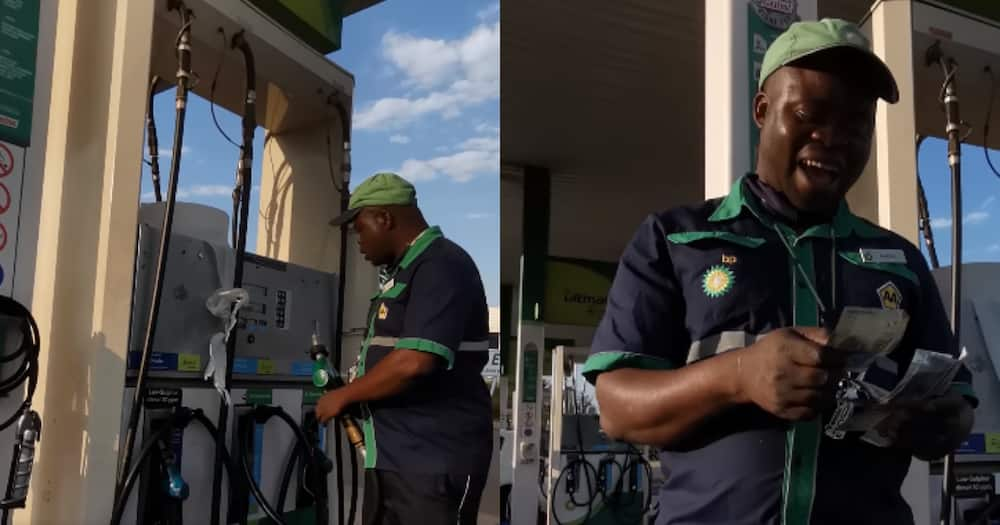 BI's amazing gesture comes shortly after Briefly.co.za reported that South African Twitter users were absolutely furious after a man pulled paid far less for his fuel than he owed. In a video uploaded to the social network site by @bisah_q, a man can be seen paying a petrol attendant R20 after he was asked for R210.
The man's face is not visible through the video but he can be heard joking around with the attendant, saying that the R20 is "two ten". The video has gained over 320 000 views since its upload on Monday. Many tweeps said that it was a prank but scrolling through the replies it was evident that the man did not pay in full for his fuel.
Twitter users came together and managed to locate the attendant and revealed that his boss had sorted the payment out.
READ ALSO: "Can your dad fight?": SA reacts to stunning 45-year-old mom
Here are some of the comments made by Facebookers who enjoyed BI showing people how to treat the people who help us every day with little things like pouring gas.
Georgia Hinish wrote:
"You are the most awesome person I've ever seen on video. I am lost for words I just wish that they were more caring people in this world like you. And it makes me think with all the bad that goes on in this world it's a blessing God has put his heart into you so that you can help other people. And I know you have helped out hundreds of people already knowing God will always be at your back to keep you safe. And I thank you for being so kind to the unfortunate"
While Hangwi Sikhwari said:
"Every time I come across somebody asking for food or a little cash, I ask myself what would BI do. Then I'll turn back and do what I can to help the guy. You inspire me and I don't even know your face lol. May God bless you more so you can bless more people."
Enjoyed reading our story? Download BRIEFLY's news app on Google Play now and stay up-to-date with major South African news!
Source: Briefly.co.za