Exclusive: Briefly chats with Bold & Beautiful's Katie Logan and Zoe Buckingham
The Bold and the Beautiful holds the accolade for the most-watched daytime drama series in the world. Briefly.co.za had the exciting opportunity to chat to two cast members of the award-winning show, Heather Tom and Kiara Barnes.
PAY ATTENTION: Click "See First" under the "Following" tab to see Briefly.co.za News on your News Feed!
Six-time Emmy Award-winning actress Heather Tom currently stars as Katie Logan on the show. The actress has extensive experience in the acting industry. Prior to joining The Bold and the Beautiful, Heather spent three years starring as Kelly Cramer Buchanan on ABC's One Life to Live, and 13 years starring as the tempestuous Victoria Newman on CBS's The Young and the Restless.
Heather sat with Briefly.co.za and chatted about her career:
1. The Bold and the Beautiful is the most-watched daytime drama series in the world. How does it feel knowing that your face is in millions of TV lounges across the world?
I think that we've been doing this for so long that we have kind of gotten used to it. But yeah, there are times when I visit different countries and I see all the love that people have for us. It's truly amazing.
2. Your recent Daytime Emmy Awards win (congrats) for Outstanding Lead Actress in a Drama Series was held in a virtual ceremony. Do you think that this will be the new normal post a Covid-19 world?
(laughs)
I hope not! I hope that things will get better. The ceremony was great and they did an incredible job with it. But I'm hoping that there will be a vaccine developed soon and things that sort of return to normal. Because we can't get used to this mask-wearing all the time. It's incredibly difficult for us, especially in the Western countries, we aren't used to it. So yeah, I'm hoping that something like a vaccine will be developed to return to normal.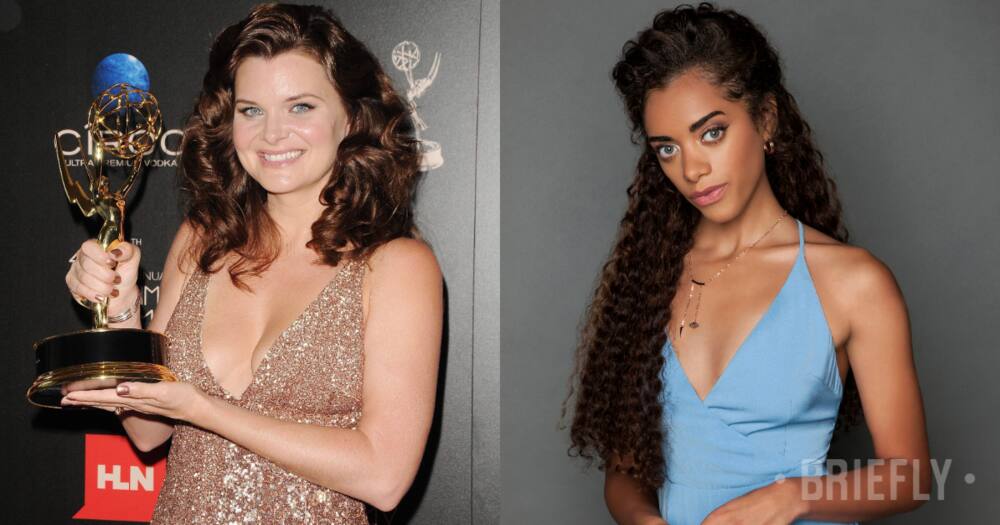 3. You are the only actress in Daytime Emmy history to win in all three Daytime Emmy acting categories - Outstanding Younger Actress, Outstanding Supporting Actress & Outstanding Lead Actress - what do you think you have done differently to stand a shoulder above the rest in your craft?
I'm not sure how to answer that. I'm actually not sure what I've done differently. I guess it also has to do with experience. I have been in this industry for a very long time.
You began acting at a very young age and have seen the entertainment industry evolve over the years.
4. What advice would you give a young budding actor or actress who is trying to crack it into the cut throat acting world?
My advice would be to study. Study as much as you can to perfect your craft. Study acting techniques and do as much reading as possible.
5. Are things different on set now that the new Covid-19 normal has been implemented? What safety measures are in place?
Things are very different. There are regulations in place to make sure that we maintain the correct safety procedures. We sanitise our hands when we enter the building. We wear masks. We also stand eight feet apart from each other for the social distancing. They have definitely done their part to make sure that we stay safe during these times.
6. I know you've been to SA twice. Where was your favourite place to visit?
I actually love South Africa, we went on a safari to the Kruger National Park and it was amazing. When my mother turned 60, she said she wanted to go on a safari, so we went. I've also been to Cape Town and Zimbabwe, to see the Victoria Falls.
Kiara Barnes stars as Zoe in the popular soapie
Actress and singer Kiara Barnes portrays Zoe on The Bold and the Beautiful. A successful model, Barnes has worked for DKNY, Maybelline, Sephora, Nike and Adidas. She joined the cast of The Bold and the Beautiful in 2018 and it was her daytime TV acting debut.
Kiara shared her experiences with Briefly.co.za:
1. Your character has a British accent and you have an American accent, is that hard to pull off?
I've got family everywhere, including England and Ireland, and I grew up being very theatrical and I was putting on British accents since childhood. I went in with what British knowledge I had but it worked out great because I had Adain Bradley, who plays Forrester intern Xander. He's English and he was really awesome.
2. Model, actress, singer. You're quite the triple threat. Which skill do you enjoy the most and why?
(laughs)
People always ask me which I prefer more than the other but they are actually the same thing. I find that when I'm tired of reading lines, I can pick up my guitar and start playing something. Modelling is also fun because it's an adventure. Going on campaigns is amazing fun and you get to enjoy new experiences. So each thing is fun in its own way.
3. What does the typical day in the life of a 'BnB' actress look like?
Things are very different now. We returned to set maybe two months ago and I admit I was a little nervous about safety precautions because of Covid but it's been great. We wear masks, we sanitise and we stay eight feet apart now. Even make-up and hair, we minimise the time we spend with the people.
When we're running lines with each other, we either go outside and do it on the grass or we FaceTime each other. It actually works really well to FaceTime each other.
But yeah, things are completely different now but they have made sure we're safe.
4. The Bold and the Beautiful has a massive following in South Africa, what message do you have for your fans in the country?
In the context of the show, I don't want to reveal too much, but there are big surprises ahead for my character. So keep your eyes glued to your screens.
Regarding the times we're in now, I think that we have to stay calm and do what it takes to keep the anxiety away. It can be anything from doing something you love, or lighting a lavender stick or even meditation - I'm a big fan of meditation. Do whatever it takes to make you feel present.
Often we become anxious thinking about the future, especially with all that is happening, like the Black Lives Matter situation, it's important to feel the emotions but also to stay in the present and not worry about what's to come.
The Bold and the Beautiful airs on Eva, DStv channel 141.
READ ALSO: Rihanna's 'Umbrella' gets a remake by some guys "without the other gender"
Briefly.co.za previously reported that Liopelo Maphathe is a South African actress and television presenter who has been in the game for many years. Getting some inside information from this small screen beauty is like gold.
Having starred in many Mzansi soapies, Liopelo is best known for her role as Luyanda on the e.tv soapie Backstage, who she played back in 2000. Briefly.co.za got the opportunity to ask Liopelo a few questions about being on TV during an exclusive interview. Often we watch our favourite soapies but hardly know anything about what goes on behind the scenes.
Speaking to Liopelo about being on set as well as her stand regarding some of the pressing gender-based issues in SA, the star gave her invaluable insight, posing a lot of pertinent points.
Enjoyed reading our story? Download BRIEFLY's news app on Google Play now and stay up-to-date with major South African news!
Source: Briefly.co.za