Don't text and drive: Video shows truck driver causing an accident
- A truck driver was caught on video being reckless while on route to his destination
- Two angles of the incident show the driver texting and not paying attention to the road before slamming into another truck
- The video gathered over 34 000 views and South Africans condemned the driver's disregard for his own safety as well as that of other motorists
PAY ATTENTION: Click "See First" under the "Following" tab to see Briefly.co.za News on your News Feed!
Many people lose their lives on the road and car accidents happen daily in South Africa. Sadly, many of these accidents are caused by people who disregard the laws of the road.
Amongst some of the most common things that causes fatalities on SA roads is texting while driving. An accident can happen in a matter of seconds, so quickly glancing at your phone is not a good idea.
One video, which was shared by @SALTruckers on Twitter, shows a driver chatting on his cellphone while driving.
The clip is split into two screens - one showing the truck cabin while the other is focused on the road ahead.
The footage shows another truck turning onto an off-ramp and because the driver is busy on his cellphone, he causes a crash.
The post was captioned:
"Sometimes people think they're experts when they text and drive..."
According to the date on the video, the incident took place on 12 September, however, it was not revealed where it happened.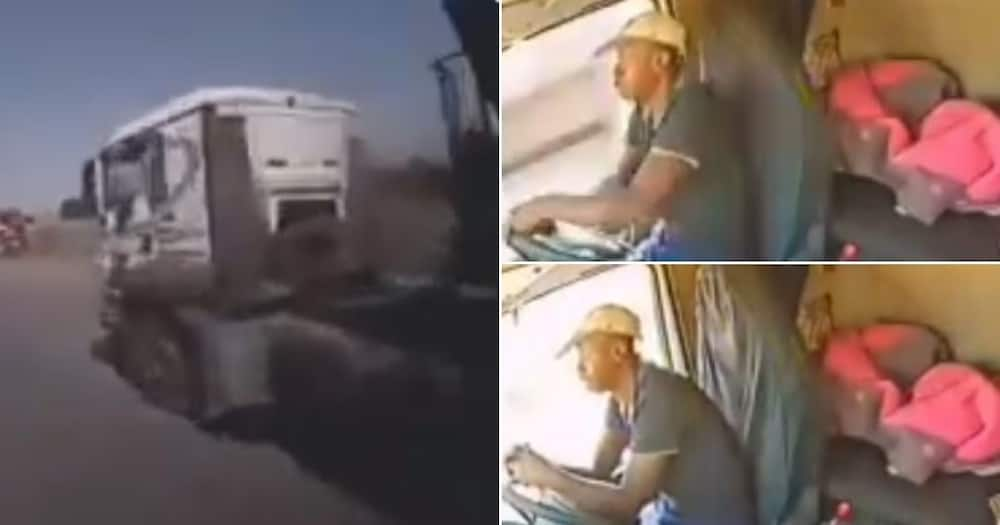 READ ALSO: Exclusive: Meet the female engineer, 26, who is building her own house
The clip gathered thousands of views and South Africans were furious over the driver's actions.
Twitter user, @tale224, commented:
"Very reckless... Part time driving and full time on the phone and the speed. Haa guys."..
Another tweep, @cde_king, added:
"The screaming at the end of the video."
Social media user, @pulekho2, wrote:
"I see motorists on phones every day on the freeway, I wish we could have a dedicated law enforcement unit focusing mainly on that."
Twitter user, @MarieMalan3, said:
"Jip they do not look what they must do, take chances then this stuff happens, and if you get a problem then not there fault, they're the victim."
Tweep, @Mthobisimag, commented:
"Keep left, pass right! If only he followed the rule of law and passed on his right."
In other news, Briefly.co.za previously reported a woman with the Twitter handle @Niathelocgod has spoken about how she became a millionaire several days after she suffered a great ordeal. Without giving any specific date, she said that she was hit by a car on Monday and days afterwards became a millionaire.
The woman attached pictures showing when she was in the hospital receiving treatment and a photo where she was smiling with a glass of drink. When people really got confused about how she came by the new wealth, thinking she may have received the money as a form of donation, she clarified in subsequent tweets.
@Niathelocgod said that she made the money from her business sales, adding that before the accident happened, there were plans to make a million in single sales.
Enjoyed reading our story? Download BRIEFLY's news app on Google Play now and stay up-to-date with major South African news!
Source: Briefly.co.za