Lana Marks bio: age, family, fashion brand, assassination attempt, Cyril Ramaphosa, profiles, wealth
Lana Marks is not a new name in the limelight. She is the current United States ambassador to South Africa. Many also know her as the founder and Chief Executive Officer of Lana Marks, which is a high-end luxury brand for handbags. Her popularity continues to grow globally, hence the need to know more about her.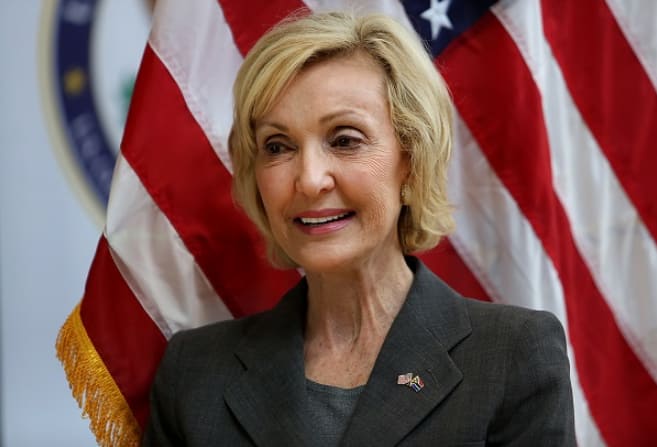 Lana is among the few women with a remarkable reputation. Her position in society inspires many young girls, especially those in South Africa and the US. She is not only an entrepreneur but a genuine leader.
Over the past 24 hours, she has been on the spotlight over alleged assassination attempts by the Iranian government. So, to what extent are the speculations true?
Lana Marks profile summary
Full names: Lana J. Marks
Date of birth: 18th November 1953
Place of birth: East London, South Africa
Age: 66 years old
Zodiac sign: Scorpio
Occupation: Luxury fashion designer, entrepreneur, ambassador
Nationality: American
Lana Marks bio
She was born on 18th November 1953 as Lana J. Bank on East London, South Africa. Bank was born into the family of Alec Bank. She has two known siblings: Pogroske and Malcolm Bank.
Lana grew up in a well off family. Lana Marks father was a property developer. On the other hand, her mother was an artist and businesswoman with a unique taste in European textiles. Perhaps, this helps explain her solid entrepreneurship and fashion prowess.
Lana is an intellectual individual. She attended Clarendon High School for Girls. Unfortunately, there is no further information about Lana Marks education.
Interestingly, she is an avid tennis player. In 1985, she was among the participants who played in the Maccabiah Games. She ended up bagging a bronze medal for her team, Bermuda.
READ ALSO: Andile Lungisa bio: age, wife, career, profile
How old is Lana Marks?
At the time of writing, Lana Marks age is 66. Usually, the ambassador celebrates her birthdays on the 18th of November.
Family
Apart from being a polished entrepreneur and remarkable leader, Marks is a wife, mother, and grandmother. So, who is Lana Marks husband? Does she have children? What about grandchildren? How many?
Lana has been married for over four decades now. The name of her husband is Dr. Neville Marks. Unlike her, Neville is a practising psychiatrist based in Florida. The two tied the knot in 1976 and have since been happily married.
Lana Marks family is becoming bigger and bigger by the day. Currently, the couple is blessed with two lovely kids. The names of her children are Martin and Tiffany Marks. She is also a grandmother.
Career
Lana is, undoubtedly, among the few ladies who can proudly boast of a successful career. She has achieved more than one can imagine. However, where did it all begin? One may ask.
Lana Marks fashion brand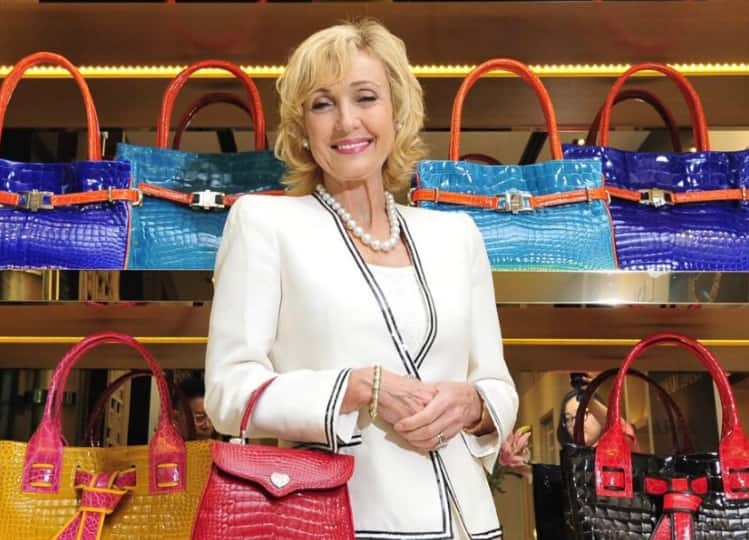 Lana Marks is an established fashion brand known for its spectacular luxury handbags. It took Lana and her husband approximately four years to come up with the first design. Whose idea was it though?
The idea came in when they attended a birthday party for Queen Elizabeth II. The royal family invited the two alongside others. On that fateful day, the queen could not find a red alligator handbag to match her suit.
It is at this point that Marks noticed that there was an existing market niche for luxury goods. Later, she dedicated her time to learning about fashion and design accessories. She also consulted top Italian artisans who helped her become the designer she is today.
The company has its headquarters in Palm Beach, United States. Its branches are in the United Kingdom, Macau, Dubai, and Qatar.
READ ALSO: Who is the richest president in Africa?
At the moment, the firm has the best Cleopatra Clutch collection to choose from. Below is a comprehensive list of some of Lana Marks bags and their prices: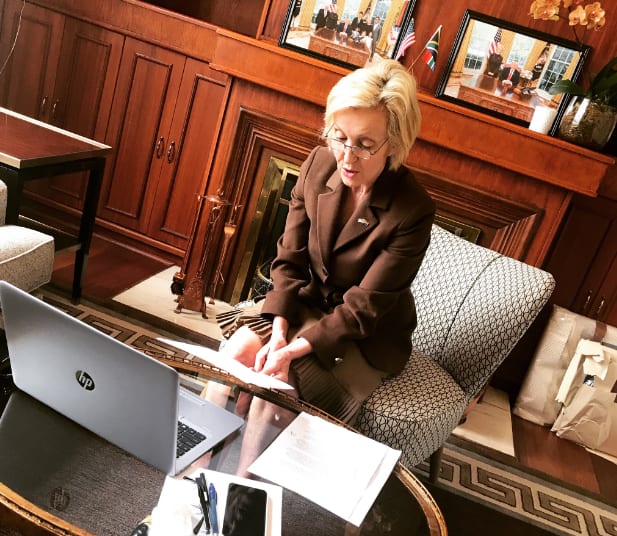 Large Cleopatra Clutch – $9,400.00
Large Chain Bag – $12,900.00
XL Chain Bag – $14,650.00
Petite Chain Bag – $6,675.00
Princes Diana Emerald Alligator – $14,200.00
Princes Diana Electric Blue Alligator – $14,200.00
Medium Princes Diana Black Alligator – $12,000.00
Positano Tote Black/Red Alligator – $19,890.00
Tricolour Positano Tote Royal Blue/Orange/Aqua Ostrich – $6,630.00
Frozen Chain Tophandle Black/Black – $15,210.00
Frozen Chain Tophandle Aqua Ostrich – $6,450.00
Medium Chain Bag Cognac Ostrich – $3,565.00
Mosaic Collection Bordeaux – $15,500.00
Mosaic Collection Cotton Candy Clutch – $10,500.00
Baby Lunchbox Chocolate Alligator – $10,400.00
Baby Lunchbox African Violet Ostrich – $3,800.00
There are many Hollywood stars and royal families in possession of one or so of the above luxury handbags. They include:
The late Diana, Princess of Wales
Charlize Theron
Julie Christie
Madonna
Helen Mirren
Jennifer Aniston
Chloe Sevigny
Kate Winslet
Lucy Liu
Oprah Winfrey
Drew Barrymore
Sarah Jessica Parker
Reese Witherspoon
Lana Marks ambassador appointment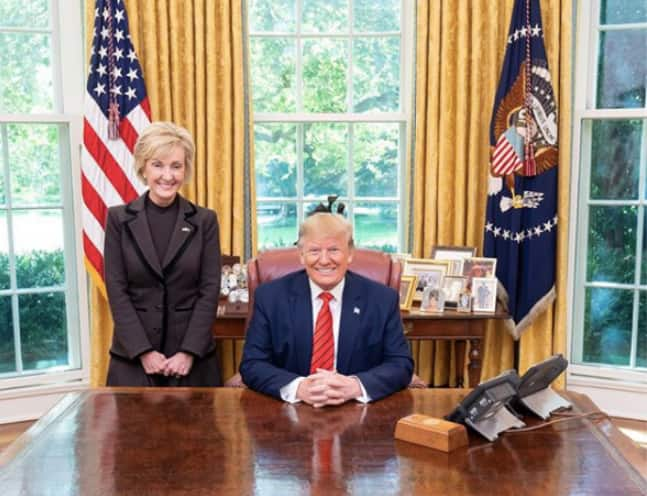 She has been an ally of Trump for some time now. In 2018, the US President nominated her to be the US ambassador to South Africa. It was until the 4th of October 2019 when she was sworn into office.
She represented her credentials to Cyril Ramaphosa, the South African President, on the 28th of January in 2020. He approved her appointment, and she has since been serving in the position. Some people consider Lana's appointment as her return to her birth country.
For a long time, Marks has proven to be a leader. She has been on the frontline in empowering and supporting women on various projects. For instance, she has represented the US twice at the Women Business Leadership Summit in Helsinki.
She has also sat on numerous women leadership boards and forums such as the White House for the Women Business Leaders' Forum and Harvard University's Kennedy School of Government's Women's Leadership Board.
Lana has been a member of Mar-a-Lago for a considerable period. Mar-a-Lago is a private club for President Trump. She was among the four members of the club that were awarded the appointment by the president.
The other three appointees were Robin Bernstein, Philanthropist Patrick Park, and Brian Burns. Unfortunately, of all the four Marks and Robin Bernstein accepted the appointment. The rest declined the ambassadorship position, for reasons well explained to the president.
READ ALSO: Nelson Chamisa age, children, wife, education, cars, house, net worth, latest news
Lana Marks family feud
In 2018, she was caught up in a family feud. Her siblings sued her for unlawfully transferring family properties to her name. The properties were said to worth millions.
The feud began when the siblings learnt about her appointment. Speaking to Sunday Times, her sister said,
Lana is unscrupulous, dishonest, and corrupt.
She added,
If Lana behaves towards her family in this way, I cannot imagine how she would behave as ambassador if appointed. She lacks the experience and integrity to fulfil this role.
The family eventually resolved to remove her as the sole trustee of Balam Trust. The trust owns several properties in South Africa, such as apartments, factories, offices, and commercial shops. She retaliated by launching a countersuit, seeking to remain in charge of the family's properties. She argued that it was a "direct result of her mother's wish."
How rich is Lana?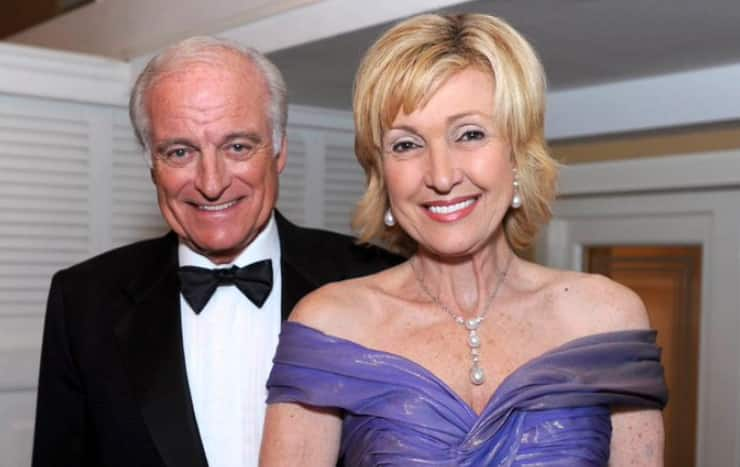 She is one of the richest women in the world. Many sources are reporting conflicting figures, making it challenging to ascertain the real figure. Besides, she has not publicly declared her wealth. Probably, Lana Marks net worth is under review.
Assassination attempt
Lana Marks assassination plot has been a major topic of discussion by local and international media. They have been reporting a possible assassination of ambassador Marks as an act of retaliation. Politico started the speculations on 13th September 2020.
Still, attacking Marks is one of several options U.S. officials believe Iran's regime is considering for retaliation since the general, Qassem Soleimani, was assassinated by a U.S. drone strike in January.
The Iranian Embassy to South Africa has since termed the allegations as "baseless." Besides, the US security official and Marks have not come public to deny the allegations. However, the source insisted that the US government have been aware of the threat.
Lana Marks contact details
One can reach her using her contact details. For instance, those seeking more information about his products, they can contact her through:
Physical address: 150 Worth Avenue, Palm Beach, FL 33480
Lana Marks Instagram: @lanamarkshandbags
Lana Marks email address: pr@lanamarks.com
Twitter: @LanaMarks
Tel: (+1) 561-655-3155
Indeed, Lana Marks is an inspiration for many growing, ambitious girls. She is a successful businessman and leader with an outstanding track record. However, her journey to success has not been an easy one. She has faced many setbacks such as the removal petition which was initiated by Wynand Calitz.
READ ALSO: Gerrie Nel bio: age, wife, education, cases, on Oscar Pistorius, contact details
In May, Briefly.co.za highlighted the biography of Gerrie Nel. He is a renowned advocate and prosecutor for the National Prosecuting Authority (NPA). Usually, he is known for handling high-profile cases in the country.
The 59-year-old started his career in 1984, working as a prosecutor. He came into the limelight when he took the case of Oscar Pistorius. Apart from his legal profession, he is also a wrestling instructor. He resigned from his prosecutorial position in 2017.
READ ALSO:
Thokozile Masipa bio: age, children, husband, education, high profile cases, salary, net worth
Lindiwe Mazibuko biography: age, husband parents, education, and contact details
Mduduzi Manana bio, age, family, businesses, foundation, Instagram
Source: Briefly News