Time to thank the medics: Dr Ngema calls on SA to thank health staff
- A local doctor, Dr Yenzi Ngema, has called on South Africans to thank the medical staff who were at the forefront of the Covid-19 pandemic
- She has since taken to creating an initiative that will see people all over showing appreciation to medics by making small donations towards gift vouchers for hospital staff
- Dr Ngema also called on people to spread the #ThankTheMedics hashtag on social media
PAY ATTENTION: Click "See First" under the "Following" tab to see Briefly.co.za News on your News Feed!
A local doctor, Yenzi Ngema, who specialises in orthopaedic surgery at Chris Hani Baragwanath Hospital in Soweto, has begun a heartwarming initiative that will see medical teams across the country getting thanked for all their hard work during the Covid-19 pandemic.
Dr Ngema and her colleague came up with the idea after South Africa seems to have made through the hardest part of the coronavirus crisis.
Finally having a chance to sit back and reflect on the hardships and tribulations she and her fellow medical staff were faced with during this trying time, Dr. Yenzi Ngema wondered how South Africans could show their appreciation to those who were at the forefront of the coronavirus fight, could be thanked.
"There's no getting away from the impact Covid-19 has had on me and my fellow healthcare workers, all of whom knowingly put their own lives at risk to ensure the safety of others.
"We took a tremendous amount of strain, and with ever-increasing expectations being placed on the healthcare system, it's understandable that many of us are now suffering from stress, low morale and depression". said Dr Ngema.
This was when #TimeToThankTheMedics was born, an initiative that calls on locals to thank medical staff all around SA by making small donations and spreading the message on their own social media pages.
The funds raised by the initiative will go towards gift vouchers for hospital staff members across SA.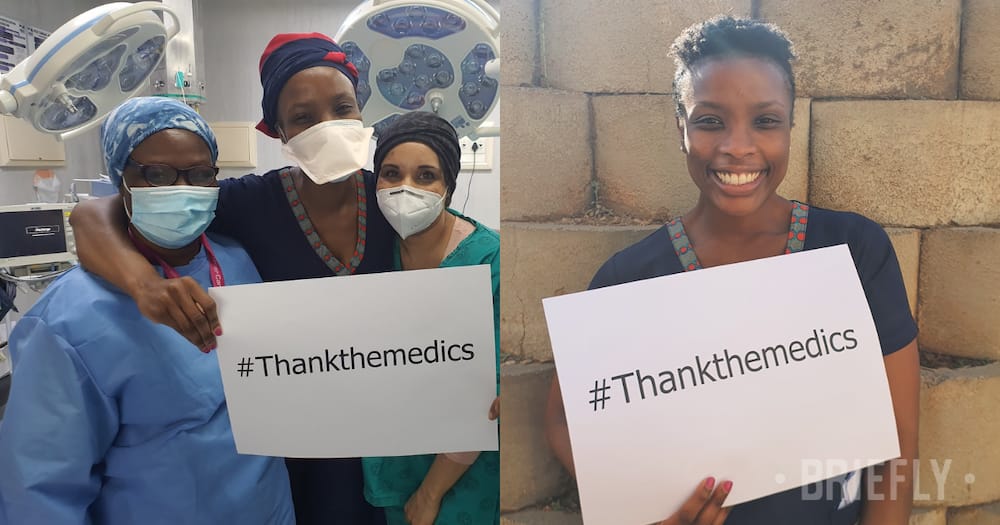 READ ALSO: Congratulations Mufasa: Cassper Nyovest is now a proud father
"We never had the chance to get used to hearing the words 'thank you'. Those two words mean everything, they're a balm for the human spirit.
"For that reason, I initiated Thank the Medics, to thank those who do thankless jobs – our wonderful medics across the country. I am asking every South African – individuals and corporations – to join me in saying 'thank you medics' for all the sacrifices you made.
Each person will receive two vouchers – one for themselves and one to 'pay forward' to another healthcare worker who bravely fought the COVID-19 virus alongside them, such as cleaners, porters or ambulance drivers, for example.
How you can get involved:
1. Make a donation to the #ThankTheMedics crowdfunding campaign on BackaBuddy here: https://www.backabuddy.co.za/thank-the-medics or donate via Snapscan.
2. Set up your own crowdfunding campaign on BackaBuddy to #ThankTheMedics in your area. Proceeds will go directly to the hospital of your choice.
3. If you prefer a more personal approach, #ThankTheMedics by dropping off a coffee, baking a cake, volunteering your time or offering a kind message of support! It's really up to you!
Lastly, help Share the #ThankTheMedics campaign on Social Media!
READ ALSO: "Can your dad fight?": SA reacts to stunning 45-year-old mom
In other Briefly.co.za news The Office of the Presidency has confirmed that President Cyril Ramaphosa will be addressing the nation on Wednesday evening at 19:00. In a statement issued by the Presidency on Wednesday morning, it was announced that this would follow engagements with the National Coronavirus Command Council and the President's Coordinating Council earlier this week.
A special sitting of Cabinet will also be taking place on Wednesday ahead of the address according to the statement. The Presidency further commented that:
"The President's Coordinating Council is co-chaired by the President and the Deputy President and brings together Ministers, Premiers and the leadership of the South African Local Government Association and National House of Traditional Leaders."
Earlier, Briefly.co.za reported that migration to Level 1 of the national lockdown is anticipated as the South African government turns its attention to helping the economy recover from the impact of the pandemic.
Enjoyed reading our story? Download BRIEFLY's news app on Google Play now and stay up-to-date with major South African news!
Source: Briefly.co.za