Russell Westbrook bio: age, children, wife, stats, salary, playoffs, fashion, net worth
Russell Westbrook is one of the best NBA athletes in America's basketball history. His playing tactics and ambition set him apart and has earned him the name triple-double machine. He has made several career achievements, including being named Most Valuable NBA player twice and getting in the NBA All-Star team nine times since his debut in 2008.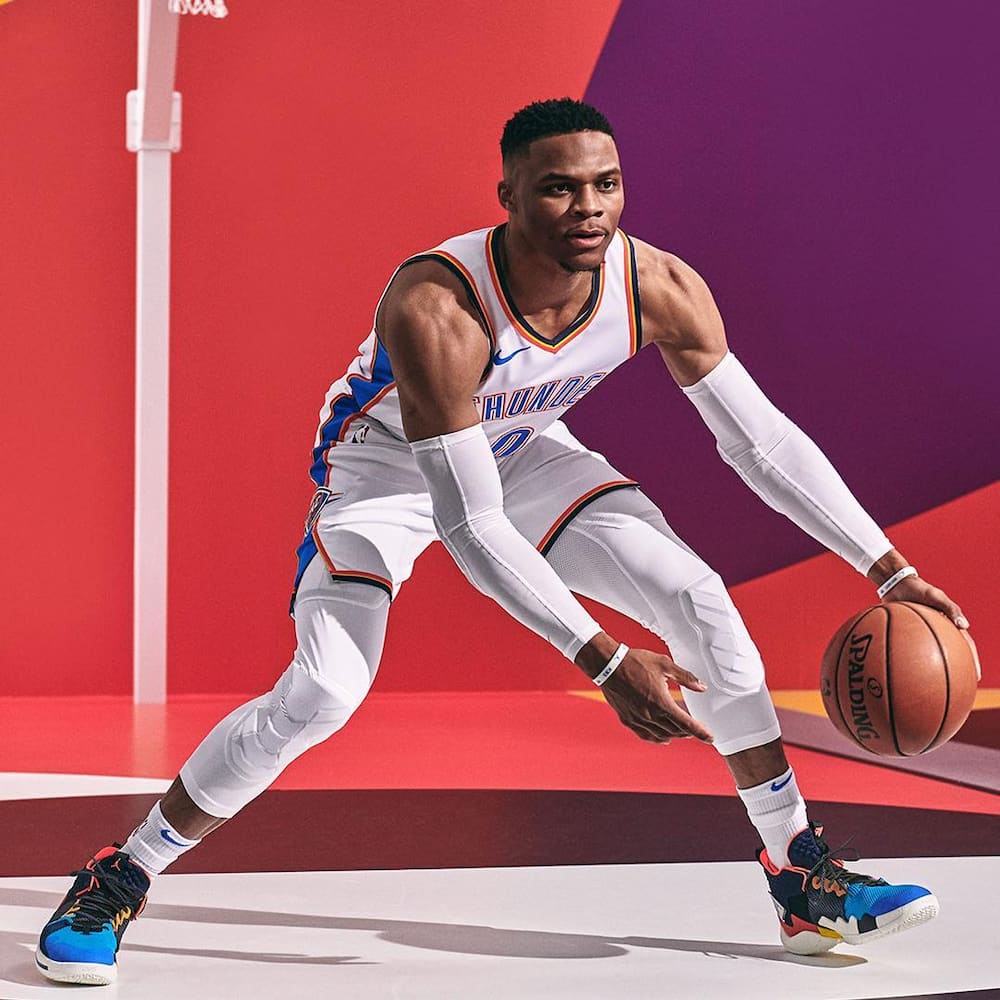 The athlete's ambitions extend from the field. He is known for having a unique fashion sense. The star is also a successful entrepreneur, having launched a clothing line, footwear, and eyewear brands. Read his full bio to know more about him.
Profile summary
Full name: Russell Westbrook III
Date of birth: 22nd November 1988
Russell Westbrook age: 31 years in 2020
Marital status: Married
Nationality: American
Occupation: NBA player, entrepreneur
Current team: Houston Rockets
Position: Point guard
Russell Westbrook height: 6'3''
Russell Westbrook weight: 91 kg
Early life and education
The NBA player was born on 22nd November 1988 in Long Beach, California. He was brought up in Hawthorne, Los Angeles, by his father, Russell Westbrook Jr, and his mother, Shannon Horton. He has a brother called Reynard. He attended Leuzinger High School in California and later joined the University of California at Los Angeles (UCLA).
Marriage
The NBA star married Russell Westbrook Nina Earl on 29th August 2015. Russell Westbrook wife knew him from college. In May 2017, they welcomed a baby boy called Noah Russell Westbrook. They were later blessed with twin girls, Skye and Jordan, in November 2018.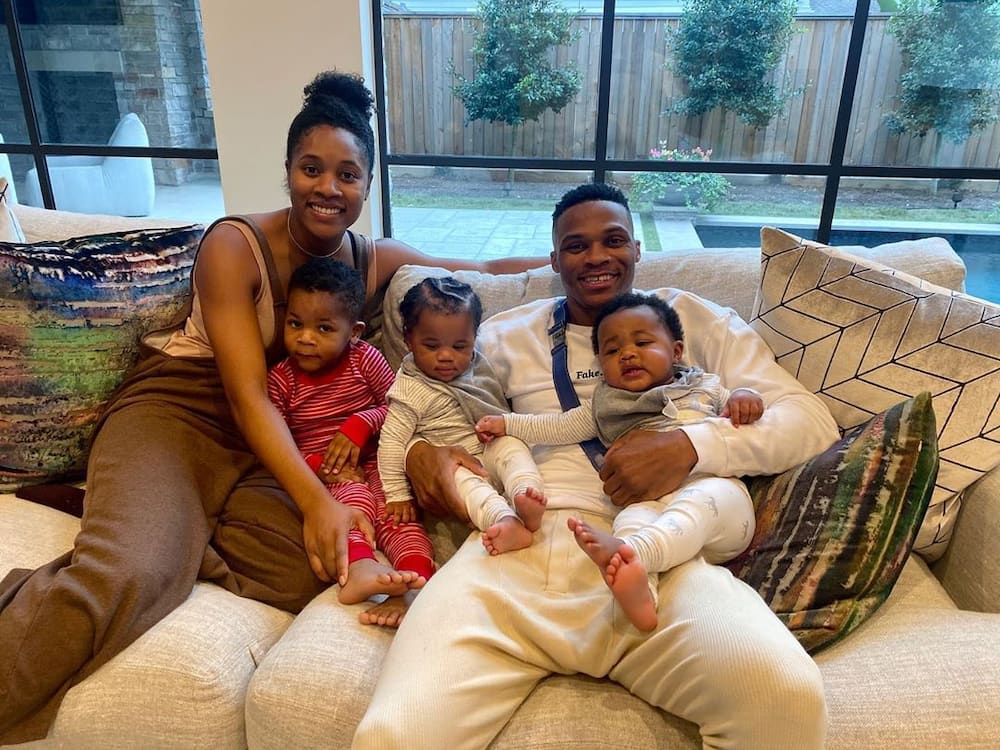 NBA career and stats
Westbrook played junior games in high school. He was later offered a scholarship by head coach Ben Howland to join the UCLA Bruins. The UCLA team ended up making it to the Final Four in the seasons he was there. In his second year, he earned the Defensive Player of the Year honours.
In 2008, the Seattle Supersonics (now Oklahoma City Thunder) selected him in the NBA draft, which marked his professional career debut. Russell Westbrook stats continued to impress. In his first season at Thunder, he pulled an average of 15 points in each game. On 2nd March 2009, he made his first triple-double. He had more than 4,000 points, 1,000 rebounds, and 1,500 by his third season. He was later selected to join the NBA All-Rookie First Team.
The player, together with Kevin Durant, steered Thunder to the Western Conference Finals in 2011. He became a Western Conference reserve for the NBA All-Star Game in 2011.
In the 2011/12 season, Westbrook and his mates steered the team to the NBA Finals, where they played against the Miami Heat but lost. He missed most of the 2013 games after suffering a knee injury and had to undergo three surgeries to rectify torn meniscus. In the 2014/15 season, he led the team to win and was presented the All-Star MVP honours after scoring 41 points.
He became Thunder's reliable player when Kevin Durant left after completing the 2015/16 season. He evolved to be the team's triple-double machine and even outperformed Hall of Famer Oscar Robertson with his 47th triple-double record. He received the NBA MVP honours for the achievement. By the end of the 2018/19 season (his 11th at Thunders), he earned an average of 11.1 rebounds per game as a point guard.
He was traded by Oklahoma City Thunder to Houston Rockets in July 2019. The five-year Russell Westbrook contract with Thunders expires at the end of the 2022/23 NBA season. As of 2020, the star has played 878 games and 106 playoffs with an average of 7.1 rebounds and 23.2 points per game.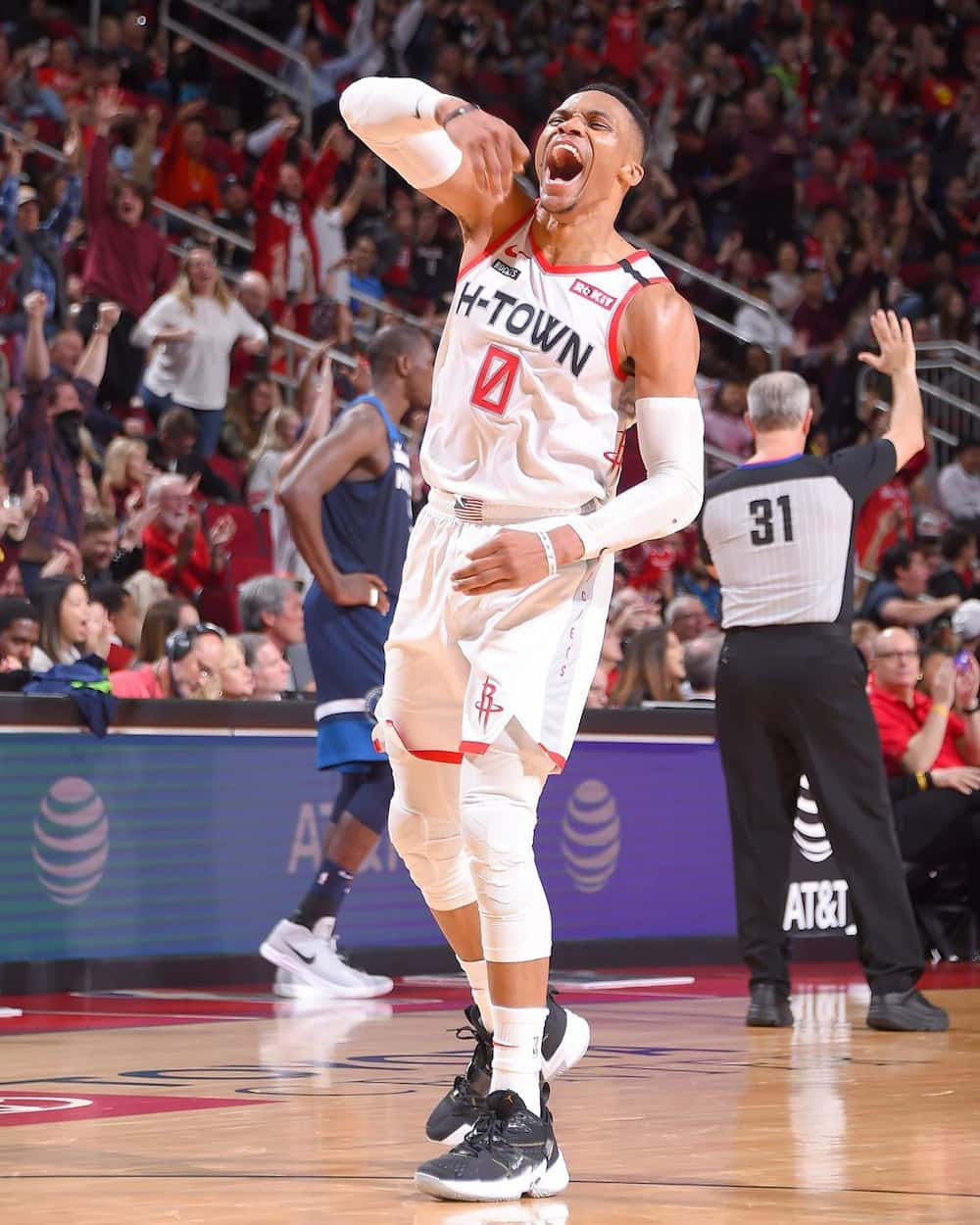 READ ALSO: Drake flexes collection of Kobe sneakers to pay tribute to NBA legend
Russell Westbrook news
In September 2020, Russell was named to All-NBA Teams earning the Third Team honours. This marks his ninth overall All-NBA and sixth consecutive selection. His team was, however, defeated in the 2019/20 season playoffs.
Houston Rocket's poor performance in the 2019/20 season proves that Russell Westbrook and James Harden do not make a perfect duo. There are speculations that the team may have to trade one of them. Russell Westbrook current team management will decide.
Russell Westbrook fashion
Apart from his outstanding NBA performance, the pro-athlete is known for his stylish and colourful outfits. He partnered with Barneys New York, a luxury department store, in 2014 to release the Russell Westbrook XO Barneys New York line. He also launched the Russell Westbrook Frames eyewear brand in 2014.
Later in early 2016, the pro-athlete started a clothing line called Honor the Gift. In July 2020, he partnered with NBA Players Association to design social justice shirts for NBA players. Russell Westbrook jerseys will incorporate messages that were earlier forbidden.
He has been signed to the Jordan Brand since 2012. He signed a 10-year extension with the brand in 2017. In 2018, the star released his first signature shoe with Jordan. He has since added two more brands in the same line. Russell Westbrook shoes brand include Jordan Why Not? Zer0.1, Zer0.2, and Zer0.3.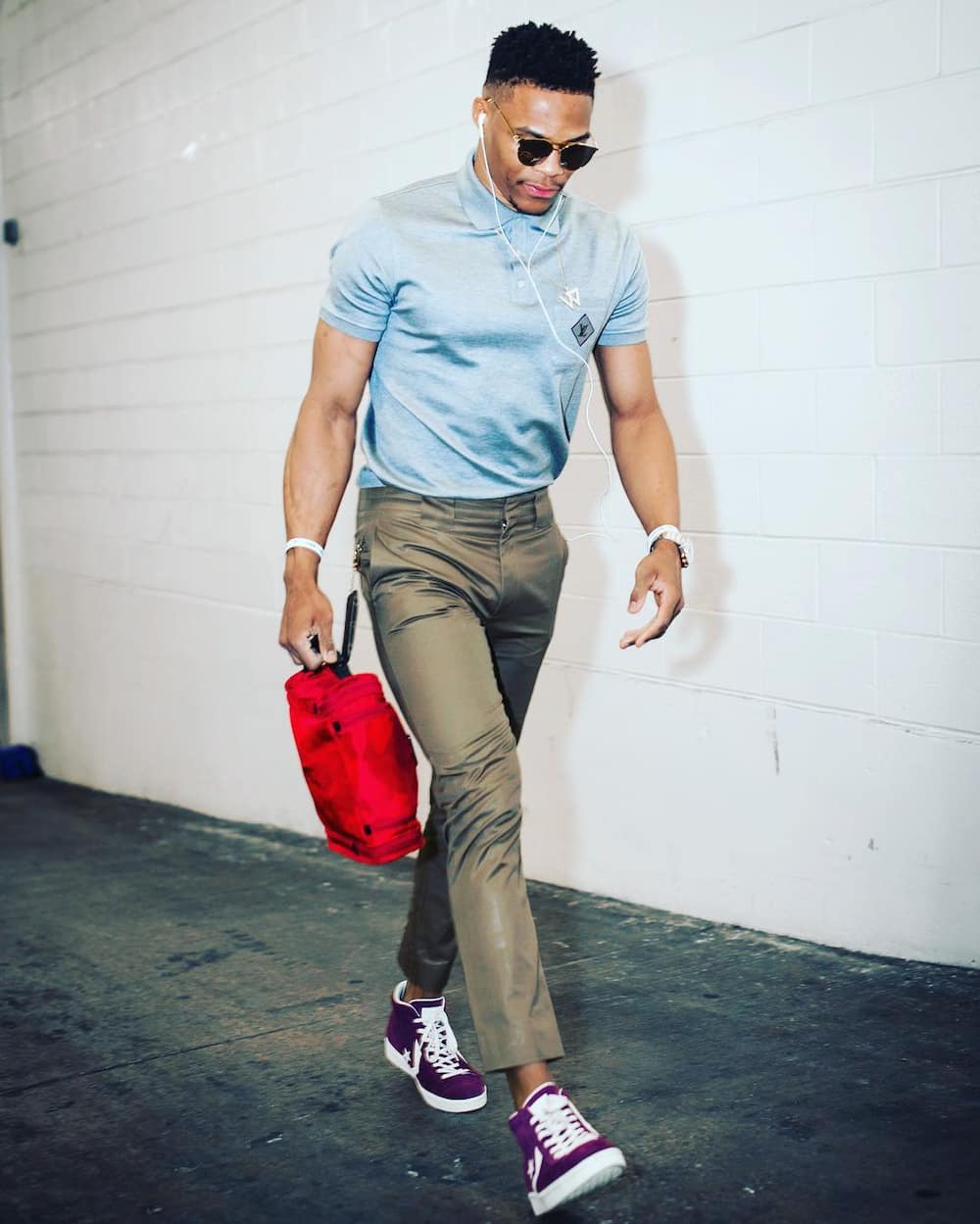 READ ALSO: Who is the highest paid rugby player in the world 2020? 15 top paid rugby players
Frequently asked questions
The athlete has earned a huge fan base since his NBA professional debut in 2008. Over the period, he has won and lost as well. His ambition enables him to deliver according to fan expectations. Here are some of the questions people ask about the star.
Is Russell Westbrook hurt?
The star suffered strained quadriceps during Rocket's penultimate game. Russell Westbrook injury kept him out of several games in his first season at Rockets. He is expected to have made a full recovery at the start of the 2020/21 NBA season.
Is Russell Westbrook leaving the Rockets?
After Houston Rockets lost in the 2019/20 NBA season playoffs, there are speculations that either Russell or Harden will have to be traded. The two do not make a perfect duo, although they are both basketball legends.
What brand is Russell Westbrook with?
The NBA legend is with the Jordan brand. He signed a 10-year extension in 2017.
How much is Russell Westbrook worth?
According to Forbes, the athlete has a net worth of $56 million in 2020. This includes his salary and other endorsements. Russell Westbrook salary in 2020 is estimated at $38.5 million. According to his contract with Thunders, his base salary increases over the five years as follows.
2020/21 season – $41.3 million
2021/22 season - $44.2 million
2022/23 season - $47 million
Does Russell Westbrook have twins?
The talented athlete has adorable twin daughters who were born in November 2018. They are called Skye and Jordan.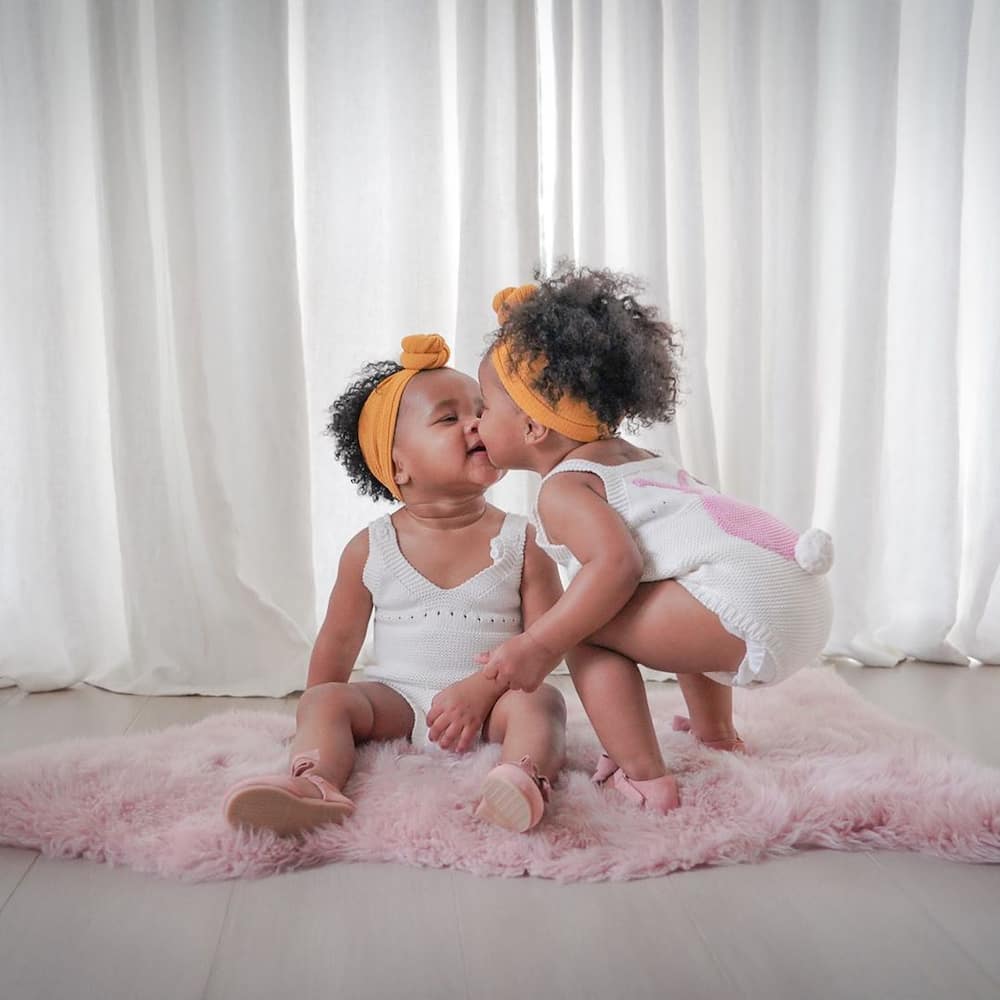 READ ALSO: Michael Jordan Vs Lebron James: who is the greatest basketball player of all time?
Russell Westbrook has made history and has broken several records in his professional NBA career since 2008. All his achievements are attributed to hard work and exceptional talent. You may not realize what you can do if you do not try is one of his famous quotes.
READ ALSO: Top 10 richest NBA players of 2020
In August, Briefly.co.za reported the wealthiest NBA athletes in 2020. Basketball is a celebrated game in the USA, and most of the best players are made there. Legends like Kevin Durant, Michael Jordan, LeBron James, and the late Kobe Bryant have worked towards changing NBA's history.
James Harden, Russell Westbrook, LeBron James, Stephen Curry, Dirk Nowitzki, and others are among the highest-paid stars. They all earn millions of dollars in annual salaries.
READ ALSO:
F1 drivers 2020: who is the best formula 1 driver?
What is the difference between Kasi Flava and showboating?
20 richest soccer/football players in the world and their net worth 2020
Source: Briefly News