Weekly wrap: Zozibini's home, man builds crib after bank declines loan
Mzansi is heading towards the 'new normal' and life is slowly settling down after a drama filled year. Briefly.co.za explores the hottest stories from the past week in South Africa.
PAY ATTENTION: Click "See First" under the "Following" tab to see Briefly.co.za News on your News Feed!
Zozibini Ntunzi has arrived back home for a short visit and SA was more than willing to ensure she was warmly received.
A young boy also impressed with his love for Master KG's sensational Jerusalema hit after his grandfather posted a clip.
Briefly.co.za explores the hottest Mzansi stories from the past week: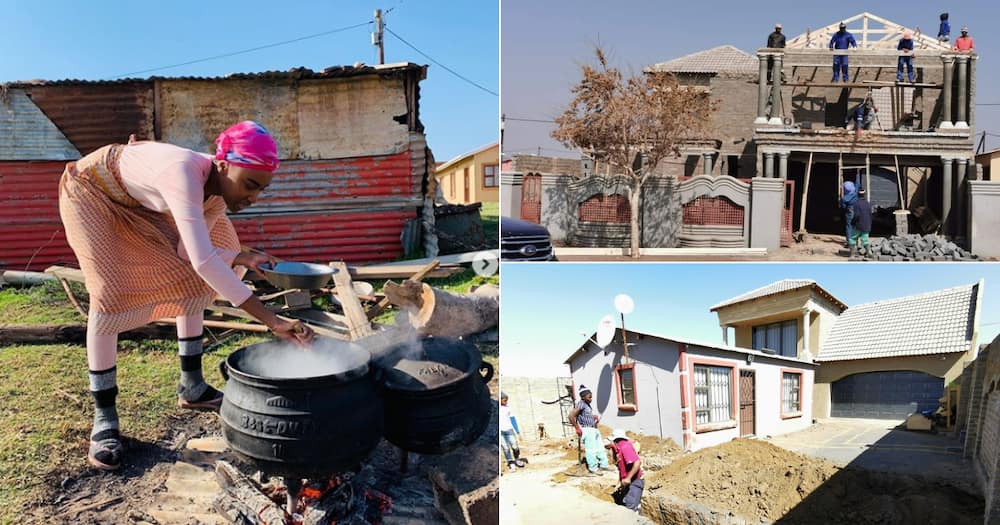 1. Video of 5-year-old boy singing Jerusalema melts many hearts
Master KG's hit song seems to have crept into everyone's heart. Old and young, rich or poor, local and international - people all over have been feeling it.
Recently a proud grandfather took to Facebook to share with the world how his grandson Teddie chooses to enjoy the song - by singing it.
In the video, Teddie can be seen with his eyes glued on the TV that is playing the song, waiting patiently to sing along while a baby boy dances around in the background.
Teddie, who is only five, sings along to the words pronouncing them as accurately as he can master.
"Teddie said to me this afternoon that he wanted to make me happy by signing me a song. In ZULU. He's only 5. Love him to bits, very proud grandad," wrote Teddie's grandpa.
The short clip quickly blew up, receiving over 19 000 views and nearly a hundred likes. It was also at the receiving end of a ton of comments from Facebookers who thought that Teddie was as cute as a button.
2. Couple builds own house in township after bank rejects home loan
With the current state of the country and the insanely high house prices, not everyone is in a position to buy their own properties.
Sadly, many people will never in their lives own a house. However, one man decided to make a plan after a bank told him he could not afford to buy a house in the suburbs.
Instead of giving up on his dream crib, he decided to renovate his township home and turn it into a mansion.
Taking to Facebook, Sandile Hadebe showed off the progress he and his bae, Gabi, have been making with their home.
He captioned the post: "31st July VS 31st August 2020... The bank said we cannot afford it in the Burbs, so we decided to build it in the township for cash within a month. Hadebe Residence."
3. Miss Universe, Zozibini Ntunzi is finally back on home ground
South Africa's darling, Zozibini Ntunzi has recently touched South African soil for the first time in a while.
Miss Universe took to her Instagram pages to share some candid pictures of herself having a fun time at her home in Eastern Cape.
In her Instagram post, the local beauty can be seen preparing a traditional dish complete with fire a big black pot and a wooden spoon.
She is also wearing the very traditional doek, apron, and flip-flops and in true African woman nature, she paired the flops with warm toe socks.
"Even if for a very short while, being home will always be restoration of the soul. After so long we are now currently navigating on tears of joy, love, warmth, support and song," she captioned the heart-warming post.
Fans of the beauty welcomed her home warmly and shared their thoughts on the way she boldly celebrates her culture.
While fellow celebrity, Somizi tried to squeeze an invite out of the model by mentioning how he'd like a visit.
Meanwhile, Briefly.co.za reported that Nando's is really on the ball these days with their tweets and they're definitely keeping Mzansi rolling on the floor in laughter. In their latest tweet, they included a video of a chicken walking.
This may not sound interesting, but the manner in which the chicken was walking caught the attention of many.
The chicken can be seen lifting its little legs quite high with each step it takes in the six-second clip.
The original video was uploaded to Twitter by @AnimalsWorId with the caption: "I just feel everyone needs to see this," and has since gained 4.1 million views on the social networking site.
Nando's quote tweeted it, hilariously referencing the steps taken after the floors been mopped.
Enjoyed reading our story? Download BRIEFLY's news app on Google Play now and stay up-to-date with major South African news!
Source: Briefly.co.za