Cele personally leads raid on Gauteng bar for breaking lockdown curfew
- Police Minister Bheki Cele has personally led a raid on a bar in Gauteng for breaking the lockdown curfew
- Cele was on patrol with police at the weekend when he joined in on the raid, the manager has been taken in for questioning
- Sunday marks the last day of the lockdown curfew starting at 22:00 and from Monday pubs can stay open until midnight
PAY ATTENTION: Click "See First" under the "Following" tab to see Briefly.co.za News on your News Feed!
Minister of Police, Bheki Cele, led a raid on a bar in called Jessey's Tavern in Thokoza, Gauteng. The reason for the raid was due to the bar breaking lockdown curfew.
Cele had joined a patrol on the weekend and participated in the raid. The tavern manager has been arrested and will face further questioning by the police.
The Gauteng Community Safety issued a statement on Twitter:
"While doing a walkabout in Thokoza led by Minister Cele, we found patrons at Jessey's Tavern still sitting and drinking alcohol disregarding the 22:00 curfew. The manager has been taken to the local police station for further processing as part of Operation Okae Molao."
Sunday was the last night in which the curfew would begin at 22:00, from Monday the lockdown curfew would be relaxed to 00:00 until 04:00.
Throughout the lockdown, Bheki Cele has been a vocal critic of alcohol use and had championed the banning of liquor and took part in raids on businesses selling alcohol.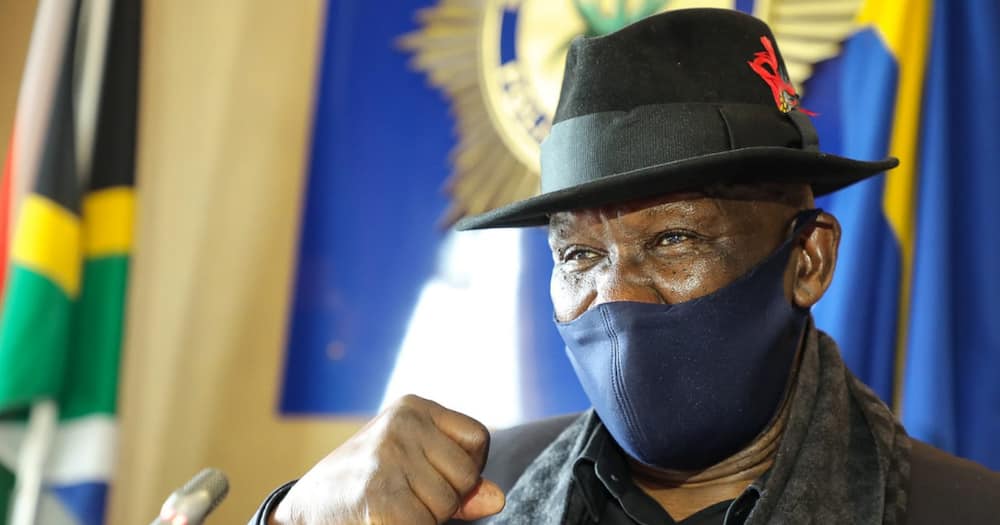 This has resulted in Minister of Police Bheki Cele has been trending once again on social media and not for the right reasons. Tweeps were angered once again by Cele's lack of opinion or action regarding certain issues that are facing South Africa right now. These are issues such as human trafficking and gender-based violence.
With the situation regarding gender-based violence, kidnapping and human-trafficking worsening. Cele has remained mum on the matter. Social media users were not impressed and gave their two cents on the minister's silence.
@skhumali said: "So let me get this straight, there are two groups of known gangs in Newcastle who kill, rape, steal in daylight known by EVERYONE in the area but nothing happens to them? But Bheki Cele was busy shutting down pubs last night."
Earlier, Briefly.co.za reported that Bheki Cele's lack of action against GBV has caused people to get angry. Fed-up SA citizens are calling on Police Minister to break his silence around the action he will be taking against the fierce wave of gender-based violence and human trafficking that seems to have gripped the country over the last few years.
Statistics have shown that every three hours in South Africa, a woman is killed. A fact that is not only appalling but also terrifying. Last year the entire country mourned the death of young UCT student Uyinene.
In other news, Cooperative Governance and Traditional Affairs (COGTA) Minister Nkosazana Dlamini-Zuma maintained that keeping a curfew even during Level 1 of the nationwide lockdown was mainly to stop "chaos". This was especially kept in place because of the behaviour of young people, spending hours out while drinking.
Whilst briefing the media on the Level 1 COVID-19 regulations Dlamini-Zuma said that people had the tendency to relax when consuming alcohol. She also said that if people have been sitting in a restaurant or tavern, you don't want them to be sitting there for many hours.
She said: "People, when they start drinking, get drunk. They forget the mask, they forget social distancing. It becomes chaos. So you don't want that chaos to continue right into the morning."
Enjoyed reading our story? Download BRIEFLY's news app on Google Play now and stay up-to-date with major South African news!
Source: Briefly.co.za