"Angel sent from God": BI gives homeless man makeover and job
- Facebook do-gooder BI Phakathi has just posted a new video in which he gives a homeless man an incredible makeover
- In the clip, BI also promises to help the homeless man find a job, which as we know is a huge endeavour in today's times
- Facebookers were absolutely wowed by BI's kindness, as they always are
PAY ATTENTION: Click "See First" under the "Following" tab to see Briefly.co.za News on your News Feed!
South Africa seems to have a mystery hero on the loose. When his videos first aired, we had not expected his kind actions to be a frequent occurrence. As time went on and more videos were posted, it seems more and more like our faceless hero BI Phakathi is here to stay.
This time, he warmed thousands of hearts and wets hundreds of eyes with a heartfelt clip in which he helps a homeless man not only clean up with a stunning makeover, but also promises to help the man find a job.
In the clip, BI meets the man in the streets and asks him about himself. The man then explains that he used to be a good upstanding citizen before his life just fell apart. He lost everything he worked for despite never touching drugs or abusing alcohol.
BI, who could probably sense the man's sincerity, decided to do something that one would normally only see on TV. He takes the homeless man into a mall, buys him some new clothes and gets him a haircut.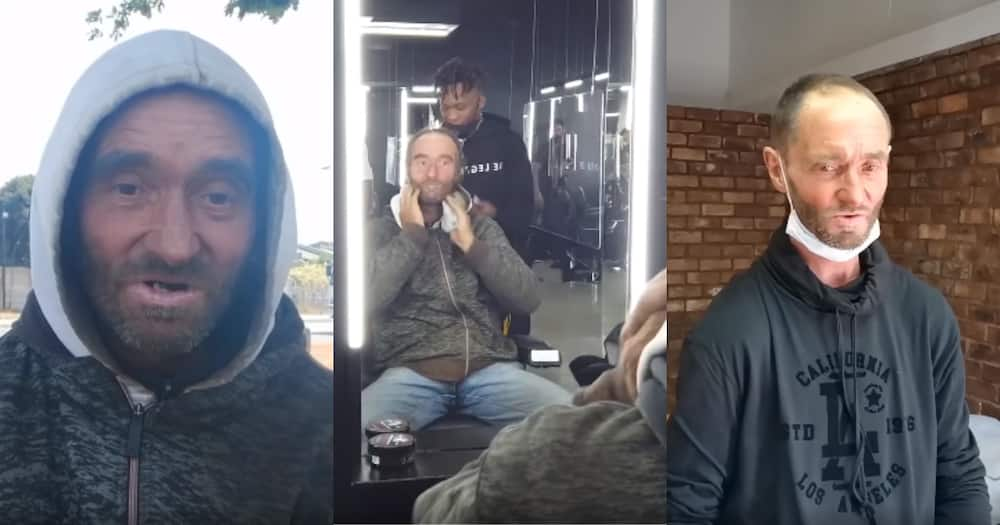 Taking things even further, SA's good Samaritan then proceeds to take the man for a lovely lunch, during which he gives the man a good amount of cash. The man responds by showing BI his bank cards and code-14 driver's licence.
BI then explains that he can help the guy with a job. Right before the touching video comes to an end, BI helps the man find accommodation for a few nights while also taking a copy of his CV to apply for the aforementioned job.
The man then profusely thanks BI for everything he did that day, calling him an "angel sent by God".
Thousands of seriously moved South Africans thanked BI for once again serving as an example. They also commended him for not only feeding the man but with providing him with the opportunity to feed himself again.
Briefly.co.za previously reported how the faceless hero once again blessed an unsuspecting local. At the receiving end of his hand, which seems to always be giving, was a lucky young petrol attendant. In the video, BI can be heard asking the unsuspecting petrol attendant about his job.
After the attendant is done pouring his petrol, BI then pays for it. Just as the petrol attendant thinks the exchange is over, BI hands him some money. And right when the surprised yet delighted attendant thinks it's time to thank him and say goodbye, BI offers him more and more cash.
The excitement and shock are clear on the attendant's face as it becomes increasingly obvious that he had never before received a tip as big as this. BI, who seems to thoroughly enjoy putting a smile on his face, laughs on in the background.
Enjoyed reading our story? Download BRIEFLY's news app on Google Play now and stay up-to-date with major South African news!
Source: Briefly.co.za