Explainer: Doctors on traveling safely during Covid-19 pandemic
The easing of lockdown regulations has seen citizens enabled to travel across provinces and even borders. Two doctors, Dr Venitha Seeraj and Dr Karin van der Merwe, explain how to do this safely.
PAY ATTENTION: Click "See First" under the "Following" tab to see Briefly.co.za News on your News Feed!
By Dr Venitha Seeraj and Dr Karin van der Merwe
Travel using any form of public transport poses risks for contracting Covid-19. One should always weigh up the risk of travel versus the benefit of the trip.
In other words, only travel if really necessary and do not travel if you have any symptoms suggestive of Covid-19. If you have had contact with someone with Covid-19, you should not travel for the 14 days you are in quarantine.
It is preferable not to travel if you are at high risk for severe Covid-19 symptoms due to your age or having comorbidities. If you live with someone who is at high risk it may also be a good idea not to travel.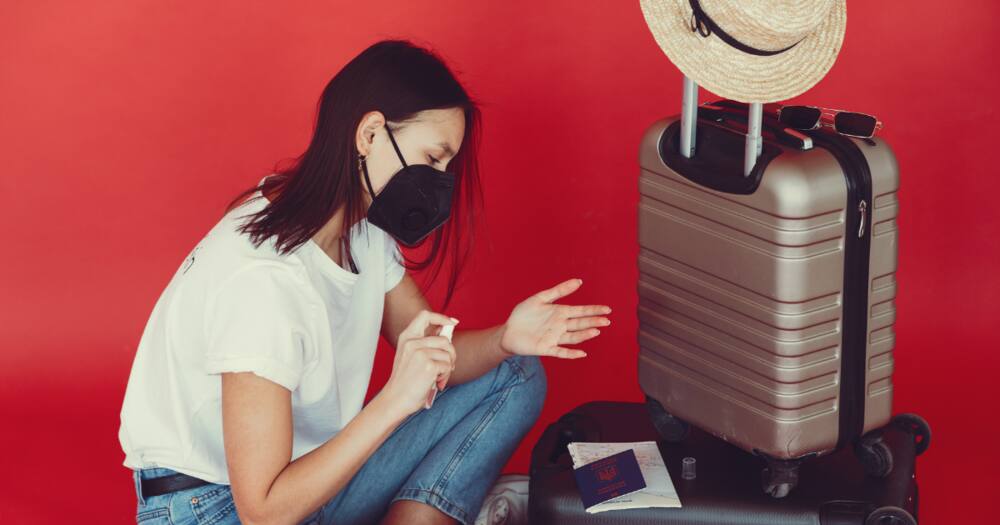 Before your trip, make sure you know the quarantine procedures and health facilities available at your destination.
Enquire whether your medical insurance will cover medical expenses due to Covid-19. Some international flights require you to have a negative Covid-19 test before flying.
Find out the incidence of Covid-19 at your destination so that you can assess the risk and implement extra precautions as necessary.
During travel it is very important to abide by the basic principles of Covid-19 prevention:
Wear an appropriate mask at all times. Consider getting an N95 mask or surgical mask as these probably offer slightly more protection than fabric masks. Take spare masks and a clean plastic container with you to store your mask while eating or drinking.
Keep 1.5 - 2m distance from people. This may not be possible in fixed seating arrangements like airplane cabins but should be observed whenever possible.
Limit contact with frequently touched surfaces. Have some wipes with you and wipe down your seat, arm rest, tray and anything else you may touch. Clean and sanitize hands after touching any surfaces. Remember to take sanitizer in a container with a volume less than 100ml, otherwise you will not be allowed to take it onboard.
Avoid contact with anyone who is sick.
Avoid touching your mask, eyes, nose and mouth.
Airports and train stations are high risk areas due to multiple surfaces touched by many people, crowds of travelers and rebreathing of air.
Air travel
Reassuringly, no super spreading events have been traced to a specific flight. Transmission of Covid-19 between passengers in the aircraft cabin is low as most planes have HEPA filters (High Efficiency Particulate Air Filters).
These block 99.7% of airborne microbes. Cabin air is circulated vertically from ceiling to floor and refreshed every 2-3 minutes. Regulations require that cabins are wiped down with antimicrobials between flights. Check airline policy on their website on cleaning procedures of the cabin.
There is usually no/limited food or beverage service to limit contact between customers and crew. If you are able to, sit next to the window as aisle seats have more people moving past and therefore theoretically higher chance of infection.
Studies show that most illness is likely to be transmitted only to passengers within 1 row of the infected person. However, if a crew member is ill they could potentially infect an average of 4.6 passengers according to a study done in 2018 after the SARS outbreak.
Decrease your bathroom visits rather use the airport restroom as these are cleaned more often. Stay in your seat for the entire journey if you can and decrease stretching your legs or using the overhead storage bins.
Try to fly during off peak times to decrease the amount of people on the flight. Boarding the plane - when the ventilation system is not running and people are unable to stay distanced from one another - is one of the riskiest parts of the travel process.
Minimizing this time period is important to reduce exposure - get to your seat with your mask on and sit down as quickly as possible.
Remember the flight itself is probably not the most dangerous part of the trip. If you take an Uber or taxi to the airport, wipe down the seat, and door handles and keep the window open. It is advisable to sit at the back and to handle your own bags. If you rent a car, it's surfaces also need to be wiped down.
Be extra vigilant at the airport. Use an airline app to check-in. Opt for touchless boarding and cashless transactions. Avoid eating at the restaurants by taking your own food when possible. Decrease any items in bags that may warrant searching of the bag. Have sanitizer available. Wipe your baggage handle on collection. If you need to be patted down for security reasons, the officer should wear a clean glove.
The lockdown is on its way out but Covid-19 will be with us for a while. As we are able to travel more freely, it is prudent to do so as safely as possible.
Meanwhile, Briefly.co.za reported that President Cyril Ramaphosa had announced a shift to Level 1 lockdown.
This shift had allowed for international travel for the first time since the lockdown was announced in March.
However, there are certain limitations on where South Africans can travel to such as countries with high infection rates.
Enjoyed reading our story? Download BRIEFLY's news app on Google Play now and stay up-to-date with major South African news!
Source: Briefly.co.za