Chulumanco Amahle Siphungu is a beautiful, curvy sports presenter who makes some of the most accurate game predictions. What else do you know about her though? How old is Chulumanco Amahle Siphungu? In this article, we show you several sexy pics of the curvy journalist and more.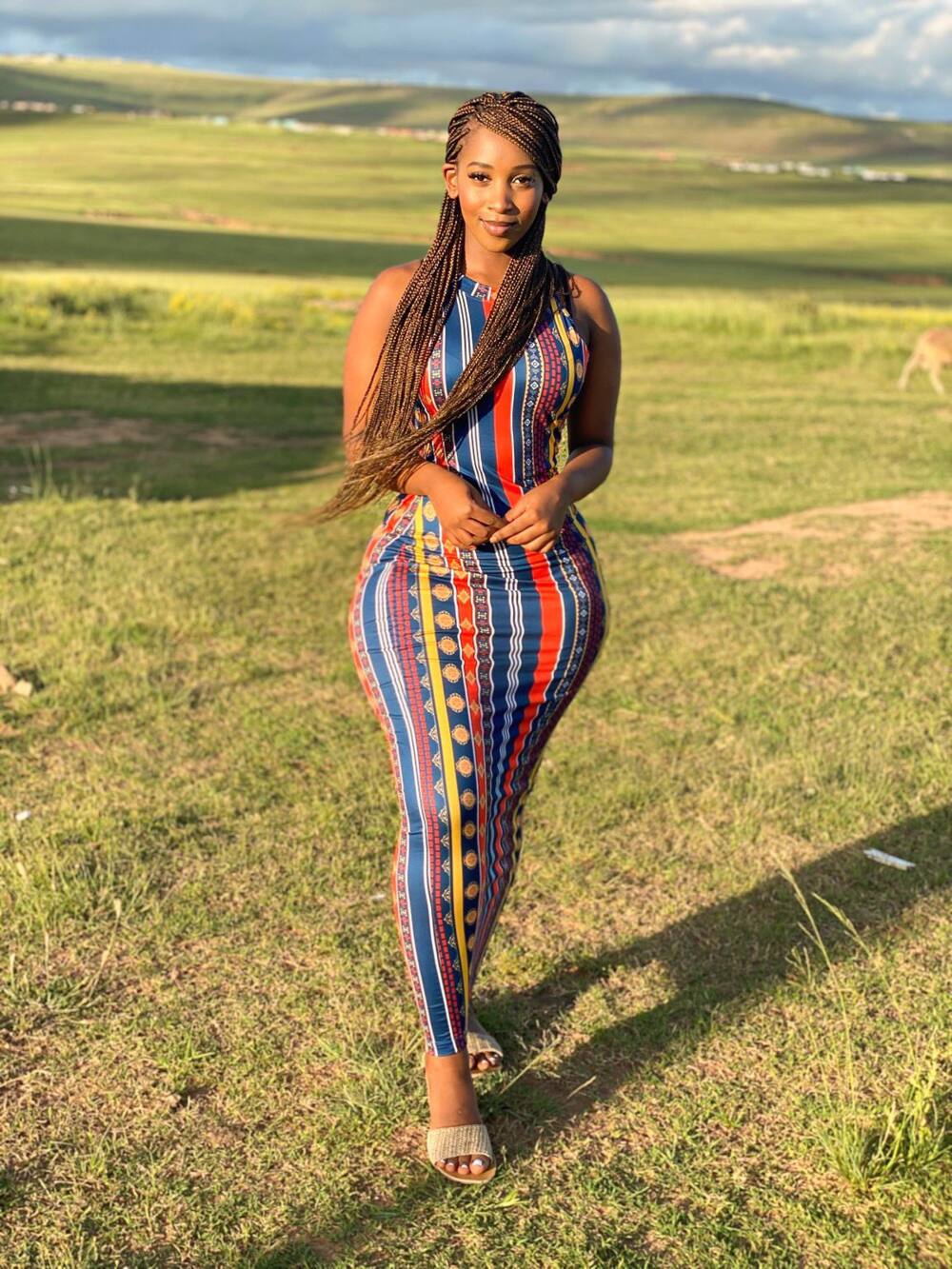 Here are some cool facts about her as well as some of her best pics.
Chulumanco Amahle Siphungu bio
Chulumanco Amahle Siphungu age is 21 years. She is a popular ambassador for the betting company, Betway. On top of this, she is also a journalist at FarPostZa. Her football analyzing skills have pushed her to the top of the game, and she is only rising.
Chulumanco Amahle Siphungu pics
Chulumanco has garnered a lot of attention, especially on social media, because of her pretty face and curvy body. She posts regularly, and all of her pics are absolutely stunning. With about 250k followers on her Instagram and 110k followers on Twitter, she is one to keep an eye out for.
The birthday girl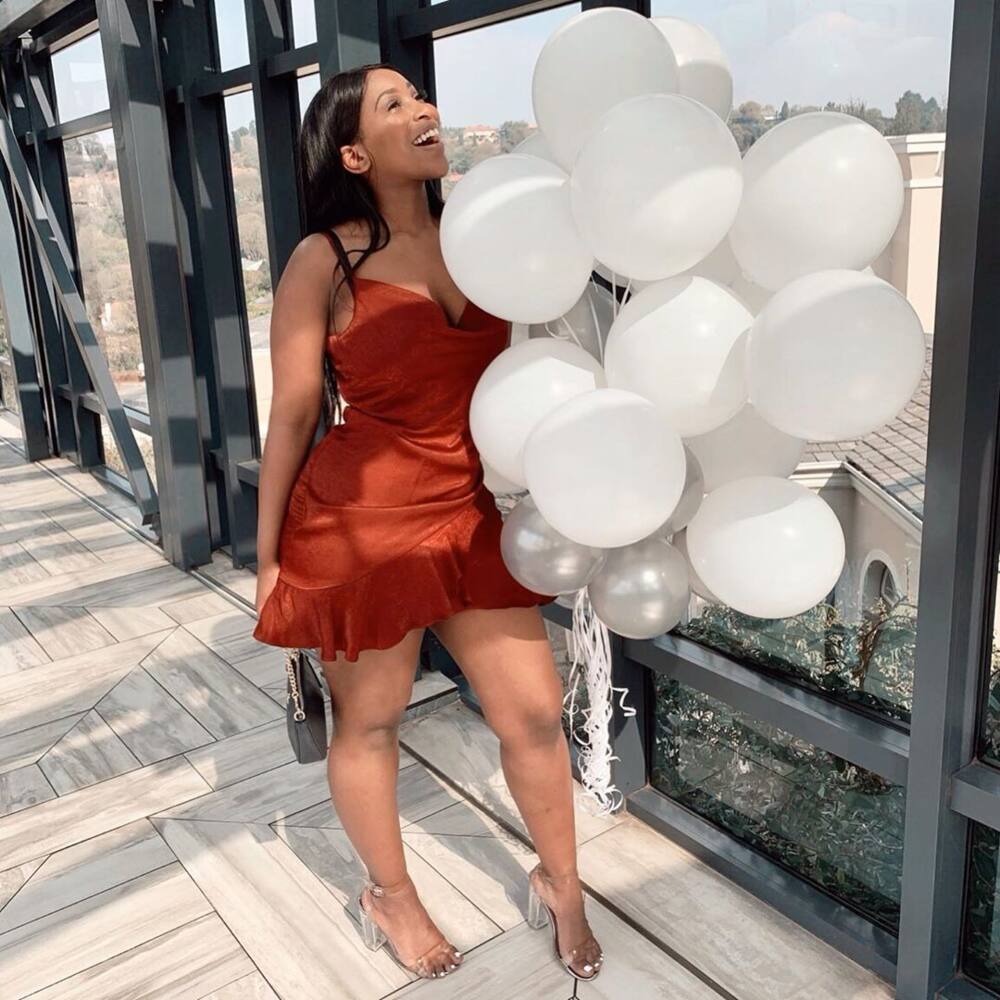 Her first picture was in August 2019, when she had just turned 20. Her stylish heels, scarlet, coloured dress, and adorable face make this picture one to remember. The bouquet of balloons is a bonus.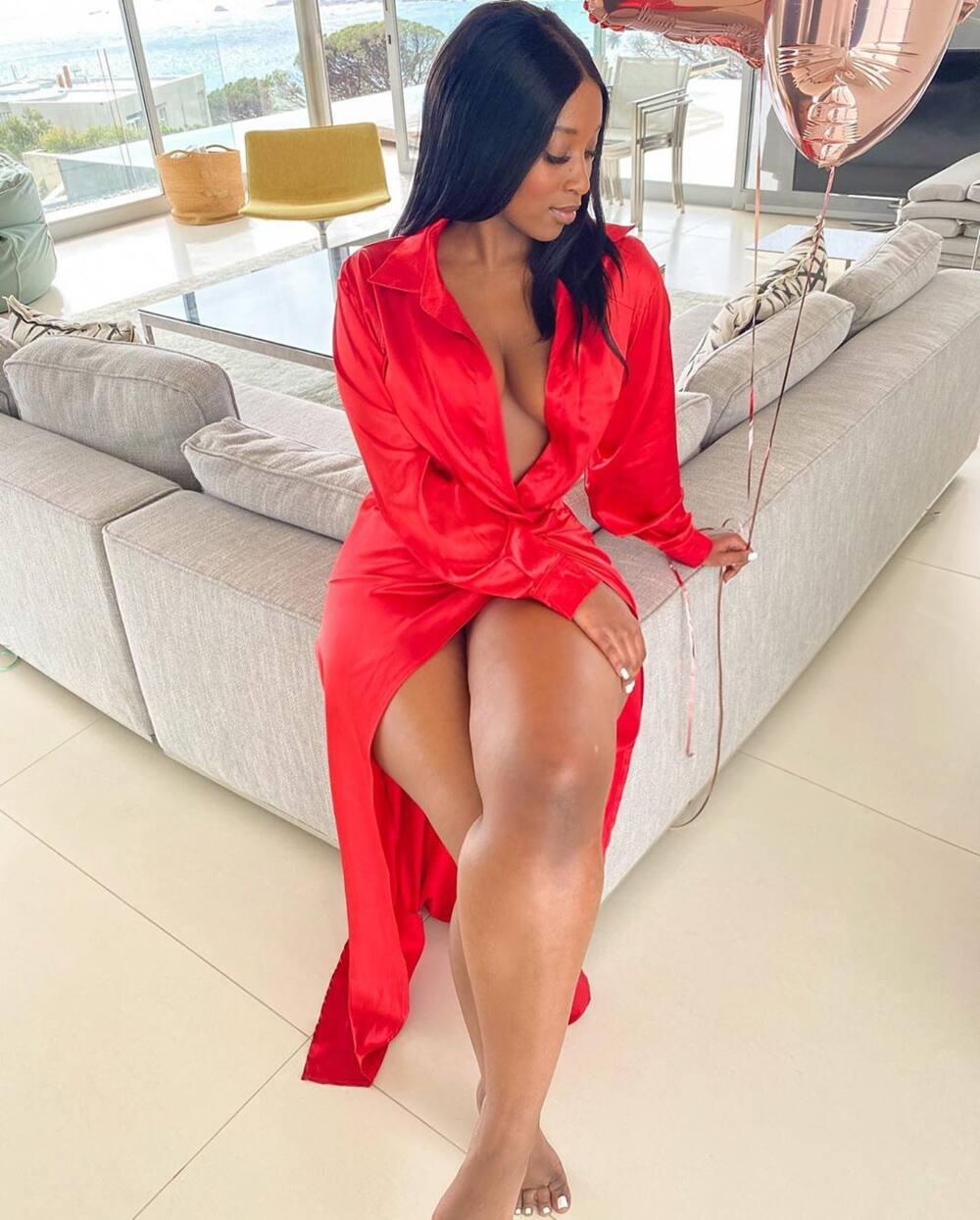 She took this picture more recently on her 2020 birthday. She is showing more skin to her adoring fans, and we love it. Her alluring red robe and foil balloons make this picture more irresistible.
READ ALSO: 10 sexiest women of South Africa 2020
A lady with heritage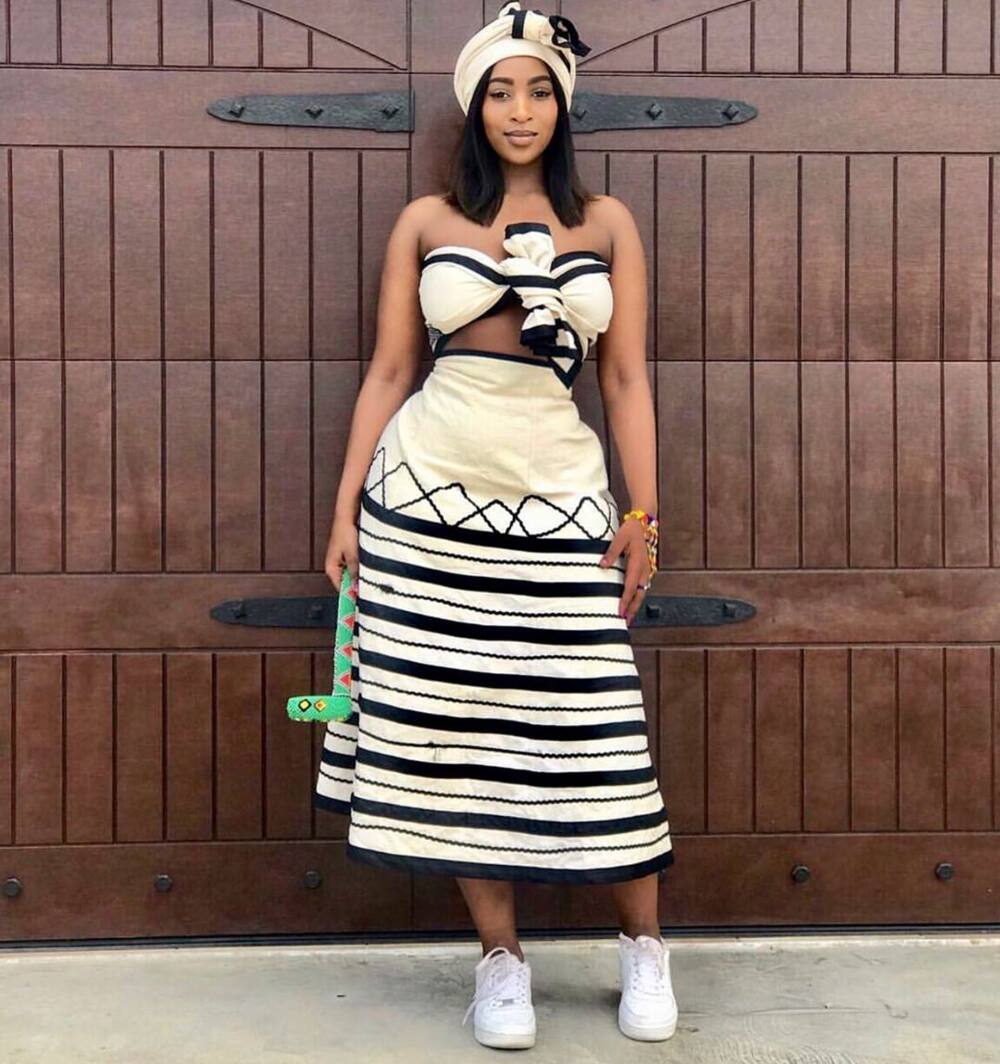 She looks gorgeous in a traditional outfit. She is clearly fashionable putting her unique spin on a more conservative kind of look. The headwrap and arm accessories are truly the cherry on top.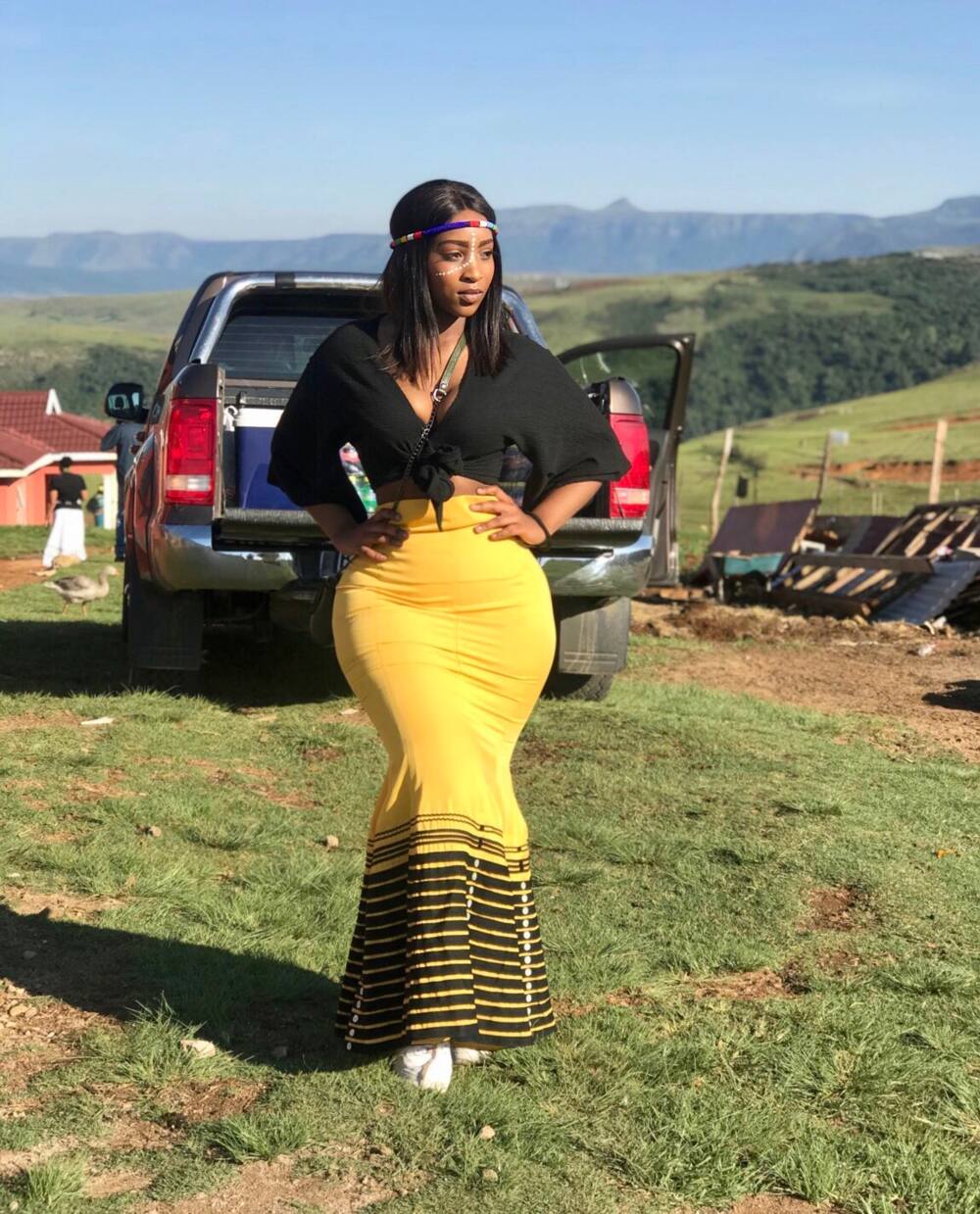 She did it again! Chulumanco wore this African attire like a fashion icon. That skirt is perfectly suited to her body and hugs her curves perfectly.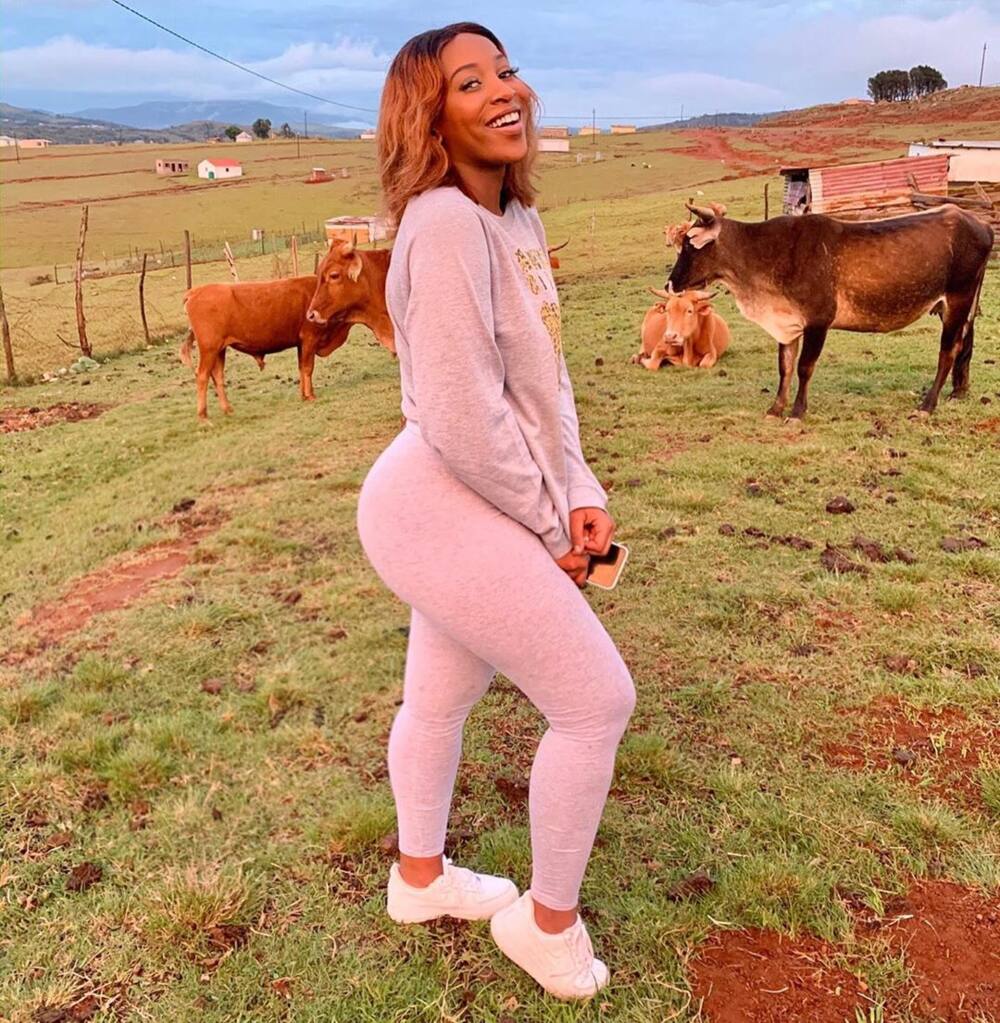 Most influencers would not agree to take a picture with cows, but not Chulumanco. Like the heritage queen she is, she shows everybody her love for the farm and cows as well. Her two-piece nude-pink outfit is a keeper!
READ ALSO: Nasty C girlfriend 2020
Who said brown is boring?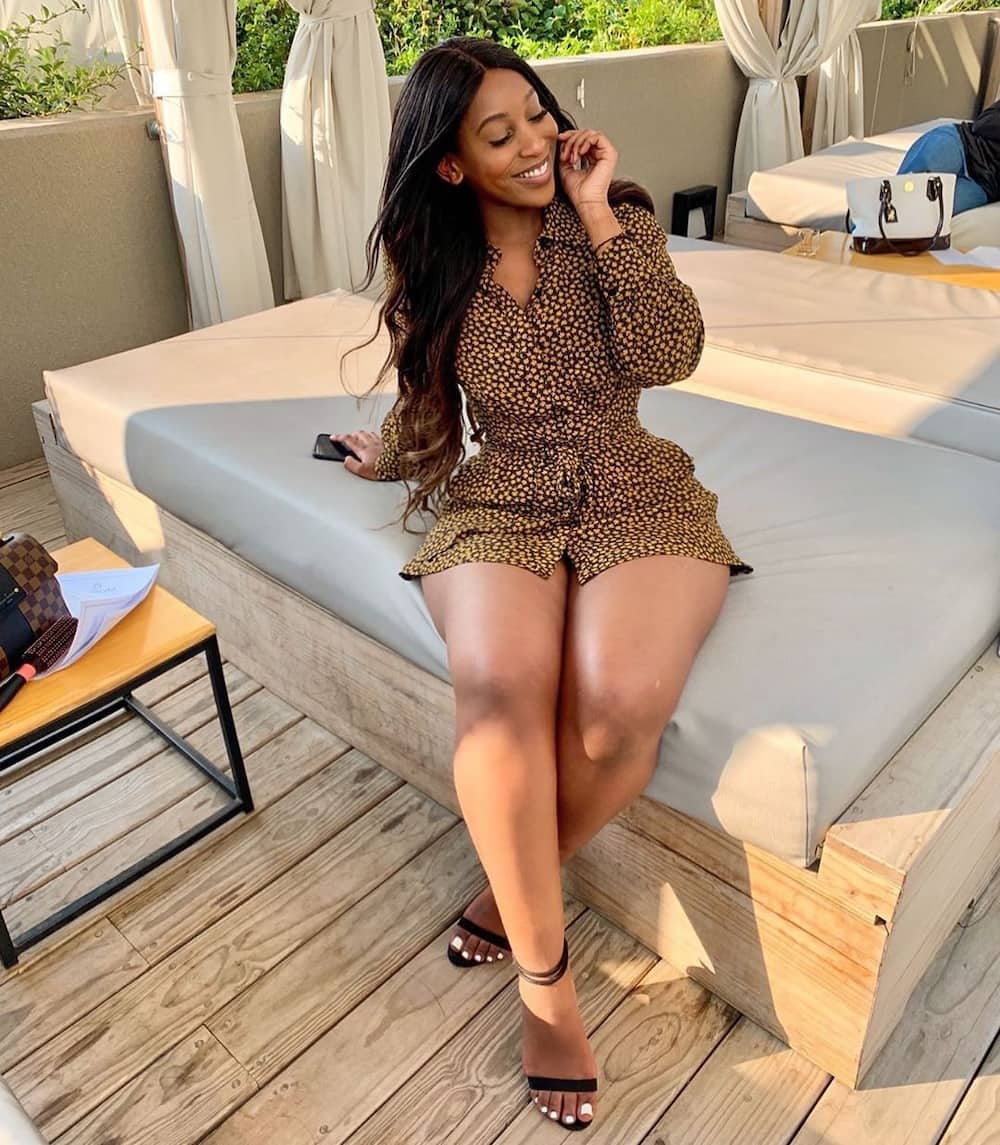 A brown patterned dress and black heels go seamlessly. Chulumanco shows us how to make a seemingly dull dress that more appealing. A little goes a long way with this one.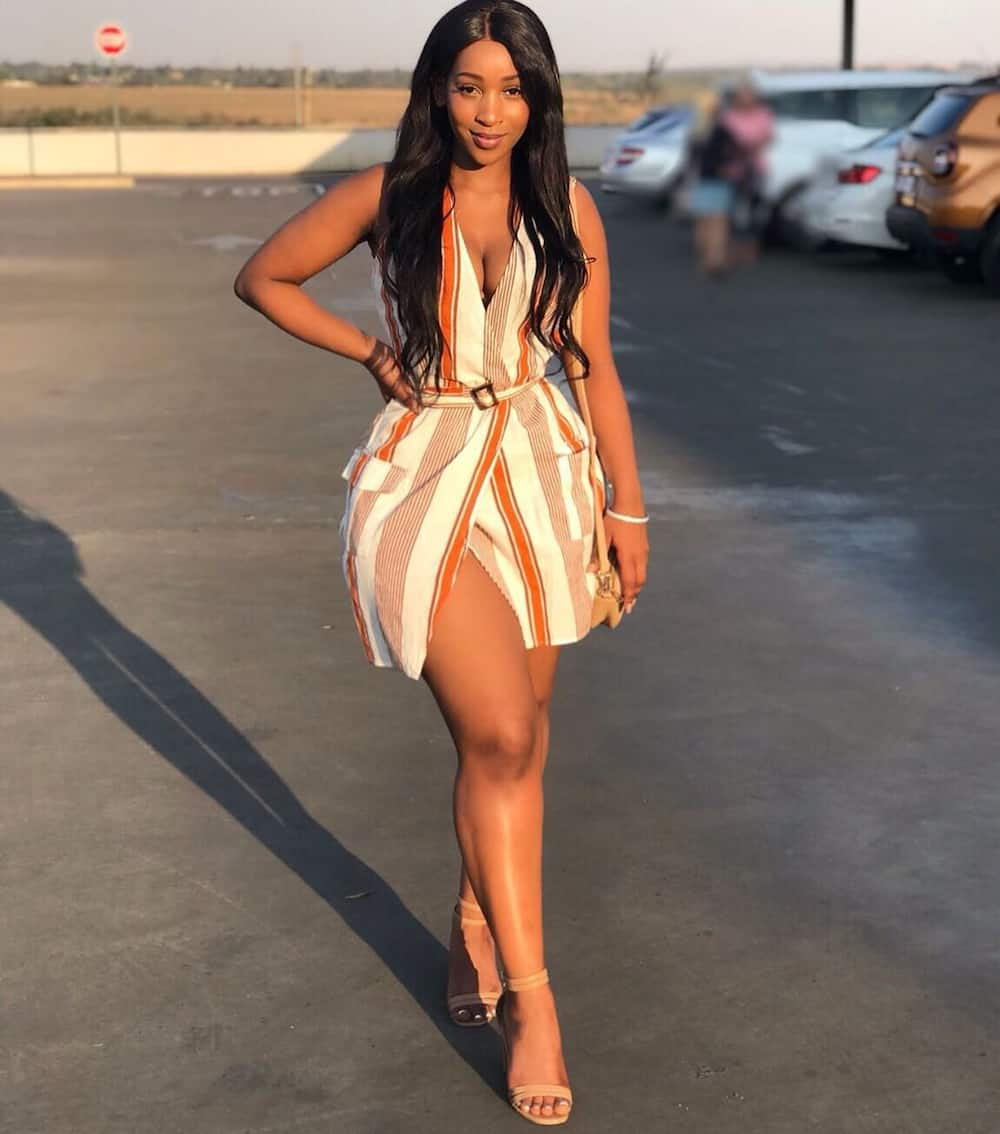 Stripes and a belt. To her, brown is not boring; it makes an incredible fashion statement. Her dress has downward stripes that make you appear thinner, and her matching heels and stylish belt seal the look.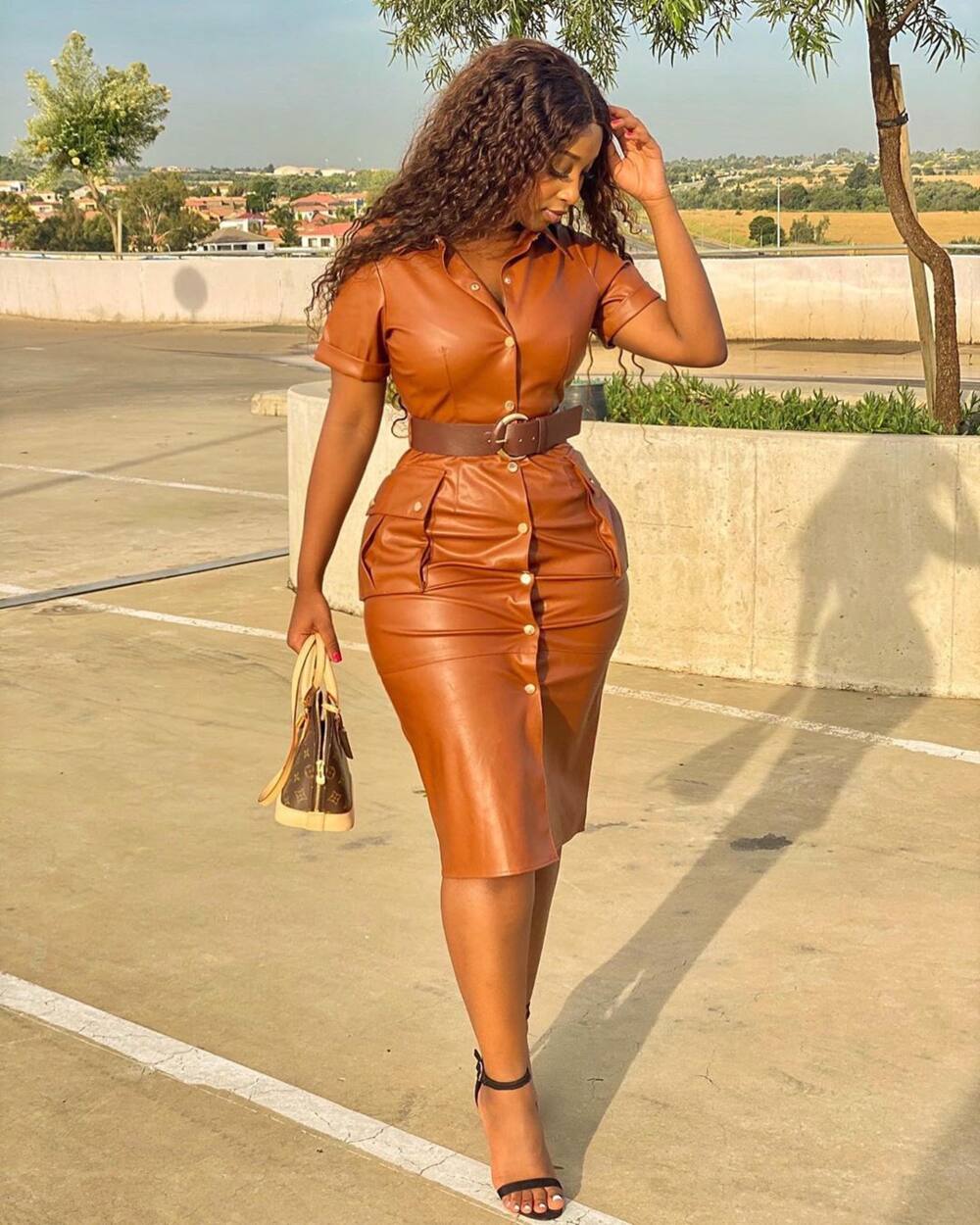 In her signature style, Chulumanco rocked a button-down brown leather dress and some stylish black heels. She threw on a belt, which is looking to be her fave accessory. If you look closely, you can spot her classy Louis Vuitton bag.
Amahle feeling blue?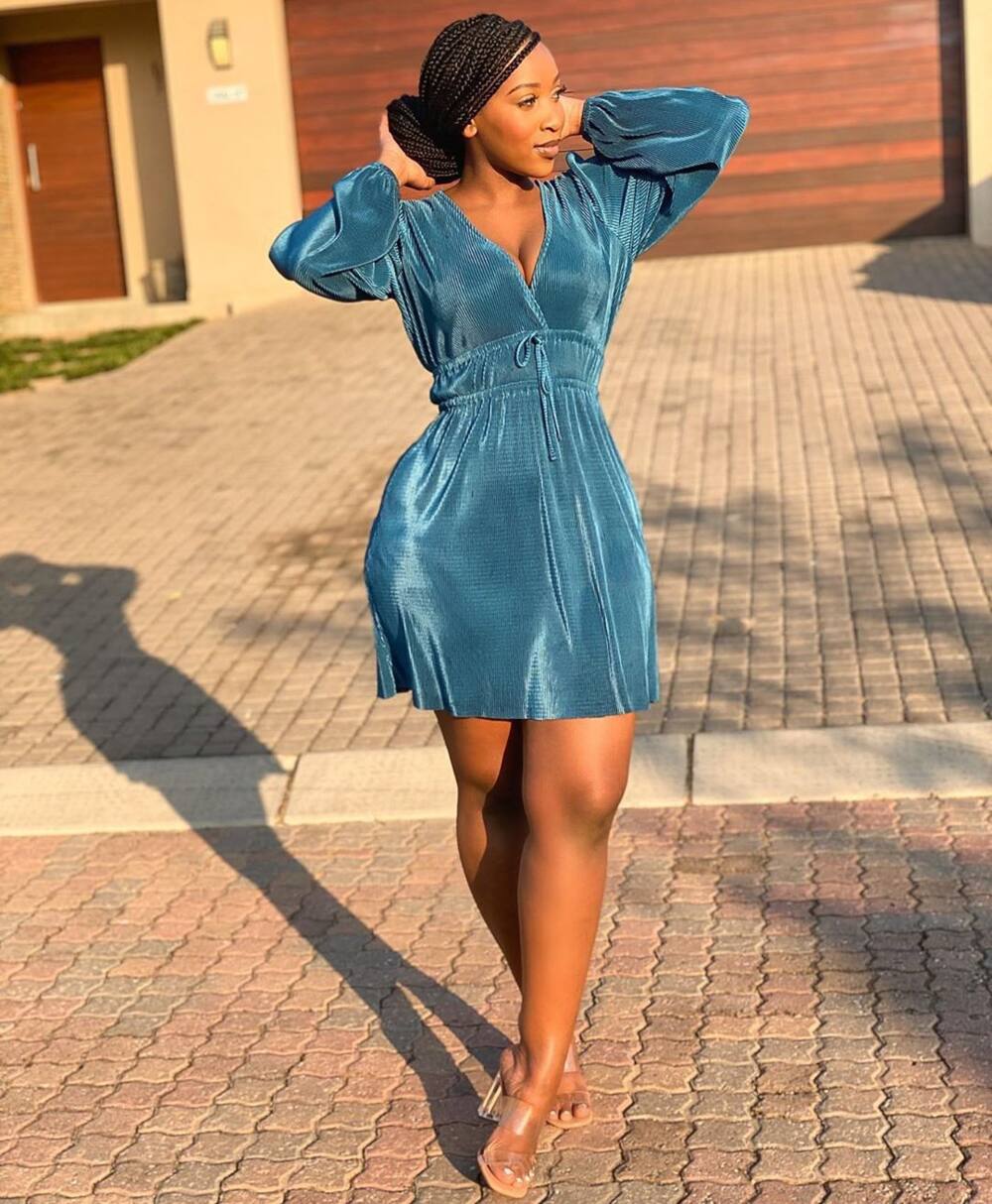 Let's take a break from her bodacious browns and explore her in blue. It appears to be impossible for the journalist to look bad in any colour. This velvet blue shift dress looks divine on her.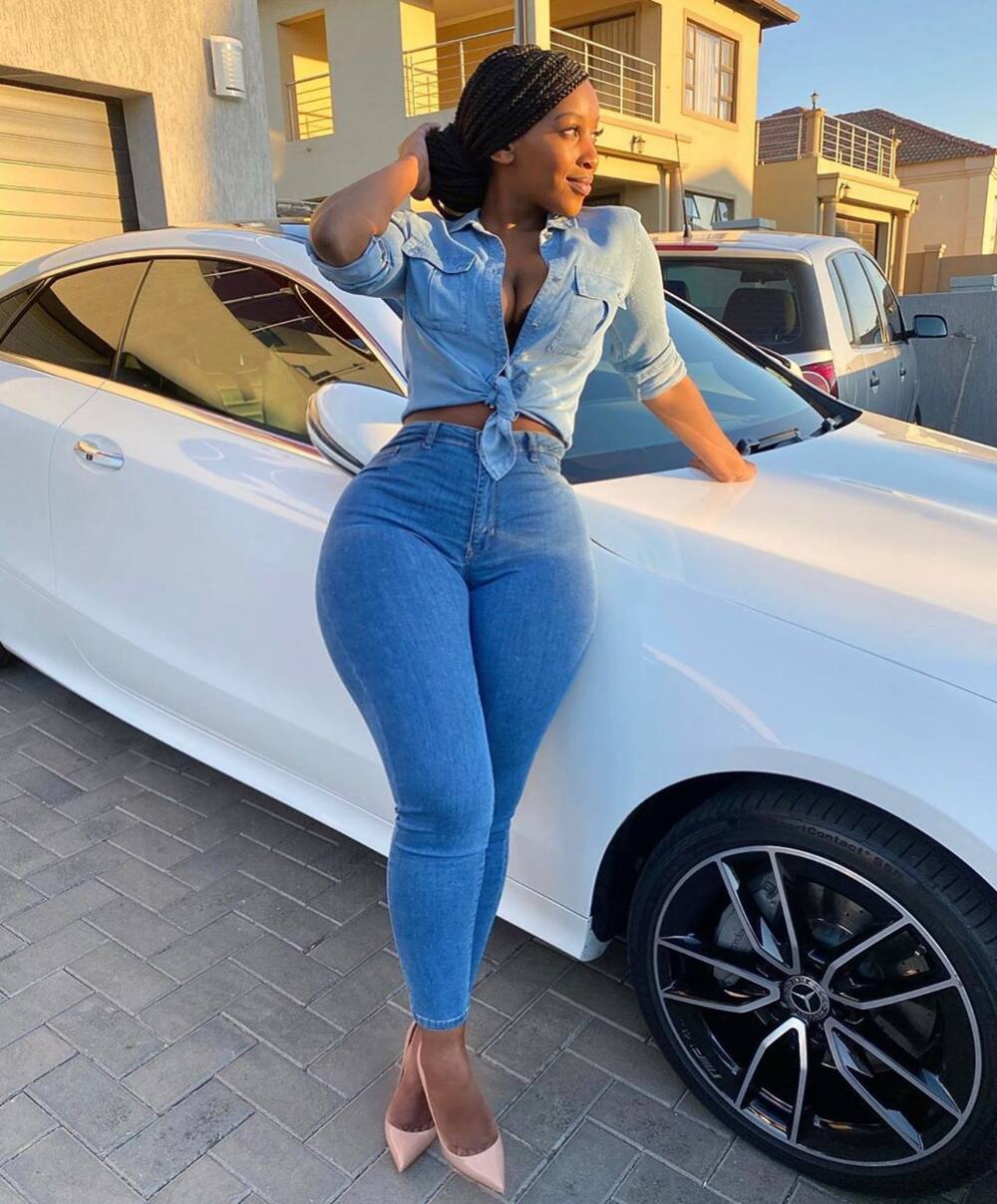 Double denim is nothing short of a fashion statement. It is hard for anyone to wear denim on denim, but it is even harder to make it look classy. The backdrop of the white Mercedes makes this photo even more delightful.
Hard at work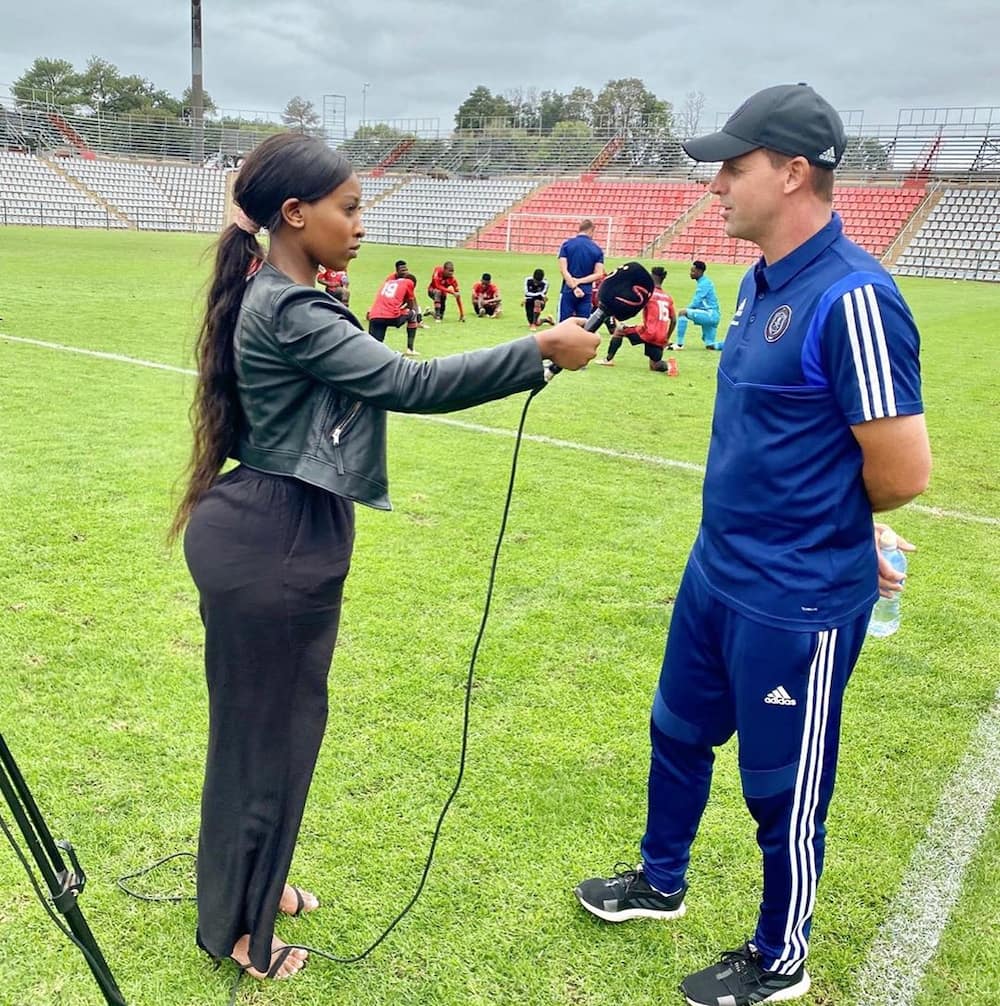 The journalist is very dedicated to her work. We can see her asking questions after the Orland pirates got three goals and three more points. Spot the heels on grass; that is not an easy feat.
READ ALSO: 20 must-see photos of Mamlambo from Uzalo slaying in real life
Bikini body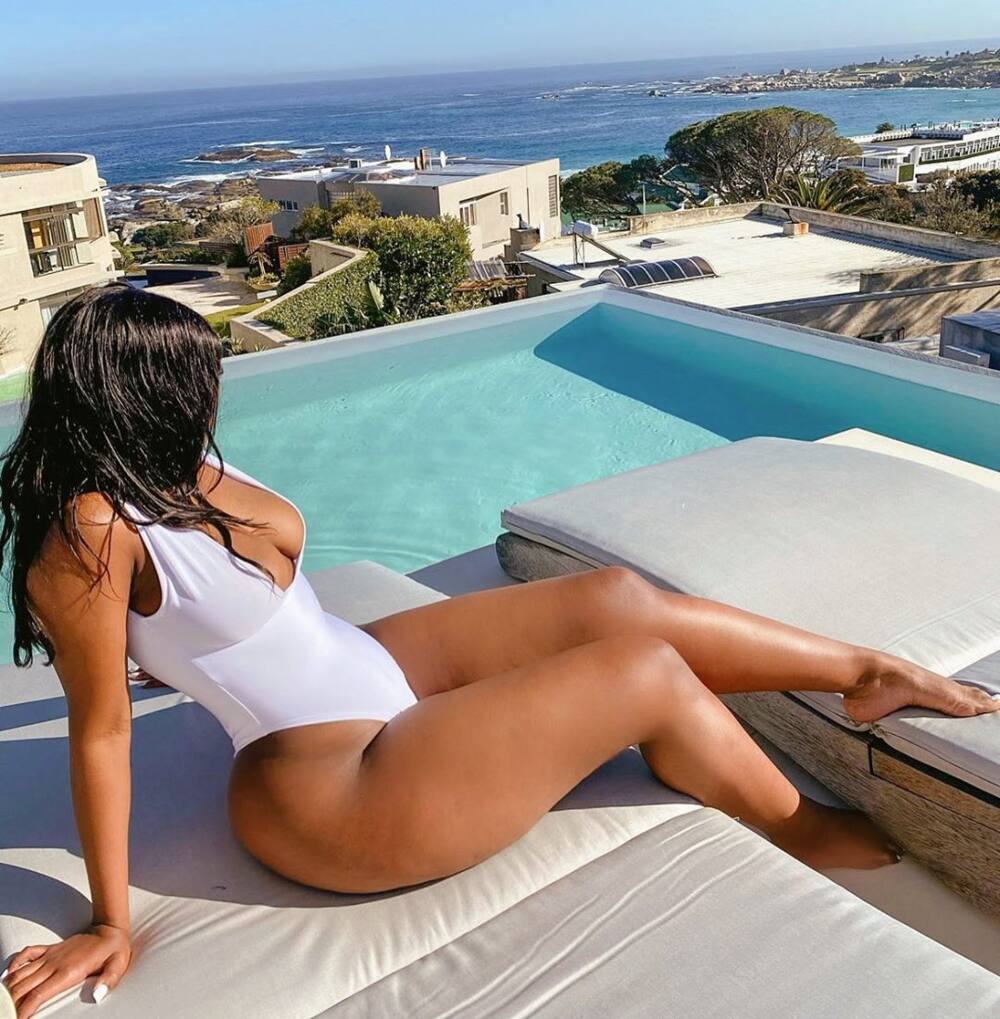 Chulumanco shows her voluptuous body. She has the curves and has no issue flaunting it. It is hard to decide which looks better, her or the captivating ocean view.
Braids can never fail you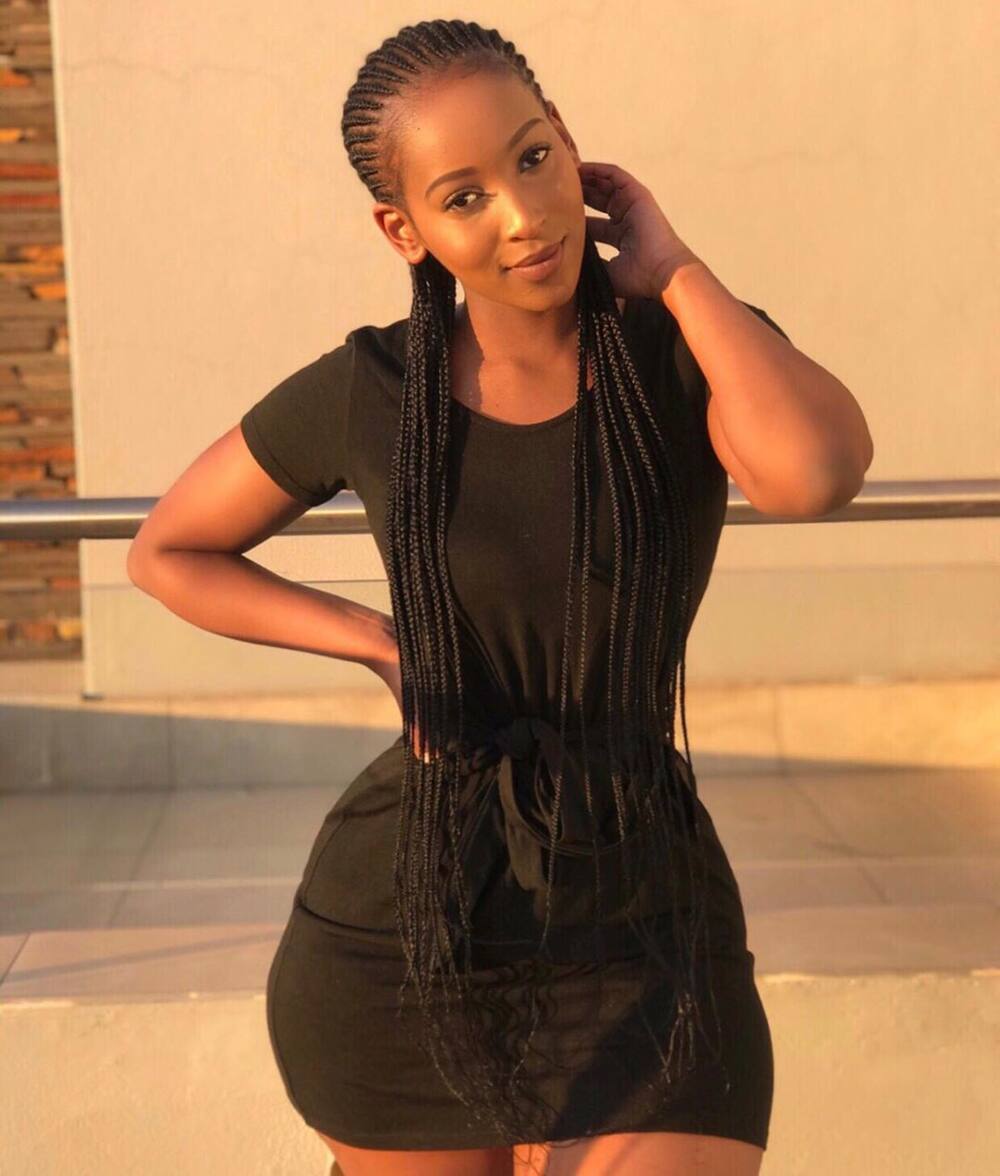 Amahle is looking casual in her sleek-back braids. We often see her in wigs and weaves. It is refreshing once in a while for her to post a picture in some awesome braids. They also match with her full black outfit.
Chulumanco Amahle Siphungu is more than a pretty face; she is a hardworking and beautiful woman who deserves all the praise she gets.
READ ALSO: You will love these 12 amazing photos of Minka Kelly | New Trevor Noah girlfriend
Briefly.co.za recently did a profile on Minka Kelly. Minka Kelly is said to be the new heartthrob that has captured the eye of the South African comedian Trevor Noah. You will not believe her age, and it will shock you to know who Minka Kelly's parents are. Get all the pictures and facts about her in this article.
READ ALSO: