- Police Minister Fikile Mbalula has changed is Twitter display name to Min of Police: Mr Fearfokkol
- Mbalula has been described as South Africa's Donald Trump, in reference to his unchecked use of Twitter
- South African social media users have not been shy in sharing their opinions about the new display name
South African politicians are many things, but boring is most definitely not one of them, politicians often provide the country with some much needed comedic relief from the daily grind.
The current Police Minister Fikile Mbalula is no stranger to causing public outrage, he is often described as South Africa's Donald Trump, a reference to both men's love of using Twitter.
READ ALSO: Money for mahala: 5 people who were born into fortunes
Mbalula's latest Twitter stunt has everyone scratching their heads and asking what the actual ….? The minister has changed his official Twitter display name to Min of Police: Mr Fearfokkol.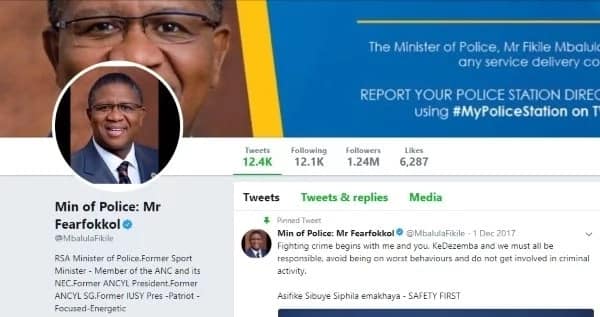 Briefly.co.za discovered that the EFF used the hashtag #MrFearfokkol at some rallies and for certain campaigns. It seems appropriate that Mbalula would borrow the EFF's hashtag after the ANC copied and pasted the EFF's land reform policy.
What exactly Mbalula is trying to achieve with the new display name remains an open question. Some have asked whether he is going through a midlife crisis or whether he is taking social media advice from a stroppy teenage boy.
South African social media users have as usual not shied away from taking the mickey out of Mbalula and questioning his motives.
We have rounded up and included some of the best comments from the Twitter world for your amusement.
READ ALSO: If white people voted for the National Party how can they criticise black people for voting for the ANC
What do you think of Mbalula's new Twitter display name? Visit our Facebook page where you can send us a message or leave us a comment. Your story could be shared online.
To stay up to date with the latest news, download our news app on GooglePlay or iTunes today.